[Taoyuan, Taiwan, 20th August 2019] InWin has today announced two new chassis developed in partnership with ASRock's Phantom Gaming Alliance: the 103 Phantom Gaming Edition and A1 PLUS Phantom Gaming Edition. The 103 and A1 PLUS are suitable for ATX and mini-ITX gamers respectively that are looking for a brand-aligned build. The chassis showcase ASRock's Phantom Gaming "Fast, Mysterious, and Unbeatable" styling of red and grey accents among both all-black chassis.
"With our strong heritage in creating chassis designed for PC gamers, we are excited to join the ASRock Phantom Gaming Alliance. InWin and ASRock share a spirit that aims to give gamers the best hardware for their systems, and by working together we assure them that our high-quality products work well together." said Nelly Hsieh, Global Marketing Manager at InWin.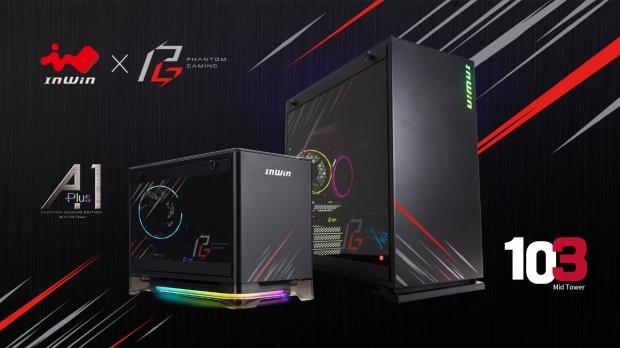 InWin 103 Phantom Gaming Edition
The 103 includes InWin's iconic hexagon styling ventilation, 3mm tempered glass side-panel with tool-less entry and a top-mounted PSU design. This lends itself to better cable management and GPU cooling as the bottom-mounted fans have an unhindered airflow path to cool the system above. Ultimately, the 103 series gives a rare best of both: excellent cooling performance and great views of the internal hardware; ideal for PC gamers and build enthusiasts alike.
InWin A1 PLUS Phantom Gaming Edition
The A1 PLUS is ideal for small form factor gaming builds. It features a combination of tempered glass and strong SECC steel, plus InWin's iconic hexagonal vents. With detailed craftsmanship throughout, the innovative internal structure provides hassle-free installation and the capacity to house powerful hardware in its compact 20-liter size. A pre-installed 650W 80 PLUS Gold power supply is placed in an isolated chamber and its cables are pre-routed through the chassis; allowing easier access to the compact system's internals. A Qi-wireless charger is even integrated into the top of the chassis for user's convenience.
"We are proud to have InWin join the Phantom Gaming Alliance, as their innovation, passion and dedication on gaming PC chassis aligns with the core value of the Phantom Gaming product line," said Chris Lee, General Manager of ASRock Motherboard & Gaming Peripherals Business Unit. "With the launch of the InWin Phantom Gaming edition chassis, it gives our customers more options to build a unique gaming PC."
Last updated: Apr 7, 2020 at 12:12 pm CDT