15.08.2019 - Warsaw, Poland - The gaming division of SilentiumPC, branded as SPC Gear, proudly presents the SM900 streaming microphone kit as the newest addition to the gaming portfolio. SPC Gear has tailored a prefect kit for Games, who are seeking an affordable full-fledged recording setup. The SM900 package consists of the high-end cardioid USB microphone, an adjustable arm, shock mount as well as a pop filter. Be it for streaming of your favorite games on Twitch or YouTube or recording of podcasts and voiceover, the SM900 USB streaming microphone kit is the perfect starter-kit.
Flawless Recordings Quality
The recording quality is one of the major functions of a great microphone. The SM900 uses a cardioid collection pattern, which is praised by almost everybody who works with their own voice, be it a streamer, vlogger or a musician. The advantage here is, that any unwanted feedback and background noises are effectively eliminated, while maintaining the fullest depth of voice possible. In addition to that, the SM900 is able to offer a wide frequency range from 18 to 21.000 Hz while the sound pressure level is rated with 135 dB.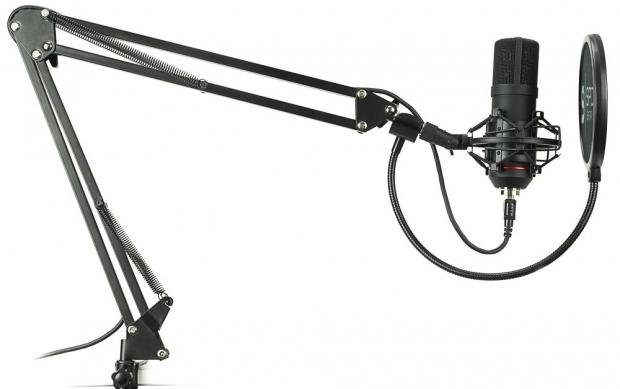 Complete Set with Premium Design
The SPC Gear division designed the SM900 to meet the taste of the majority of users. Its overall appearance is kept very elegantly in black color while design elements are highlighted in red and white color.
In contrast to most other on-market solutions, SPC Gear delivers not just the bare microphone, but bundles it with everything a premium setup would require. The box contains an adjustable arm, which can be mounted safely to a desk. The SM900 microphone is then installed into a matching shock mount, to assure no vibration or unwanted sound is transferred to the microphone.
To further improve the sound quality, the supplied pop filter can be attached to the arm and then placed in front of the microphone, to reduce the low frequencies reaching the microphone.
The SM900 is connected via the 2,9 m long USB cable to the PC or Notebook, offering enough freedom on one hand and easy plug-and-play operation on the other. Thanks to this combination, users can simply plug in the microphone and are set for recordings or streaming sessions.
SPC Gear SM900 streaming USB microphone is available as of today