Eurocom launches VMware vSphere (ESXi) 9lbs 'Sever-on-the-Go' Tornado F7 Mobile Server powered by 8C/16T Xeon, 128GB ECC memory and 22TB of storage for deployment anytime, anywhere with built-in 2-hour UPS
Sun, Jul 14 2019 4:25 AM CDT
EUROCOM Tornado F7 Server On-the-Go. The Tornado F7 Server Edition is an all-in-one, single-server, small form factor, laptop-based server form Eurocom that is designed for rapid, on-the-go ad hoc deployment. This Mobile Server has its own internal UPS/battery pack and is ready to go right out-of-the box, providing On-the-Go capabilities where fast deployment and high mobility of server capabilities is critical.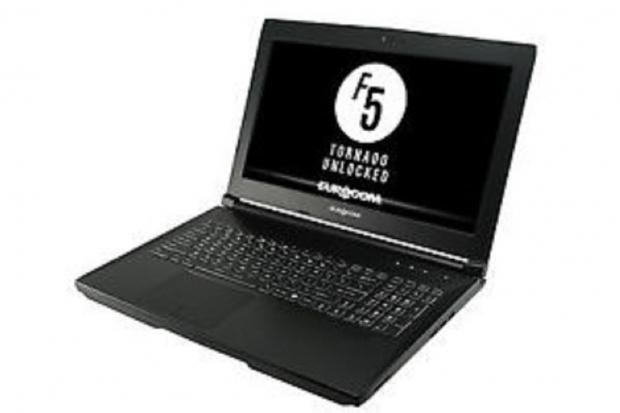 At 4 kg (9lbs), the Tornado F7 weighs much less than traditional rack-mounted servers and is ideal for fast set-up and relocation of server environments consisting of multiple VMs, anywhere.
Eurocom' s Server-on-the-Go technology goes beyond the deployment capabilities of rack-mounted/tower/blade servers and is perfect for those who are looking to improve or establish a robust virtualized network environment, whether an existing infrastructure has been set up or not.
On-the-Go Server vSphere-ready
Eurocom Tornado 7 supports VMware vSphere (ESXi) along with a variety of other Operating Systems such as Microsoft Server 2016, Microsoft Server 2016 Data Center Edition, Windows 10 and Linux/Ubuntu, to name few.
With 128 GB of DDR4 memory and up to 22TB of total storage space, the Tornado F7 SE has all the capabilities to support multiple VM's critical for running a secure and reliable Virtual Environment.
It is also equipped with Intel Xeon server-class 8cores/16threads CPU for increased ability to run multiple VM's. Server-on-the-Go technology is the ideal platform for IT professionals, IT consultants, Developers, Network Administrators, to name few.
Being a lightweight form factor (weighing only 4 kg/9 lbs), the Tornado F7 allows for the easy relocation and deployment of ad hoc network capabilities. It can be hand carried between locations.
Out-of-the-box deployment
The system is ready-to-go right out-of-the-box and can be used in IT migration projects where the secure and fast transfer/migration of critical data and other VM's is important. For these types of projects, minimizing downtime and operational interruptions is crucial and Server-on-the-Go technology provides the easy and uninterrupted migration of multiple VM's to replacement platforms. It can also be used to set up ad-hoc installations on-the-fly, or as required, without the need to set up a permanent network infrastructure. This is a great tool for start-ups and other businesses that need a flexible-yet-secure network infrastructure.
Rapid deployment makes IT consultants more productive
From an IT Consultant's or IT Developer's perspective, a system such as Tornado F7 improves productivity dramatically by allowing rapid deployment of multiple VMs on a per-client basis, giving them full ability to manage each customer's VM's as required. It allows IT professional to accelerate the services they offer to their customers.
Easy to Connect, Disconnect, Relocate and Secure
Military, Security and Emergency organizations are able to quickly deploy even the most complex multiple VMs environments using the Tornado F7. If required, they can operate server-based infrastructures that are totally disconnected from external networks and/or internet. Tornado F7 also enables IT architects to run a hybrid or fully-private internal Cloud infrastructure.
Eurocom Tornado F7 Core Specs:
1) Lightweight Design: 4.14 kg (9.1 lbs)
2) Memory: up to 128GB of ECC memory ; 4 physical memory slots
3) Storage: up to 22TB of total storage with 5 physical drives (NVMe supported)
4) CPU: Xeon 8 cores/16 threads; socket based LGA1151
5) Operating Systems: choice of VMWare vSphere, Microsoft Server 2016, Microsoft Server 2016 Data Center Edition, Windows 10 and Linux
6) Networking: on-board LAN Adapter; 1GbE Intel I219-LM; RJ45
7) Built in UPS / internal battery pack; 2hours
Summary
The EUROCOM Tornado F7 is a lightweight form factor system that can be deployed virtually anywhere- allowing for data centers and VM environments to run smoothly despite being on-the-go, or in a temporary location. The Tornado F7 Server Edition is designed to be ready-to-go out of the box as it comes preloaded with the customer's specified operating systems and applications. The Tornado F7 SE has an all-in-one design with its integrated LCD, keyboard and built-in UPS battery making it lightweight and portable. Consuming only 230 Watts of energy, the Tornado F7 has low power usage and is very energy efficient.
Related Tags