Asymmetrical PvP Survival Game Don't Even Think is Now Available
July 10, 2019 -- Perfect World Games and Dark Horse Studio are excited to announce today that the all-new survival game Don't Even Think is now available on PlayStation 4. Focusing on asymmetrical competition, the game will have players facing off as not only as humans and werewolves but also battling for limited escape opportunities.
Players in Don't Even Think will be able to choose to play the game of survival as a werewolf or human. Each character option presents players with different advantages and challenges. For players choosing human characters, the opportunity for survival is threatened by enemy werewolf players, other human teams as well as a scarcity of resources and the progressively colder climate. Human teams, however, will have the advantage of being able to communicate with their team members and are also able to be resurrected should they fall victim to one of the game's challenges.
Choosing the more savage option of playing a werewolf will present players with a different set of challenges to contend with. Specializing in close melee combat they'll face off against human teams attempting to escape as well as more limited communication capabilities having to rely solely on howling. Werewolf players are also unable to be resurrected so playing smart will be key to achieving victory. Playing a werewolf does have its own advantages however as players will not be affected by the ever dropping temperature and will not have to defend themselves against other werewolves. In order to sustain themselves, werewolf players will be out for blood as it will provide the sustenance they need in order to keep fighting.
Each match in Don't Even Think consists of 4 stages, nightfall, moonlit night, dark night, and dawn. During the nightfall stage players will have the chance to gather resources or mark enemy players to set themselves up for the intense battle that is to come. While the temperature drops during the moonlit night and dark night stages the threat to survival will increase as human players will need to seek warm shelter while fighting off freshly transformed werewolves who are on the hunt to stop the humans from escaping and securing their victory. When dawn breaks human players will face an intense race to the rescue helicopter to claim one of the limited seats. Humans will fight off werewolves and enemy human teams if they wish to escape and claim victory.
Players can choose humans or werewolves now by downloading Don't Even Think for free on the PlayStation Store here. For more information on Don't Even Think visit the official site here.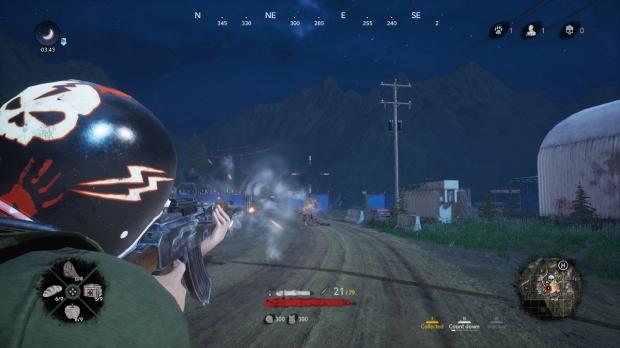 A list of features includes:
Asymmetrical competitive PvP gameplay

Choose to play as a human or werewolf

Gather resources or mark enemies to ensure your survival

Stave off the cold as a human in warmer shelters while fighting off attacking werewolves

Smartly hunt clustered humans as a werewolf to stop them escaping

Fight off werewolves and enemy human teams in order to escape on the rescue helicopter with limited space
About Perfect World Games
Perfect World Investment & Holding Group is a globalized cultural and entertainment group, which has introduced its products to over 100 countries and regions around the world, including North America, Europe, and Asia. The company has established dozens of branches in domestic cities, such as Beijing, Hong Kong, Shanghai, Chongqing, Chengdu, and Zhuhai, as well as countries, including the US, the Netherlands, France, South Korea, and Japan. At present, Perfect World Investment & Holding Group is involved in business segments including movies & TV, games, cinemas, animation, literature, media, and education.
Last updated: Apr 7, 2020 at 12:12 pm CDT
Related Tags