St. Catharines, Ontario - June 25, 2019 - Prepare to once again embark on a perilous journey filled with deadly asteroids, orbital boosts and the emptiness of space, but this time escape space pirates and more in LOST ORBIT: Terminal Velocity, the definitive version of the fast-paced, dodge 'em up game from PixelNAUTS Games. Launching July 16th on PlayStation 4, Xbox One, Nintendo Switch and Steam (PC, Mac, Linux) for $9.99 USD, Terminal Velocity upgrades include new mechanics, increased levels and more, to provide players with the best momentum-driven experience possible.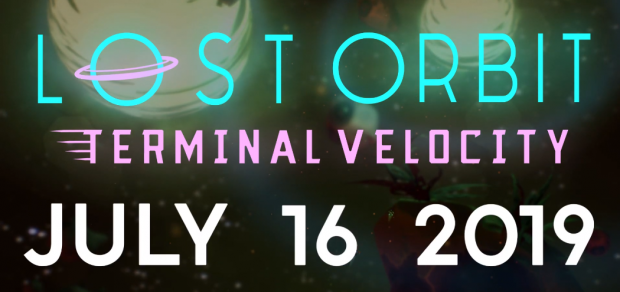 Check out the rapid new gameplay and deadly galactic obstacles in this new trailer:
Players can pre-purchase LOST ORBIT: Terminal Velocity starting today on Nintendo Switch and Xbox One at: https://www.microsoft.com/en-ca/p/lost-orbit-terminal-velocity/c0fc4grrj2fc?rtc=1&activetab=pivot%3Aoverviewtab.
In LOST ORBIT: Terminal Velocity players boost, swim, bounce, leap, smash and teleport their way through a myriad of obstacles in a desolate yet beautiful galaxy as they struggle to find their way back to civilization. Armed with only an improvised set of equipment and a relentless spirit, astronauts will need to survive 65 intense levels across 5 systems, and confront not only their mortality, but also what lurks in the darkness. To aid in the travels, survivors must upgrade their abilities and employ fast-thinking skills to complete their interstellar journey alive.
LOST ORBIT: Terminal Velocity features a bevy of new content including:
New Mechanics:
Drill through asteroids, but make sure to not overheat.

Smash into explosives to send them flying in obstacles and space pirates to clear the way.

Dodge mines, laser fences, spikes and other space pirate traps!

Grind and change rails to easily pass by obstacles.
New Levels:
Explore 12 new story-driven levels in a brand-new solar system!

Clear a path for an out of control starship.

Escape pirates in an intense boss chase.

Sneak and smash your way through an old space mine.

Try your skills at over 15 new and extremely challenging levels
"After launching the original LOST ORBIT our goal was to release on Xbox and Nintendo Switch with exciting new gameplay that would offer alternative ways to navigate past obstacles," said Alex Golebiowski, co-founder of PixelNAUTS Games. "With Terminal Velocity players will get the most robust asteroid dodging experience possible and for Xbox and Switch owners, the chance to test their skills at LOST ORBIT for the first time."