Pohlheim, 25 June 2019 - Sharkoon Technologies is an international supplier of PC components and peripherals, offering performance at a reasonable price. Sharkoon now presents the Gaming DAC Pro S. This is a digital-to-analog converter which transforms a normal headset into a high-performance sound system. To do this, the Gaming DAC Pro S is equipped with a sampling frequency which is certified for high-resolution and a signal-to-noise ratio of 100 decibels.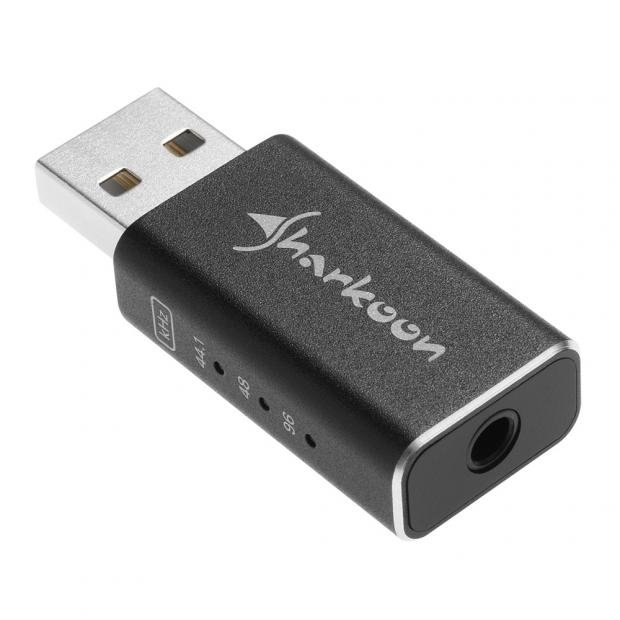 Captivating Sound with High-Resolution Audio
With the Gaming DAC Pro S, acoustic details can be experienced at their fullest. This is made possible thanks to the high-resolution sampling frequency of 96 kHz at 24 bits and a high output of 2 volts. In addition, the audio converter produces a listening experience for audiophiles through precisely directed ambient sounds. Thus, in gaming, an accurate determination of direction and distance is possible as well as a continually clear voice transmission.
No Software Needed - Just DAC and Play
For the best possible ease of use, no software is needed for the Gaming DAC Pro S. The digital-to-analog converter only has to be connected to a USB port and then a headset or loudspeaker - and for this, a gold-plated port for a TRRS/stereo plug is provided. Those who wish to use android devices are not left out as a separately available OTG adapter can also be used with the Gaming DAC Pro S.
High-Resolution and Certified Sound Quality
To ensure a high sampling frequency and a sound dynamic of studio quality, the Gaming DAC Pro S is certified to fulfil the requirements of the Japan Audio Society (JAS). On the basis of this, the converter ensures a modern and high-resolution audio quality.
Compact and Portable
With the size and format of a common USB flash drive, the Gaming DAC Pro S is easy to transport and always ready for use. On the computer, the digital-to-analog converter takes up no more room than the connection plug of a peripheral device, and yet it will add a significant enhancement to the sound.
Crystal Clear Sound without Interference
Thanks to the excellent signal-to-noise ratio of 100 decibels, the Gaming DAC Pro S can guarantee crystal clear sound. The device offers an alternative to built-in system sound cards and thus avoids background noise which, for example, can emanate from the power supply.
Price and Availability
The Gaming DAC Pro S is now available for the manufacturer's suggested retail price of 29.99 euros in Europe.
Last updated: Jun 30, 2019 at 12:19 am CDT