SAN FRANCISCO, CALIF. - June 24th, 2019 - Niantic has announced collaborations with AT&T and Simon to integrate special real-world activations in the augmented reality mobile game, Harry Potter: Wizards Unite, across retail locations around the United States. Harry Potter: Wizards Unite is an augmented reality (AR) real-world mobile game co-developed by Niantic, Inc. and WB Games under the Portkey Games label. The game is now available on the App Store, Google Play, and Samsung Galaxy Store, in the United States, United Kingdom, Australia, New Zealand, as well as many other countries. The game will be launching in additional countries soon.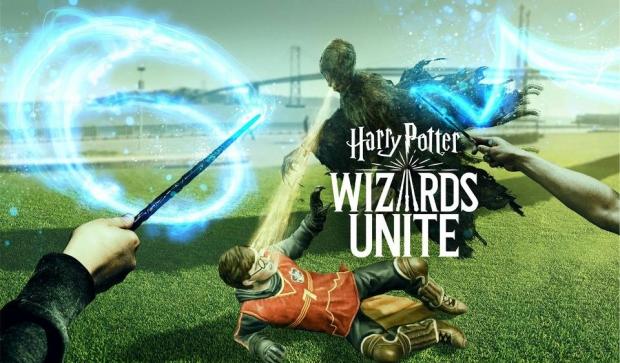 "We're excited to team up with AT&T and Simon to create a variety of custom Harry Potter: Wizards Unite gameplay experiences for players visiting the thousands of retail stores and large-scale shopping destinations around the United States," said Omar Tellez, vice president of strategic partnerships, Niantic. "Real-world games like Harry Potter: Wizards Unite are all about engaging with the world around you, creating new and unique opportunities for players to interact within their neighborhoods, towns and cities like never-before."
Wizards and Witches playing Harry Potter: Wizards Unite will be able to earn additional rewards and encounter more virtual enemies at Inns and Fortresses placed at more than 10,000 AT&T and Cricket Wireless retail stores beginning June 21 and July 15, respectively. All AT&T sponsored locations will give players more XP at Fortresses and more spell energy at Inns, than any other non-sponsored location in the US. Plus, players will be able to take part in exclusive, limited time quests only available at AT&T and Cricket locations to help them level up faster.
AT&T stores now also feature more than 25 exclusive Harry Potter: Wizards Unite consumer products like battery packs, fast chargers and more, as well as Wizarding World imagery for the perfect AR photo backdrop. Flagship AT&T stores in Chicago and San Francisco feature expanded Harry Potter: Wizards Unite build-outs where players can immerse themselves in the augmented reality experience. In addition, AT&T will also be a key sponsor at Harry Potter: Wizards Unite real-world events in the future. For a limited time, beginning July 15, new customers purchasing at Cricketwireless.com will have the opportunity to receive up to $50 worth of in-game Galleons as a gift with purchase.
"AT&T is proud to collaborate with Niantic and WB Games, true leaders in augmented reality and real-world mobile gaming, to continue to bring consumers closer to the content they love," said Valerie Vargas, SVP, Advertising and Creative Services, AT&T. "AT&T's network helps us give Wizards across the country new ways to interact with their most beloved Harry Potter characters."
Beginning today, Simon Malls, Mills and Premium Outlets will feature an amplified Harry Potter: Wizards Unite game play experience with increased rewards and elusive enemies. Simon's 200+ US shopping destinations will each have multiple sponsored Inns and Fortresses, giving players more XP and more spell energy than any other non-sponsored location in the US. This, coupled with both indoor and outdoor locations and plenty of shopping and dining options to enjoy while playing, makes Simon shopping destinations one of the best places to spend a day playing Harry Potter: Wizards Unite. In the future, select Simon properties will host real-world events and QR quests for Harry Potter: Wizards Unite.
"Simon is committed to creating fun, innovative, real-life experiences for our shoppers, and Harry Potter: Wizards Unite is exactly the type of cutting-edge activation our customers get excited about playing. We believe the elevated gameplay we're offering as a part of the program will drive traffic and excitement for our properties as well as the brands and retailers at Simon," said Lee Sterling, Senior Vice President Brand Management, Simon.
Harry Potter: Wizards Unite is built on the Niantic Real World Platform, and created using the game design and content creation expertise of WB Games San Francisco, under the Portkey Games label. As new recruits of the Statute of Secrecy Task Force, players will investigate the chaotic magical activity that is leaking into the Muggle world and work together to solve the mystery of this Calamity. Players will be able to explore their real-world neighborhoods and cities to discover mysterious artifacts, cast spells, and encounter fantastic beasts and iconic characters along the way.
To stay up to date on Harry Potter: Wizards Unite, please visit www.harrypotterwizardsunite.com to receive the latest information about the game, and follow the game on Facebook, Twitter, Instagram and YouTube.