Runefest Confirmed For October! Tickets Now on Sale For RuneScape's Annual Community Celebration
Friday 31st May 2019, Cambridge, UK - Jagex has announced that tickets for RuneFest 2019, the annual celebration of RuneScape and Old School RuneScape, go on sale from 4pm BST today. Set to become the biggest and best RuneFest yet, the player convention is taking place on Friday 4th and Saturday 5th October at Farnborough International Exhibition & Conference Centre.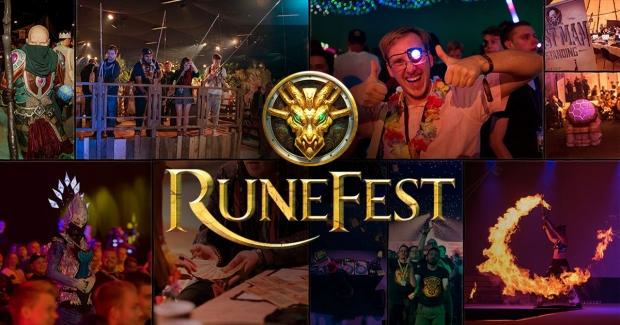 RuneFest 2019 will feature a wide range of entertainment for community members attending from across the globe to enjoy. The Golden Gnome Awards, the annual celebration of the franchise's prestigious community award ceremony will take place on the Friday night, with Jagex promising a night to remember. The next day will see the curtains pulled back on an experience packed full of gaming, cosplay, camaraderie, in-depth developer panels, exclusive merchandise, and all the latest news for RuneScape and Old School RuneScape players alike.
A limited number of early bird tickets will be available from to buy via the official RuneFest website. Each ticket provides access to both The Golden Gnome Awards and the 'Night Before Party' on Friday 4th October, and RuneFest 2019 the next day. The two-day spectacular will also be available for fans to tune in and watch from the comfort of their own home. The theme for the ninth RuneFest will be announced in the coming weeks.
Head of Events at Jagex, Josh Winward, said: "There's no better way to connect with the ever-expanding RuneScape community than by bringing everyone together to forge some legendary memories both in person or online. RuneFest at Farnborough provides us with the opportunity to bring more of our living game world of Gielinor to life than ever before, while expanding The Golden Gnome Awards on the first night gives us the perfect chance for our community to shine in the spotlight!"
Tickets and further information for RuneFest 2019 can be found at https://www.runefest.com.
About Jagex:
A leader in creating deep and engaging live games, Jagex's flagship MMORPG, RuneScape, has welcomed over 250 million player accounts to its world. Today the RuneScape franchise exists beyond running games in live operations; our titles are living games that connect and inspire millions of players, with content and experiences both inside and outside of inexhaustible game worlds. Both RuneScape and Old School RuneScape, on PC and coming to mobile, offer ever-evolving, highly-active worlds and our community-focussed development ethos empowers players to have a real say in how each game is shaped.
Now we're expanding and extending our portfolio with fresh franchise titles and new IP to bring life to the living games of the future. Jagex employs over 320 people at its Cambridge headquarters. In 2016 Jagex became part of Fukong Interactive Entertainment, a global games group publicly listed in China. Career information can be found at www.jagex.com
About RuneScape
Step into a medieval fantasy world that's packed with epic adventures, fascinating characters and a passionate community that helps to mould the game itself. Unashamedly British in humour, RuneScape embraces an unconventional world where you're free to play and explore the way you want to. An MMO unlike any other - become the hero you were born to be at www.runescape.com.
About Old School RuneScape
Launched in 2013, Old School RuneScape is the industry-leading collaboration between players and developers. Embracing its nostalgic heritage, hundreds of thousands of active players control the direction of the game with an in-game polling system. Featuring adventures for solo play through to 100-player strong raids, Old School RuneScape caters for every brave adventurer. Since 2016, Old School RuneScape has established itself as a competitive game with the seasonal free-for-all Deadman Invitationals, where winners receive cash prizes and membership. Play now at http://oldschool.runescape.com.
Last updated: Apr 7, 2020 at 12:12 pm CDT
Related Tags