Das Keyboard Q boosts productivity with lighting effects
May 28, 2019 9:15 PM CDT
We are all connected to multiple applications (email, social media, ...) and are constantly interrupted by notifications and pop-ups on our screens. This is a productivity killer.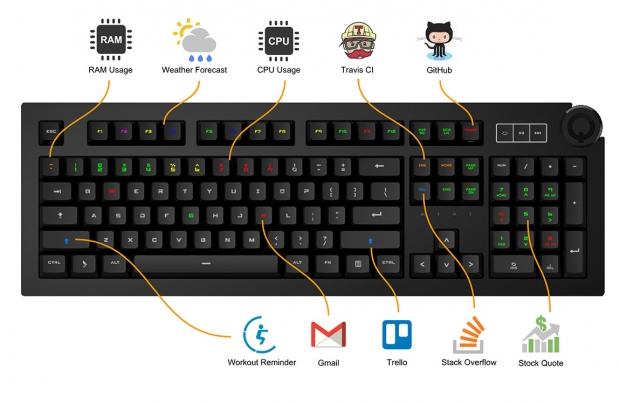 Das Keyboard Q changes the color of keys on your RGB keyboard to display notifications that are important to you. This way you can switch off notifications from other sources, and rely on your keyboard to display the ones that matter.
Drag-and-drop applets
Over 30 Q applets will help you configure your keyboard.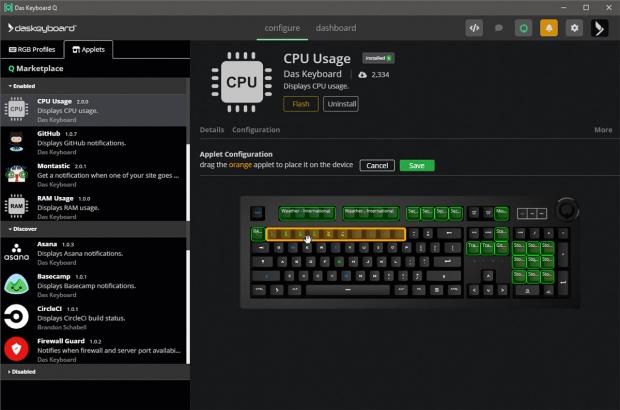 Here is a highlight of the most popular:
computer resources monitoring: CPU Usage, Mini Meters, RAM Usage, GPU Usage

day life notifications: weather forecast, stock quotes, parcel tracker (with UPS and Fedex) and reminders to keep a healthy lifestyle (stand up, workout and hydration reminders).

email notifications from Gmail

project management tracking: Asana, Basecamp, monday.com, teamwork, Trello, Zenhub

notifications for developers: Github, continuous integration (Travis CI, CircleCI), Stack Overflow, Server Fault

website and network health: Montastic, from our mother company Metadot, Firewall Guard, ICMP Ping, Server ping

Mojo Helpdesk, popular ticket tracking solution from our mother company Metadot

for gamers: notifications from Twitch and game deals
Original use of the Das Keyboard Q: Monitor your blood sugar
Q Applets are open source. Everyone can contribute and create their own applets. Some are using the Q technology in very original ways. For example, Scott Hanselman, coder, tech blogger and Microsoft developer advocate extraordinaire shares how he is able to monitor his blood sugar with his Das Keyboard 5Q. Scott's blog post "Lighting up my Das Keyboard with Blood Sugar changes using my body's REST API" shows a great example of how technology meets day to day life.
Stay healthy with the Das Keyboad Q
Spending long hours sitting at a computer's without interruptions is not recommended. The Stand Up reminder applet will make one of your keyboard's keys blink every hour to remind you to take a healthy break away from your computer.
With a growing selection of applets and the contributions of the user community, Das Keyboard Q offers an ever-growing selection of functionalities to improve productivity with your keyboard.
Useful links:
Learn more about the Q Software

Das Keyboard Q lineup

All available Q Applets
Related Tags