Club 3D USB C 3.2 Gen1 Universal Triple 4K Charging Dock
May 23, 2019 7:06 PM CDT
Amsterdam, May 23rd, 2019 - Club 3D is proud to announce our new universal docking station CSV-1562, a versatile addition to our high quality docks, which are a very important part of our portfolio since 2014. This new product will be available within the first week of June.
Since we always listen carefully to the demands that our customers bring up, we have put a number of very interesting features into this new product, as the major ones are:
USB 3.2 Gen1

Charging Functionality

Triple 4K Outputs simultaneously

Kensington Lock
To find out more about the product, please read the detailed information below, visit the product page by clicking on the item code above and check availability and other questions that you may have, with your Club 3D contact. Stay tuned, more interesting stuff coming soon.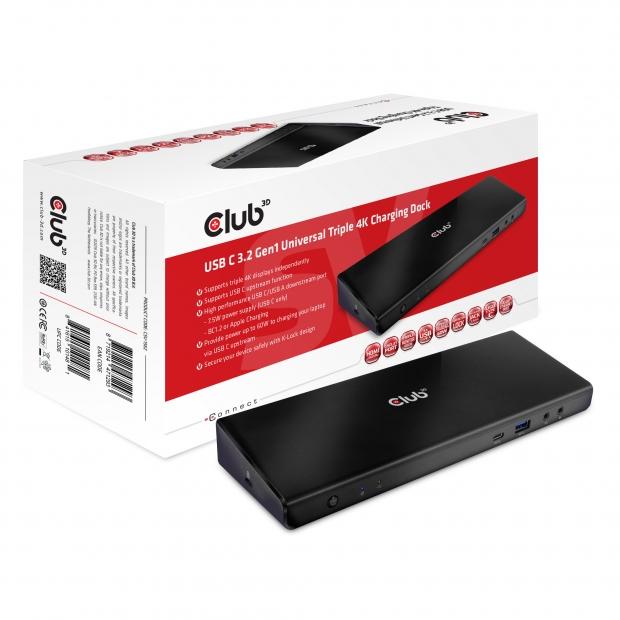 USB C 3.2 Gen1 Universal Triple 4K Charging Dock
CSV-1562 - The CSV-1562 is a USB C 3.2 Gen1 Universal Triple 4K Charging Docking Station. The Universal Charging Dock is designed to cater for your most versatile connectivity demands. The USB 3.2 Gen 1 interface supports up to 5 Gbps bandwidth, which enables you to enjoy super speed data transmission between your favourite USB peripherals and allows for up to three external 4K displays simultaneously in addition it offers a wired network connection as well as audio and micro pone output.
By adopting Power Delivery charging technology, the upstream charging function through USB-C 3.2 Gen1 interface, you can charge a connected cell phone / tablet / laptop. Furthermore, the added Kensington Lock option allows you to secure your dock as well. All it needs is a free USB 3.2 Gen 1 port on your Laptop or Ultrabook to connect to the Universal Triple 4K Charging Docking Station via a single USB cable.
Charging
Laptops / UltraBooks / Tablets often have limited connectivity possibilities. By adopting PD Charging technology and upstream-charging function through USB Type-C interface the Club3D USB Type-C Charging Dock offers unique functionality. It will charge your Notebook up to 60Watts and thru the downstream port on the front you can charge your phone up to 7.5 Watt on the USB C connector.
Features:
- USB3.2 Gen 1 Type-A ports (5V/0.9A) x4
- USB3.2 Gen 1 Type-A port (Fast Charging) x1
- USB3.2 Gen 1 Type-C port x1
Support audio 2.1 channel

Support Gigabit Ethernet

Support 5K (connect to 2 DP displays simultaneously)

Display 1: 4K60Hz via DP or HDMI

Display 2: 4K60Hz via DP or HDMI

Display 3: 4K30Hz via HDMI

Support PD Charging (for NB) 20/15/12/9/5V@3A, up to 60W

Kensington Lock

Power On/Off Button on the front
OS Support:
Microsoft Windows 10

Apple OS
Related Tags