Goat Of Duty's Closed Beta Opens May 9th to 13th
May 7, 2019 7:50 PM CDT
Torino, May 7, 2019 - Last week, 3BigThings and Raiser Games announced Goat of Duty, a frantic first-person arena shooter where players fight against one another as goats, armed to the hooves with vicious weapons.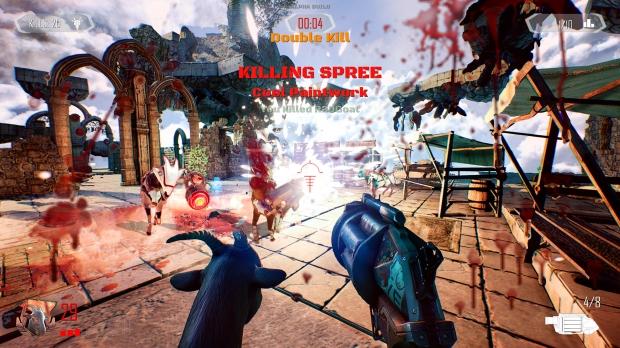 Today, we announce the Goat of Duty Closed Beta, lasting from May 9th to May 13th. Players will be able to try three different maps, challenge their friends and enemies in Free-For-All mode, and wear five different costumes in order to determine who is the deadliest and most glamorous goat of them all.
An official Discord game server will be up and running by that time, allowing players to discuss strategies, provide feedback straight to the developers, and will be more than welcome to post tons of silly screenshots of their matches. The server will also function as a communication channel on the game's progress as it nears release.
What is Goat of Duty? Inspired by classics like Quake and Unreal Tournament with a much needed icing of sillines on top, players control uber-trained, cute and deadly killer goats beating the snuff out of each other in hazard-filled arenas by means of regular, exotic, and just plain weird weaponry - such as guns shooting rotating saws, bouncing grenade balls, and furious headbutting. Players cannot increase stats, attributes, loadouts or perks, but can dress their goat with dozens of costumes inspired by pop and gaming culture icons, making the game even more bizarre and amusing.
Features for Goat of Duty include:
Goats armed to the hooves with outlandish, weird (and destructive!) weapons.

Intense, super-fast, 2-to-10 player matches filled to the brim with explosions, silliness, and goats climbing steep ledges.

Crazy Goatstumes and dances to brag about with your friends.

Tons of maps full of craziness and hazards.

Four game modes: Deathmatch, Team Deathmatch, and two Goat of Duty exclusives (stay tuned!).
"We cannot wait for players to join us in this new, hilarious experience" says Valerio Di Donato, 34BigThings' CEO. "We had a blast putting this game together, and it's going to be even better once the community steps in."
STEAM PAGE: https://bit.ly/2vumRKn
DISCORD SERVER: https://discordapp.com/invite/hqNEt7c
About 34BigThings
Est. 2013, 34BigThings is one of the biggest independent game studios in Italy. Born out of sheer passion and self-sustained throughout, it's a variegated group of game developers making games they love in a laid-back working environment. Having worked on a plethora of external projects, they released a bunch of games on all major platforms. Learn more at 34bigthings.com.
About Raiser Games
A talented team of veterans and newcomers alike, members of Raiser Games have published over 200 games from 17 different countries for PC, consoles and mobile devices, both digitally and physically.
Last updated: Apr 7, 2020 at 12:12 pm CDT
Related Tags