Brace For The Storm. Immortal: Unchained 'Storm Breaker' Expansion Surges Onto PS4, Xbox One & PC Today
May 7, 2019 6:50 PM CDT
Stockholm, Sweden - May 7, 2019: Toadman Interactive and Sold Out are pleased to announce that STORM BREAKER, the first major expansion for hardcore action RPG shooter Immortal: Unchained, is now available to download on the PlayStation 4 computer entertainment system, the Xbox One family of devices, including Xbox One X, and PC priced $14.99 /14.99 /12.99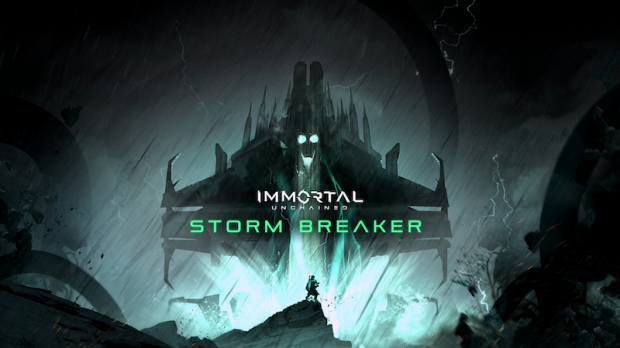 The fall of Apexion was swift and brutal. The unstoppable hordes of Undead pierced the defenses of the outpost Storm Break and continued their relentless invasion. Eliminate the threat and discover the Sea of Scars, an all-new area of Immortal: Unchained.
Traverse the Sea of Scars' mysterious seabed and explore the ruins of Storm Break to locate undiscovered secrets guarded by challenging new enemies and creatures. Engage in monumental boss fights with powerful new weapons, including the legendary Brightreaver, a devastating weapon capable of destroying its victims with super-charged lightning.
FEATURES:
Discover two new alien locations: The Sea of Scars and Storm Break. A mysterious force is pushing aside the ocean, allowing you to travel along the seabed. Tread carefully, however, for the presence of the dead reach even these vile depths.
Wield four devastating new weapons, including the lightning-charged Brightreaver, one of the most powerful weapons in all the Cosmos, and the Ashborne Needler, a toxic sniper rifle used to take down the biggest foes. Encounter two monumental bosses and defeat challenging new enemies.
STORM BREAKER is available to download now for to all players who own the original Immortal: Unchained game. Players who have yet to discover the brutal universe of Immortal: Unchained can also download the game separately on PlayStation Store, Microsoft Store and Steam, or purchase the game physically on PlayStation 4 and Xbox One.
Last updated: Nov 24, 2019 at 03:59 pm CST
Related Tags