May 3, 2019, Taipei, Taiwan - BIOSTAR, a leading manufacturer of motherboards, graphics cards, and storage devices, introduces the new A68N-5600E SoC motherboard featuring a power efficient AMD PRO A4-3350B Processor and AMD Radeon R4 graphics. The BIOSTAR A68N-5600E is perfect for home entertainment and everyday home computing from web browsing to office applications. Watch videos on Netflix and YouTube with high-definition and immersive visuals, thanks to the AMD Radeon graphics, and high-resolution display with HDMI support. The A68N-5600E sports an ultra-compact Mini-ITX form factor, perfect for small-form-factor PCs and HTPCs.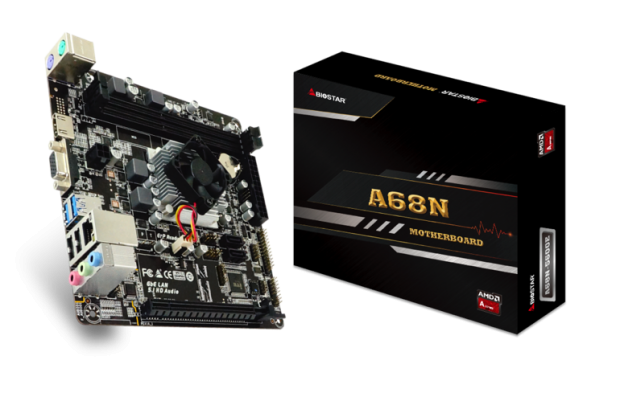 Designed for Home Entertainment & Everyday Use:
The BIOSTAR A68N-5600E is a compact, cost-saver and power-efficient solution made for day-to-day tasks with a built in AMD PRO A4-3350B Processor and AMD Radeon R4 graphics. The motherboard supports DDR3-1600MHz memory up to 16GB for excellent compatibility and comes in the compact mini-ITX form factor perfect for space saving SFF build.
Home users can enjoy high-definition content on high-resolution displays without the need of a discrete graphics card, thanks to the motherboard's built-in HDMI connector as well as HDCP support (High-bandwidth Digital Content Protection) for streaming copyrighted videos online from sources like Netflix. The BIOSTAR A68N-5600E also packs HD audio to deliver a completely immersive entertainment experience, high-definition video and audio with SPDIF connections in one compact and affordable BIOSTAR SoC motherboard.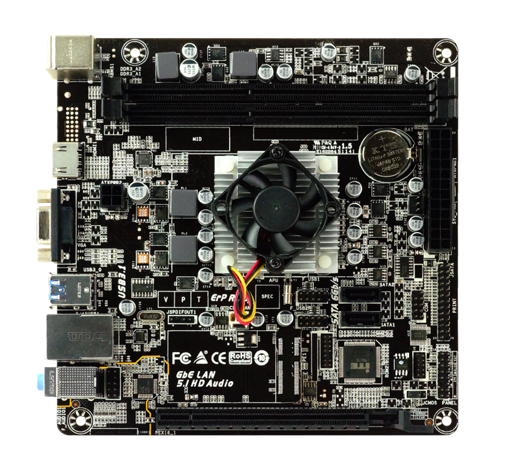 Designed for Businesses and Organizations
As well as home entertainment, the A68N-5600E also offers advanced data security options for government organizations that require the highest level of data security with a TPM header for TPM modules. TPM modules are used in conjunction with other security technologies such as biometric verification, antivirus software, firewalls, smart cards, and others. The BIOSTAR A68N-5600E doesn't compromise in speed with its SATA III 6Gbps ports for fast data retrieval and data transfer. With SATA III 6Gbps and AHCI support, opening large files like high-resolution videos can be quick and easy.

The BIOSTAR A68N-5600E SoC motherboard's rear I/O include 1 x PS/2 Mouse, 1 x PS/2 Keyboard, 2 x USB 3.1 Gen1 Ports, 2 x USB 2.0 Ports, 1 x HDMI Connector, 1 x VGA Port, 1 x GbE LAN port, and 3 x Audio Jacks.
The BIOSTAR A68N-5600E SoC motherboard is a compact and cost-effective solution for everyday computing needs for home, business, schools, and government agencies. The mini-ITX form factor fits in most small-form-factor PCs offering a space-saving desktop setup, perfect for HTPCs. The Radeon R4 graphics and HDMI connector offers high-definition visuals without the need of a discrete graphics card and HD audio for immersive audio for a complete high-definition audio and video setup for home entertainment PCs.
Specifications
Learn more about the BIOSTAR A68N-5600E here: https://www.biostar.com.tw/app/en/mb/introduction.php?S_ID=949
CONNECT WITH US:
Website: www.biostar.com.tw
Facebook: www.Facebook.com/BiostarHQ
Twitter: www.twitter.com/BIOSTAR_Global
Instagram: www.instagram.com/biostarofficial
YouTube: www.YouTube.com/user/BiostarTaiwan
Availability: http://www.biostar.com.tw/app/en/wheretobuy/index.php
ABOUT BIOSTAR:
BIOSTAR, is a brand dedicated to the production of motherboards, graphics cards, industrial computing systems, IoT, crypto mining equipment, and healthcare solution. Since its establishment in 1986, the BIOSTAR GROUP has become a major motherboard supplier in the IT industry as well as in IoT, Internet of Things. In order to pursue the best quality and aesthetic design, BIOSTAR has invested heavily in ID design, equipment, global marketing research as well as R&D. With a constant emphasis on quality, BIOSTAR always seeks to beyond better and race to the future.
Last updated: Sep 25, 2019 at 05:39 pm CDT