Play 'Fromto' next week for free - One of the most charming games
April 26th 2019, Dueren, Germany - Be honest: sometimes you wish you could be a child again, don't you? No bills to pay, no long-term planning - just playing all day and having fun. Headup and Studio Erikson will bring back a glimpse of those wonderful days as they announced an Open Beta for their hilarious 2D party racing game Fromto.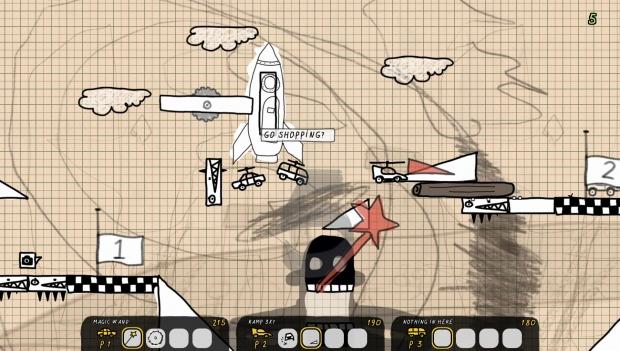 Starting next Thursday, May 2nd, on Steam, get ready to become a child again when previewing this side splitting experience. The Beta will be free for everyone - just check out the game's Discord Channel for getting one of the 1000 free Beta keys! Press partners may contact us by email.
In the Open Beta you're going to play some brand-new levels with up to four drivers (offline and online), and sink into an experience which brings back some nostalgic feelings. Play Fromto with strangers or together with friends or your family; and learn how creative they are when it's about getting the better of parents, siblings or friends!
Creativity is a big part of the game; after every round of racing all players will find or buy new components for tweaking the levels in their favor. With many crazy parts to find, it's always a big joy to check out what those are doing. Regardless if you'll win or crash and burn - you'll be laughing all the time! We experienced this recently at PAX East where the "Fromto corner" consistently rang with laughing and yelling due to the game's unpredictability - and all this may come to your home for free next Thursday!
More specific Beta information:
25 single player levels

10 insane multiplayer levels

Lots of secrets

About 50 different parts to manipulate the levels!

10 different cars to unlock

Destructible terrain

Unseen art style partially made by the dev's young kids

Super high replayability
For more information about the Open Beta of Fromto please check out our Discord Channel or the Steam page updates. Also, don't forget to watch the latest trailer!
So how does Fromto work exactly?
After all players collected their vehicle of choice by foot in a short mini-game-like-lobby, they will start the first phase in a quite wild, but pre-set level. All players try to first reach a checkpoint and then the finish line. But this probably won't happen in the first attempt, it's more for checking out the level.
After all players finished their try, the magic happens in the second phase: All the little cars turn into helicopters and you're going to collect different, randomly dropped crates which contain new track parts to place in the pre-set level: This can be helpful things like new platforms, ramps and jump pads or hindering elements such as obstacles and traps for your opponents, or just fun things like a cannon that shoots small bubbles of glue.
In addition to those random pieces, there is a shop for every player where you can buy even more 'helpful' things with points earned by performing stunts. Overall, there are more than 50 different parts that can be placed. A time limit will stop your creativity after 60 seconds and the next round will start.
All of this comes with a very special art style, as the game was created by the developer and contemporary artist Erik Habets, together with his two kids Niki (5) and Joep (2). Do not be mistaken, although the game might look childish, Fromto is not only for the young ones. This is a game for kids from ages 8 to 108 - and specifically for the grownup kids (and influencers)!
We appreciate all social posts, please add @Fromtothegame!
About Fromto:
Fromto is a horrible, childish 2D sandbox racing game with in game track building. All players race an unfinished track in turn. When everyone fails all players must 'work together' to modify the track before they try again. Think strategic, build sneaky routes and trick your opponents with nifty traps and obstacles. Experiment endlessly with tons of track parts and win in unthinkable ways. Play with up to four friends (online or offline) in this action packed living playground. After you ruined all your friendships you can dive into the single player speed run challenges.
Erikson grew up to become a contemporary artist fascinated with playing. His talent did not go unseen in the contemporary art world, his work can be found all across the globe. Over the course of the last few years, his work evolved from gigantic sculptures and paintings via animations to games.
Features:
Up to 4 players online & local multiplayer

Single player challenges

Hot seat mode to play multiplayer with one controller or keyboard

Super high replayability!

Online leader board for single player challenges

Record & replay your gameplay

Fun to watch!

Lots of different cars

Very tuneable gameplay settings

Full controller support

Nifty secrets

Many, many track parts

Destructible terrain

Unseen art style partially made by young children

Unlock cars, obstacles and levels as you progress

Amazing soundtrack
Related Tags