'Precipice' Launching May 1st For PC
April 3rd, 2019 - Little Red Dog Games is excited to announce its upcoming war and diplomacy game Precipice will launch May 1st on Steam! Jump into tense matches of Cold War chicken in single-player or against a rival in 2-player online matches.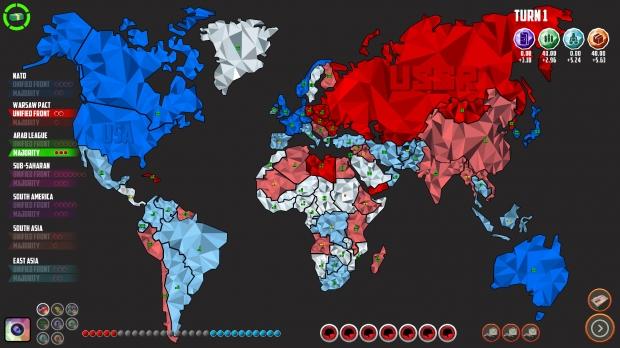 Precipice is unique in that it lends itself to missile-crisis standoffs where the last one to blink wins, but push too hard and the whole world may be lost. It spans forty years of hostilities between the United States and Soviet Union, and forces players to decide when to push their own contentious actions and when to back down from them. The advanced AI observes player behavior and makes assumptions and judgements about their rival's personality and character, their intended strategy, and develops a plan of its own to counter. Also, it features (adorable) animals in suits.
Drawing loose inspiration from Chris Crawford's Balance of Power (1985) and GMT Games' Twilight Struggle, "Precipice isn't a wargame, it's a game of subterfuge," according to lead developer Ryan Hewer.
"You will send agents around the world, protecting your closest allies and changing unfavorable regimes without giving away your long-term ambitions. For that reason, this game is a strategic gem where your success will depend squarely on your ability to misdirect your rival and show bravery when it is needed."
Features:
Tense strategy for one or two players. Face a highly-responsive, unpredictable AI that will attempt to understand your strategy and counter it at every turn, or invite a friend and see if you can collectively work to avoid global catastrophe online.

World leaders from 72 countries realized as animals native to the region, all pawns in the dangerous game of nuclear chicken.

Manage resources from territories under your control to resolve immediate crises or win over future allies.

Recreate history, or forge your own path. Put a bear on the moon. The possibilities are endless.

Simple, intuitive gameplay that is also difficult to master.
The third commercial title from developer LRDGames, Precipice will retail for $11.99 for Windows and Linux platforms. At launch, it will feature Steam lobby integration, player-rank unlockables, multiple map modes, multiple AI settings and the likenesses of seventy-two world leaders caught in the crossfire between two global powers.
To learn more, visit: https://www.littlereddoggames.com/precipice
Steam Page: https://store.steampowered.com/app/951670/Precipice/
Twitter: @LRDGames
Facebook: https://www.Facebook.com/littlereddoggames
Developer Contact: Ryan Hewer - little.red.dog.games@gmail.com
About Little Red Dog Games
For five years we have created fun and challenging gameplay that breaks convention by subverting tropes and expectations. Our games are very challenging, but they will also delight you with their levity.
Last updated: Sep 25, 2019 at 05:39 pm CDT
PRICING: You can find products similar to this one for sale below.

United States: Find other tech and computer products like this over at Amazon.com

United Kingdom: Find other tech and computer products like this over at Amazon.co.uk

Australia: Find other tech and computer products like this over at Amazon.com.au

Canada: Find other tech and computer products like this over at Amazon.ca

Deutschland: Finde andere Technik- und Computerprodukte wie dieses auf Amazon.de
Related Tags