March 28, 2019 - Shenzhen, China - Giada demonstrated the GDSM (Giada Digital Signage Management System), which integrates Giada media players and self-developed software, at booth 705-IOTG during the Intel Partner Connect (IPC) 2019 Americas event held in Aurora, Colorado, between March 19th and 21st. This event included keynote speeches, sessions, showcases and matchmaking. It gathered main distributors, integrators, ODM/OEMs, and ISVs (Independent Software Vendors) from the IoT field in the Americas region, attracting more than 1,000 attendees.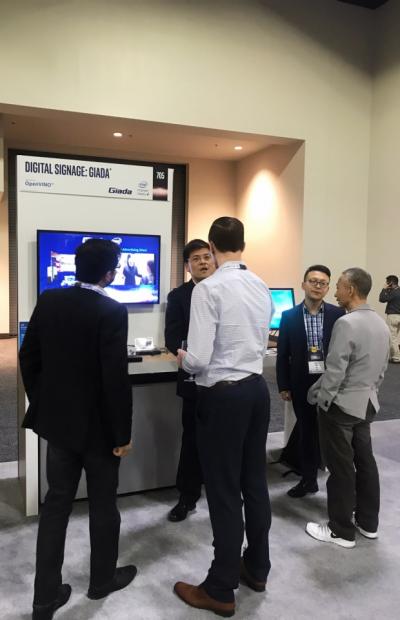 During the event, Giada also held a special meeting with the GM of Intel's IoTG, sharing their views about trends and development in the smart retail industry related to the IoT ecosystem, channel promotion, Giada's GDSM, AI technology and solutions.
On site, Giada set up multi-screen demos (2 x 2, 1 x 2) of accurate advertising based on face recognition technology to showcase the capabilities of GDSM in digital signage remote control, layout management, program editing, information publish and information collection and processing.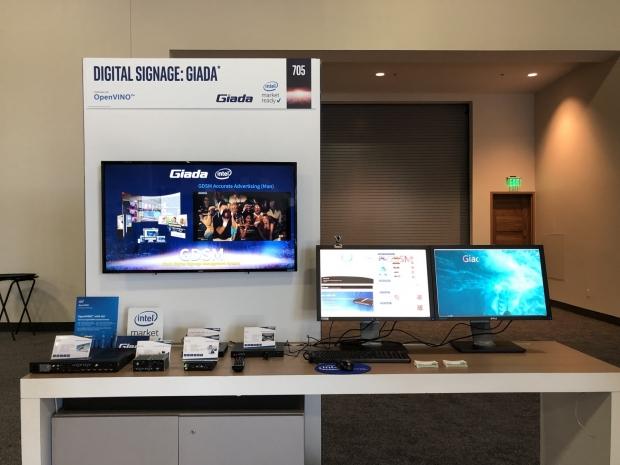 During the demonstration of GDSM, which is currently only available in China and Southeast Asia, Giada introduced the core advantages and marketing strategy of GDSM in detail to the visitors to the booth. Giada is a major ODM partner of Intel in China. Giada has developed a series of businessindustrial-grade media players, powered by Intel processors, for various industries and scenarios - from single display to multi-display, from indoor to outdoor, and many other applications. In 2018, Giada ranked as the number one media player brand in the German-speaking region. To meet the requirements of the IoT market for digital signage solutions which are more streamlined, intelligent and scalable, Giada has developed GDSM, a new generation of intelligent digital signage solution based on years of industry experience.
The core value of GDSM comes from three innovations in system integration. First, GDSM integrates the display controller with the media player, thus the hardware architecture is greatly simplified. On the software level, GDSM integrates layout management into the content management system, which greatly simplifies the operation process. In addition, GDSM has broken through the limitation that front-end players only perform graphics processing, by integrating AI vision technology, cameras, and other modular sensors - enabling media players to collect and process information on the edge.
AI technology is the future of digital signage. GDSM is a vigorous platform supporting expansion, customization and secondary development, which can continuously integrate AI technology and quickly adapt to front-end equipment to meet the increasing demands of the retail industry.
About GDSM
GDSM, a multimedia content management system approved by Intel MRS (Market Ready Solution), is a complete IoT solution integrating hardware and software developed for visual retail. The global marketing strategy of Giada for this solution is to unite Intel MRS System Aggregator(SA) as the channel, AI vision and big data technology developer (ISV) as the partner, and to cooperate with mainstream screen manufacturers and System Integrators (SI) to deliver end-to-end digital signage solutions for vertical industries in regional market (PRC and SEA).
About Giada
Giada, a premium brand of Shenzhen JEHE Technology Development Co., Ltd., is committed to becoming an innovative and globally leading provider of products and solutions in cloud computing, big data, and IoT. Giada is dedicated to promoting the development of the global IoT (Internet of Things) and AI industry, focusing on new retail, smart education, health-care, enterprise, public services, and industrial automation technology. Giada, ranked as the number one media player brand in the German-speaking region in 2018, is a core partner of Intel in China, and an Associate Member of Intel ISA (IoT Solution Alliance). For more product information: www.giadatech.com.
Last updated: Sep 25, 2019 at 05:39 pm CDT