Los Angeles, CA - March 26th, 2019 - NZXT today announces new streaming bundles for BLD, the easiest way to get into PC gaming, that includes everything needed to stream your favorite games. Alongside a recommended gaming/streaming PC, two streaming kit bundles are available with the essential gear to make your streams look professional while you grind your way to the top!
"We have received numerous requests from our community asking to help make entering the world of streaming easier," says Jared Kim, NZXT's VP of Consumer. "Working with streamers like Ninja, Pokimane, and Courage has given us insight to make this as seamless as possible. That is why we are very excited to bring these bundles out to help aspiring gamers on their journey to be the next big streamer."
The first of two dedicated streaming kits, the Essentials bundle, comes with the required accessories needed to start streaming, such as a dedicated microphone and camera. While the Premium Bundle includes more advanced streaming components like a professional green screen and studio lighting to further elevate the quality of your streaming presentation. Additionally, the recommended streaming build comes pre-installed with Streamlabs OBS so that you have the best streaming software right out-of-the-box.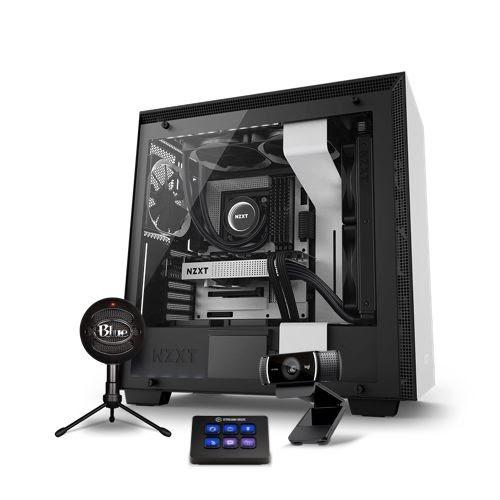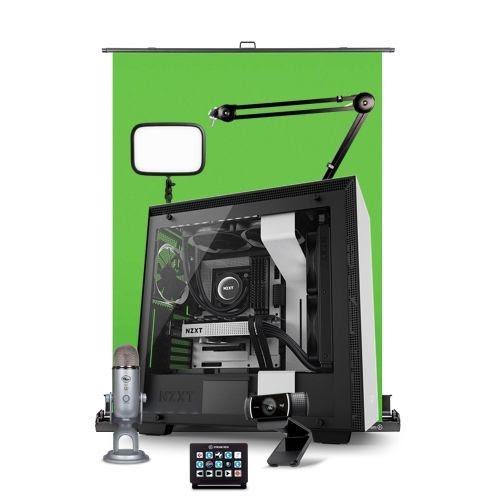 Streaming Bundle Features
Essentials Bundle:
Blue Snowball

Elgato Stream Deck Mini

Logitech c922x Pro Stream

Streamlabs OBS
Price:
Standalone: $199.99
With PC: $2697.91
Premium Bundle:
Blue Yeti Pro

Blue Radius II Shock Mount + Pop Filter

Microphone Boom Arm

Elgato Stream Deck

Elgato Key Light

Elgato Green Screen

Elgato Game Capture HD60 Pro

Logitech c922x Pro Stream

Streamlabs OBS
Price:
Standalone: $1,099.99
With PC: $3597.91
BLD Streaming PC Only Specs:
Case: H700 White
CPU: Intel Core i7-9700k
GPU: EVGA GeForce RTX 2080 Black Gaming Edition
Motherboard: MSI MPG Z390 Gaming Pro Carbon AC
Ram: G. Skill TridentZ RGB 16GTB 3600MHz
SSD: Samsung 970 EVO 1 Tb
CPU Cooling: NZXT Kraken X72
Software: Windows 10 Home & Streamlabs OBS
Price: $2498.91
Availability:
USA & Canada: Now - 4/26/19
BLD Overview
BLD Features
Choose up to 3 games from a selection of the most popular PC games on the market.

Specify your desired budget range

BLD's unique recommendation engine provides benchmark data for the performance you can expect from your build.

Customize and upgrade your build, from various NZXT case options and RGB lighting setups, to finalize your build for the perfect DIY feel.

Complete your order and sit back and relax while your custom PC is built within 48 business hours and then shipped.
BLD's Unique Recommendation Engine:
Predicts FPS (frames per second) within 10% accuracy to guarantee gaming performance of each custom BLD PC for the games chosen by the user.

FPS prediction is calculated from over 10 million, and counting analyzed gaming hours.
BLD's Peace of Mind Services:
NZXT has more than 12 years of experience developing award-winning, high-quality PC components. Every custom BLD gaming PC features:
Components made from industry-leading companies with the highest standard of quality.

Assembly by highly-trained builders, delivering meticulously crafted gaming PCs.

BLD PC built within 2 business days and then shipped.

Expert Live Chat feature for real-time help and troubleshooting.

Free and easy returns for any systems that do not meet the BLD engine FPS performance guarantee of within 10%.

Comprehensive 2-year warranty