Pohlheim, 19 March 2019 - Sharkoon Technologies is an international supplier of PC components and peripherals which boasts performance at a reasonable price. Sharkoon now presents the WPM Gold ZERO. This is an 80 PLUS Gold certified power supply unit using current technology and manufactured with high-quality components. In addition, tidy installation within the PC housing is made possible thanks to the semi-modular configuration of the cable connections.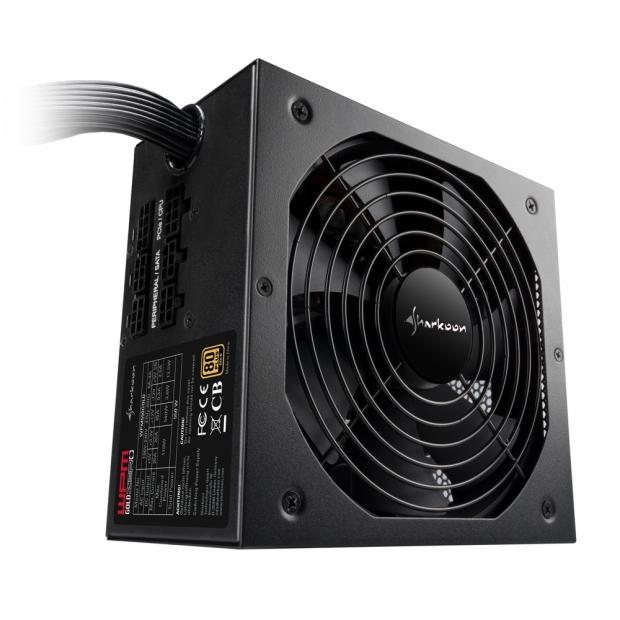 Certified Efficiency
Due to an efficiency of up to 90 percent, the WPM Gold ZERO has been certified with 80 PLUS Gold. This certification verifies the promised optimization of energy usage and provides assurance that the device will save on electrical power.
Stable Voltage with Modern LLC Technology
With the WPM Gold ZERO, Sharkoon relies on state-of-the-art technology including superior LLC resonant converters. These ensure low switching losses and thus enable a higher efficiency. Through the power supply's technological design and its use of premium components, noise and heat levels are reduced to a minimum.
ZERO RPM Function for a Silent Operation
In addition to high-quality components, Sharkoon has equipped the device with the ZERO RPM function. As the name of this function implies, this suspends the rotation of the power supply's fan at low to moderate loads to enable a silent operation. If cooling is then later required by the system, the fan rotation is re-activated.
RYZEN Compatible and Semi-Modular
The semi-modular design enables the tidy and uncomplicated installation of the power supply, and the cables can be selected and installed according to the needs of the user. The exceptions to this are the cables for the ATX and the 4+4-pin CPU connections. The CPU cable supplies optimal power also to high-performance systems. Even PCs with AMD RYZEN processors can be operated without any additional adapters via one of the two PCIe / CPU sockets, which can also be used for connecting to graphics cards.
Price and Availability
The power supply WPM Gold ZERO from Sharkoon is now available in three classes of performance: The suggested retail price for the 550 W version is 74.90 euros. For the 650 W and 750 W versions the suggested prices are 79.90 euros and 84.90 euros respectively.
Sharkoon WPM Gold ZERO HD photos: http://en.sharkoon.com/product/GoldZERO#gallery
Sharkoon WPM Gold ZERO Premium content: http://en.sharkoon.com/Download/Cases_and_Power/PSU/WPM_Gold_ZERO/prem_WPM_Gold_Zero_en_02.pdf
Sharkoon WPM Gold ZERO YouTube video:
Sharkoon WPM Gold ZERO Additional information: http://en.sharkoon.com/product/GoldZERO#desc