March 15, 2019 (LOS ANGELES, Calif.) - From publisher Skybound Games and developer NMC Studios, notmycar drops players onto a massive island battleground where they must outlast the competition to remain the last car standing. Drop, drive and destroy with automotive fury and an arsenal of brutal weapons and abilities in all-out vehicular battle royale mayhem. You'll need a tight ride and all the cunning, skills and guts you can muster to win the fast-paced, tire-squealing chaos that is notmycar.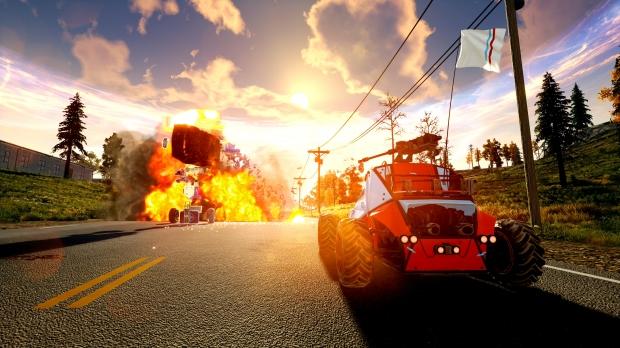 notmycar will be available to play for free on Windows PC on April 5th via Steam Early Access! A Founders' Week kicks off on launch day and runs through April 12th, rewarding the game's earliest players with an exclusive custom paint job for notmycar's one and only pick-up truck of punishment - The Beast. All that play during Founders' Week will get The Beast custom paint job for free.
To celebrate the forthcoming Early Access launch, Skybound and NMC Studios have also just released a new video about The Beast here.
Game Features:
Drop: Get a double-shot of adrenaline as you freaking glide your car into each match. Pick the best landing zone on a massive island battleground that gets smaller and smaller, driving all your enemies right into your sights.
Drive: Customize your battle wagon to the nines so your worthless enemies know fear as they spot you on the horizon and remember exactly who blasted them into oblivion. Flags, paint-jobs and more: it's all up to you.
Destroy: It's pedal-to-the-metal as you race to snatch the best weapons from caches all over the island. Second place is the first loser, so show no mercy and fight your way to the top of the junk heap to be the last car standing!
Players interested in the game, can register on www.notmycar.com for up-to-the minute news, reminders and exclusive offers or follow notmycar on Twitter.