ASUS today announced the addition of new GeForce GTX 1660 graphics cards to its TUF Gaming and Phoenix lineups. These new graphics cards follow on the heels of the recently announced GTX 1660 Ti, bringing even more competitive graphics card options for gamers. The GeForce GTX 1660 GPU leverages the impressive raster performance of the Turing architecture to provide an ideal foundation for AAA 1080p gaming, or a plug-and-play upgrade for aging systems.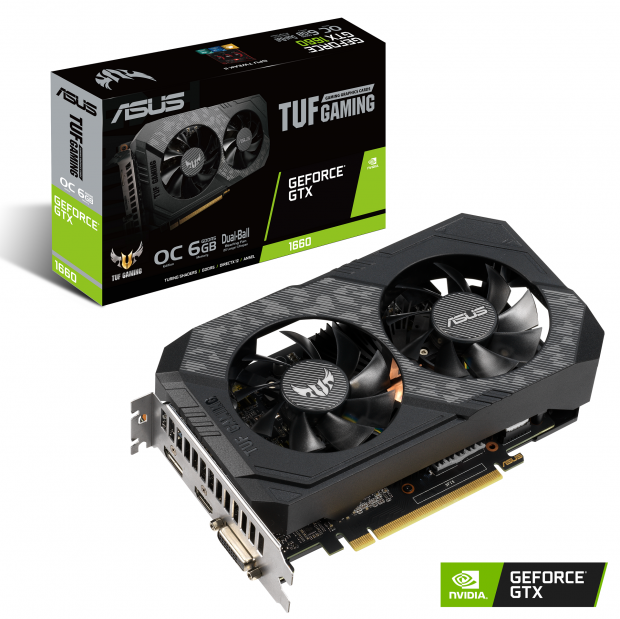 Latest gaming graphics cards from ASUS enable solid AAA gaming experiences at resolutions of up to 1080p
Built TUF
Subjected to a battery of compatibility tests with TUF Gaming motherboards, as well as a 144-hour validation program involving a variety of in-game and synthetic benchmarking, the TUF Gaming GeForce GTX 1660 targets gamers that prefer a longer upgrade cycle. To ensure long-term durability, each card is manufactured with ASUS Auto-Extreme technology and reinforced with a backplate. The cooler is also equipped with two 80mm fans that have dual ball-bearings, which can last up to twice as long as sleeved designs.
Never Stop Gaming
The Phoenix GeForce GTX 1660 has one large 100mm fan that's packed full of technology to increase durability and performance while maintaining a small footprint. Our patented wing-blade fan design incorporates drooped tips to reduce drag, while an IP5X dust-resistant housing protects two sets of ball bearings to ensure a long lifespan. Phoenix cards are also manufactured using Auto-Extreme technology, an automated production process that utilizes robots to enhance reliability.
KEY POINTS
ASUS TUF Gaming GeForce GTX 1660 leads in durability with a myriad of tough features

ASUS Phoenix GeForce GTX 1660 packs performance and quality engineering into a small package
AVAILABILITY & PRICING
ASUS Phoenix GeForce GTX 1660 and ASUS TUF Gaming GeForce GTX 1660 will be available worldwide on March 14, 2019.
The TUF-GTX1660-O6G-GAMING and PH-GTX1660-O6G will be launched at the launch RRP of AUD$439.00 and AUD$389.00 respectively.
SPECIFICATIONS
TUF-GTX1660-O6G-GAMING
NVIDIA CUDA Cores: 1408

OC mode Boost Clock (MHz): 1845MHz

Gaming mode Boost Clock (MHz): 1815MHz

6GB GDDR5 memory

Memory Clock: 8002MHz

PCIe Interface: 3.0

1 x Native DVI-D

1 x Native HDMI 2.0b Output

1 x Native Display Port 1.4
TUF-GTX1660-6G-GAMING
NVIDIA CUDA Cores: 1408

OC mode Boost Clock (MHz): 1815MHz

Gaming mode Boost Clock (MHz): 1785MHz

6GB GDDR5 memory

Memory Clock: 8002MHz

PCIe Interface: 3.0

1 x Native DVI-D

1 x Native HDMI 2.0b Output

1 x Native Display Port 1.4
PH-GTX1660-O6G
NVIDIA CUDA Cores: 1408

OC mode Boost Clock (MHz): 1830MHz

Gaming mode Boost Clock (MHz): 1800MHz

6GB GDDR5 memory

Memory Clock: 8002MHz

PCIe Interface: 3.0

1 x Native DVI-D

1 x Native HDMI 2.0b Output

1 x Native Display Port 1.4
PH-GTX1660-6G
NVIDIA CUDA Cores: 1408

OC mode Boost Clock (MHz): 1815MHz

Gaming mode Boost Clock (MHz): 1785MHz

6GB GDDR5 memory

Memory Clock: 8002MHz

PCIe Interface: 3.0

1 x Native DVI-D

1 x Native HDMI 2.0b Output

1 x Native Display Port 1.4