Developed by Music Powered Games, MuzArcade allows players to Unleash The Games Inside Millions Of SongsÃÆ'Ã,¢"Ã,Ã,¢ - thanks to proprietary technology that generates gameplay on-the-fly based on the lyrics and music of any song.
With licenses from major labels - including Universal Music Group and Warner Music Group - plus hundreds of publishers, MuzArcade players can play more than 6 million songs in 9 puzzle and action games. This combination produces an unprecedented depth of gameplay with over 100 million unique game levels.
"Our team is very excited about the opportunity to partner with the music industry to bring on-demand mobile gaming into the music streaming ecosystem. We think mobile gamers and music fans alike will love discovering and playing the games inside the music of their choice - today's hits, yesterday's classics, and tomorrow's new releases."- Bobby Wells, Chief Executive Officer, Music Powered Games
The initial MuzArcade release includes 5 action games and 4 puzzle games - all uniquely powered by each player's on-demand choices of songs.
MuzArcade Action Games are "stream-powered" adaptations of popular styles of action and quiz games that play along with the lyrics and audio of each song. Players are able to:
Slide a snake to slither through lyric blocks in Stream Snaker.

Tap and fly flappy characters to catch lyrics in Stream Flapper.

Guess words to complete lyric lines in Stream Quizzer.

Blast lyric asteroids and alien ships in Stream Blaster.

Bounce balls to break lyric blocks in Stream Breaker.
Players can personalize the MuzArcade experience with their favorite music by choosing from various genres and artist playlists. They can also search millions of songs by artist name or song name. MuzArcade Action Games also include social competition features that let players vie for score ranking on separate leaderboards for every song; earn achievement rankings for artist playlists; challenge individual friends in head-to-head duels; and create their own game boards to challenge groups of friends.
MuzArcade Puzzle Games are "lyric-powered" adaptations of popular styles of casual puzzle and card games. Players are able to:
Slide letters to find lyric words in Song Cipher.

Play lyric cards to complete lyric lines in Song Solitaire.

Match emoji characters to reveal lyric puzzle letters in Song Jeez.

Shoot pinballs to solve lyric puzzles in Song Ball.
The games automatically weave in lyric puzzles derived from each player's choices of songs.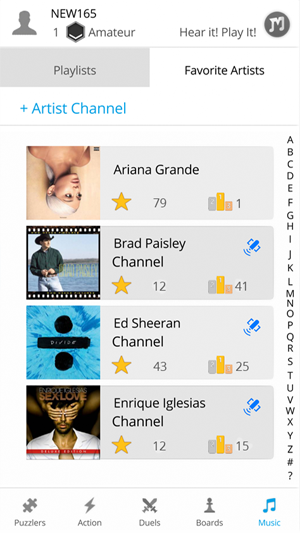 Extra Perks For Music Streamers:
Music Powered Games has partnered with 7digital to allow anyone to play games with streams of their favorite songs. Players who are premium music streaming subscribers can receive extra MuzArcade perks that add recurring monthly value to their subscription. For example, players can connect with their Apple Music account to earn 50 free lives every month. They can also add their own Apple Music playlists. Players who sign up for Apple Music's 90-day free trial receive a reward equal to $17 of in-app purchases. These rewards combined with fun MuzArcade gameplay and social competition are designed to add persistent, game-based value to music streaming subscriptions.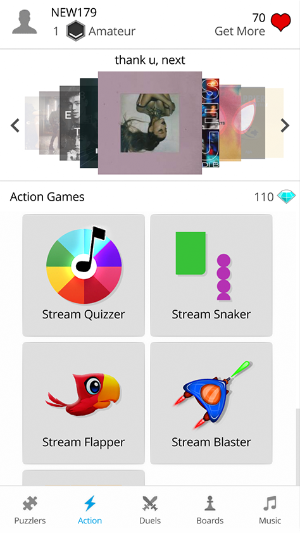 KEY FEATURES:
PLAY nine puzzle and arcade games with songs from thousands of artists.

CHOOSE your favorite songs and artists.

ADD your own playlists from Apple Music.

REACH the top of the leaderboards for your favorite songs.

EARN achievements for songs from every artist.

BATTLE with your friends in head-to-head duels.

CREATE your own game boards to challenge groups of friends.

BRAG about your accomplishments on Instagram, Twitter, and Facebook.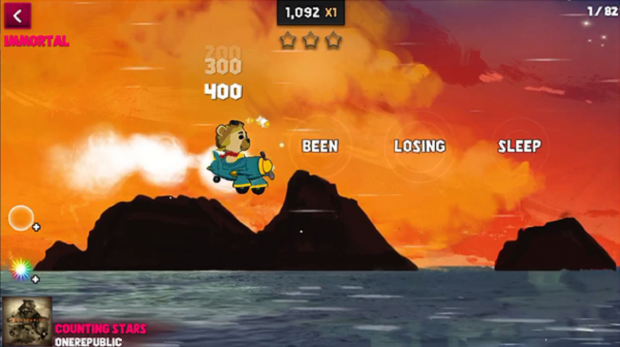 MuzArcade is free to download and play. The game is currently only available in the United States.
App Store URL: https://itunes.apple.com/US/app/id1212960850?mt=8
Google Play URL: https://play.Google.com/store/apps/details?id=com.musicpoweredgames.muzarcade
Last updated: Jul 27, 2022 at 03:38 am CDT