REDMOND, Wash., March 8, 2019 - Wa-hoo! It's almost time for Mario Day! Every year, people celebrate the mustached hero of the Mushroom Kingdom, Mario, on March 10, aka Mar10 Day. For this year's celebration, Nintendo is offering a special deal on select Mario games for the Nintendo Switch system. Between Sunday, March 10, and Saturday, March 16, anyone outside the Mushroom Kingdom can purchase select Nintendo Switch systems and one of five select games starring Mario for a suggested retail price of only $329.98.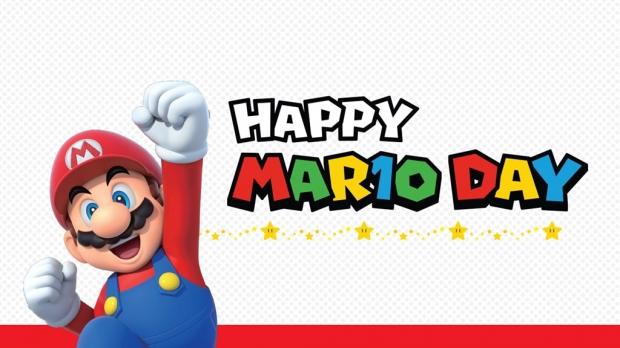 That's a savings of $30, which amounts to 50 percent off one of the games. People that already own Nintendo Switch can still take advantage of the promotion, as they can purchase a digital download code from participating retail stores or retailer websites to redeem in Nintendo eShop for the same five Mario games for only $39.99 each. Downloaded games from Nintendo eShop live directly on the Nintendo Switch system, so it's ideal for gamers who want all their games in one place, as there's no need to carry around game cards. The five Mario games featured in the promotion, which all offer fun experiences that can be enjoyed together by the whole family, are:
Super Mario Party, an uproarious party game for up to four players. Play as classic characters in a series of more than 80 fun new minigames.

Super Mario Odyssey, a massive globe-trotting 3D adventure for one to two players. Using his new ally Cappy to control objects, animals and enemies, Mario explores multiple creative Kingdoms to collect Power Moons.

Mario Kart 8 Deluxe, the multiplayer high-speed racer. Race friends through colorful tracks using iconic characters like Mario, Luigi, Princess Peach, Bowser, and even Link from The Legend of Zelda series and the Inklings from Splatoon.

Mario Tennis Aces, a multiplayer sports game. Play locally or online with friends in fast-paced tennis matches across multiple modes.

New Super Mario Bros. U Deluxe, a multiplayer side-scrolling platformer with 164 creative and challenging levels.
"What better way to celebrate Mario Day than by playing some of the most popular Mario games on Nintendo Switch," said Doug Bowser, Nintendo of America's Senior Vice President of Sales and Marketing. "This promotion is a great option for consumers who want to pick up Nintendo Switch and some hit games at a value price." The Nintendo Switch system + one Mario game promotion will be available in store and online at participating retailers, while the individual Mario game sale is exclusive to participating retailers that sell digital download codes. For more information about the promotion, including a list of participating retailers, visit https://www.nintendo.com/games/sales-and-deals. In addition to the Nintendo Switch promotion, fans can also redeem their My Nintendo points for some cool rewards inspired by everyone's favorite ground-stomping superstar from the Mushroom Kingdom.
To celebrate Mario's big day, My Nintendo is offering a March calendar and Mario Day wallpapers. To encourage folks to throw a Mario Day party of their own, Mario-themed invites and bingo cards are also available, as well as themed envelopes perfect for holding Nintendo eShop Cards - they make great party gifts! For more information about all the available My Nintendo rewards, visit https://my.nintendo.com/news/497ab609320d0e9d. Now is a great time to pick up Nintendo Switch. In addition to a current library of more than 1,000 games, Nintendo recently detailed many exclusive games and experiences coming to Nintendo Switch in 2019, including the first Yoshi game on Nintendo Switch, Yoshi's Crafted World, on March 29, Super Mario Maker 2 this June and Fire Emblem: Three Houses on July 26, among many others. Remember that Nintendo Switch features parental controls that let adults manage the content their children can access. For more information about other features, visit https://www.nintendo.com/switch/.
About Nintendo: The worldwide pioneer in the creation of interactive entertainment, Nintendo Co., Ltd., of Kyoto, Japan, manufactures and markets hardware and software for its Nintendo Switch system and the Nintendo 3DSâ"Ã,¢ family of portable systems. Since 1983, when it launched the Nintendo Entertainment System, Nintendo has sold more than 4.7 billion video games and more than 740 million hardware units globally, including Nintendo Switch and the Nintendo 3DS family of systems, as well as the Game Boy, Game Boy Advance, Nintendo DS family of systems, Super NES, Nintendo 64, Nintendo GameCube, Wii and Wii U systems. It has also created industry icons that have become well-known, household names, such as Mario, Donkey Kong, Metroid, Zelda and Pokemon. A wholly owned subsidiary, Nintendo of America Inc., based in Redmond, Wash., serves as headquarters for Nintendo's operations in the Americas. For more information about Nintendo, please visit the company's website at https://www.nintendo.com/.