25 January, 2019 -- Taipei, Taiwan -- Chunghwa Telecom ("CHT"), Taiwan's largest telecommunication service provider, today announced an exclusive partnership with Netflix to promote domestic and international video content in superior 4K quality. With more than two million MOD ("multimedia-on-demand") users, CHT's newly-introduced "Netflix Bundle Package" comes with a dedicated set-top box and remote control, designed to give viewers unprecedented ease of access and immersive viewing experiences. The partnership is expected to create a wave of new user growth among younger generations.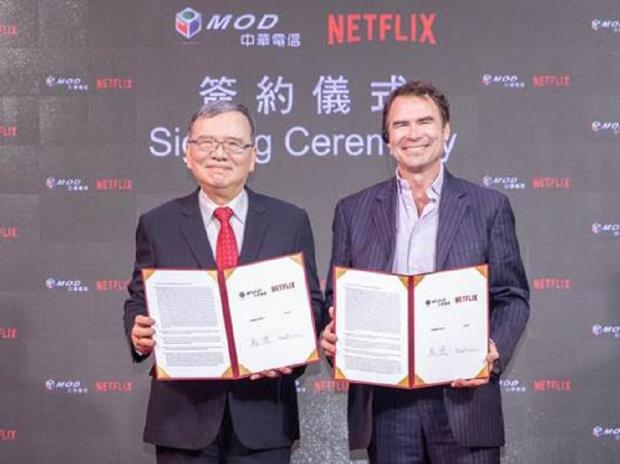 MOD teams up with Netflix to bring an even larger collection of 4K entertainment
The development and promotion of 4K technology adoption is a major focus for the Taiwan National Communications Commission this year. MOD is at the forefront of the Taiwanese entertainment industry by offering an unbeatable range of 4K content on its platform, from sports, esports to reality shows, amounting to more than 1,700 hours of streaming content in total. Integrating Netflix's vast catalog of 4K content to its platform, CHT MOD now brings an even larger selection of the highest quality entertainment for users to choose from and enjoy.
Netflix is only a button away: MOD launches dedicated set-top box and remote control to unlock premium 4K shows
CHT MOD not only provides the richest and most diverse range of 4K entertainment content for its consumers, it is also committed to giving audiences the best viewing experience possible via its powerful information and communications technology. Deploying a technology team of more than 100 engineers, CHT MOD has developed a Netflix set-top box specifically for this partnership, while providing 4K streaming service upgrades for existing users, so that the bundle will be available to all existing and new customers.
Launching a brand new "Netflix Bundle Package" with additional discount before March 31
CHT MOD will launch the "Netflix Bundle Package" just in time for Chinese New Year. Consumers who register for the bundle before March 31 will be entitled to an additional NT$600 discount.*
To demonstrate the unique viewing experience of Netflix on MOD, an experiential zone will be set up in CHT's Xinyi Vieshow branch, where consumers can trial the elevated viewing experience for free.
CHT MOD bridges Taiwan Entertainment to the international arena
Through the partnership with Netflix, CHT MOD brings premium international 4K content to Taiwan, while distributing domestic shows of excellence to the world. Green Door, a CHT production, will debut on Netflix internationally after Chinese New Year. CHT envisions that this strategic alliance with Netflix will accelerate growth within the local entertainment industry, benefiting content producers, consumers, and all stakeholders alike.
All promotional programs are subject to the discretion of the stories.
About Chunghwa Telecom
Chunghwa Telecom is Taiwan's largest integrated telecommunications services company that provides fixed-line, mobile, broadband, and internet services. The Company also provides information and communication technology services to corporate customers with its big data, information security, cloud computing and IDC capabilities, and is expanding its business into innovative technology services such as IoT, AI, etc. In recent years, Chunghwa has been actively involved in corporate social responsibility and has won domestic and international awards and recognition.
Last updated: Sep 25, 2019 at 05:39 pm CDT