Antlion Audio (www.antlionaudio.com), the original creator and leader in attachable microphones for gaming, streaming and Voice over Internet Protocol (VoIP), today announced the Antlion ModMic Wireless. This stunning new device delivers full DVD quality, 16-bit 48khz audio, using Qualcomm's aptX protocol to achieve blistering speeds and unprecedented clarity.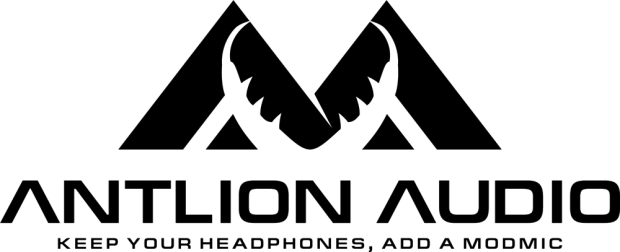 The ModMic Wireless is truly the first of its kind. Using the patented ModMic "attach to anything" clasp system that built the foundation for Antlion Audio, the ModMic Wireless version delivers all the quality and features Antlion fans have come to expect. Foremost, of course, is the ability to allow users to select any pair of headphones and turn them into the perfect headset. This quality is amplified by going wireless with Antlion's near lag-free performance.
Beyond quality and speed, the ModMic Wireless retains the dual mic modes found in the ModMic 5 with all new mic capsules for spectacular wireless transmission. The mic features a digital quick-mute, where silence is just a tap away. Meanwhile the clever LED receiver delivers a clear indicator for mute, low battery, and other status issues. With over 12 hours of battery per charge and the ability to charge during use, the ModMic Wireless is ready for even the longest sessions.
ModMic Wireless Features:
Attach to Any Headphones: The patented Antlion clasp keeps the mic securely in place, yet can be removed at any time. The perfect blend of freedom and security.

Unparalleled Quality: Delivering true DVD quality sound wirelessly, the ModMic Wireless has a sample rate six times higher than standard Bluetooth protocol.

Incredible Speed: Utilizing aptX Low Latency, we deliver the current fastest speed possible over Bluetooth connections.

Dual Mic Modes: Use a uni-directional noise canceling mode for loud environments or a higher response omni-directional recording mode for when quality counts.

Quick Mute: Instant silence with just the tap of a button, always in reach.

Unique Accessories: With the LED receiver the status of your mic is never in question. Operates with PC, Mac, and PS4 devices!
Availability:
The new ModMic Wireless is available effective Nov 27, 2018 with an MSRP of $119.95 from the Antlion Audio online store at https://antlionaudio.com, as well as Amazon in the USA. For a full list of retailers around the world visit: https://antlionaudio.com/pages/where-to-buy.
Last updated: Apr 7, 2020 at 12:11 pm CDT