Don't miss your shot, now is your chance to try Overwatch for FREE!Don't miss your shot, now is your chance to try Overwatch for FREE!
Wednesday, November 21, 2018 - Blizzard's Black Friday Sale is on, and it's a big one this year! We're offering discounts on Blizzard games and Activision PC titles at the Battle.net Shop. The Blizzard Gear Store is also having its Black Friday and Cyber Monday sales, with special daily deals, plus discounts up to 75% on select products today through December 1 at 18:00 GMT.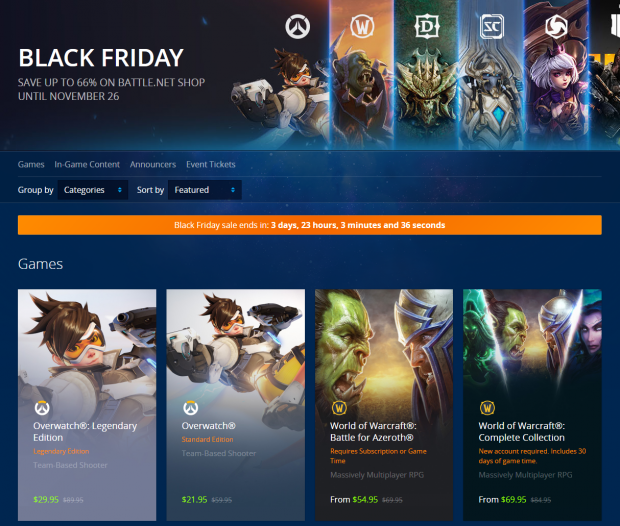 Overwatch is making this a Black Friday to remember, combining our deepest discounts ever on the game with a chance to try it out for free. For friends of friends (of friends) who haven't yet tried the game, Overwatch is back with a Free Trial, starting today through November 26.Overwatch's full roster of 29 heroes including the newly announced Deadlock Gang outlaw, Ashe, will be playable! Players can explore 26 maps in a variety of modes, including Quick Play, Custom Games, and the Arcade, to experience everything Overwatch has to offer. For more details, check out www.tryoverwatch.com.
Ready to join the fight for the future? Pick up the Standard Edition of Overwatch at Ã,£12.99 or the Legendary Edition at Ã,£19.99! You can also upgrade from Standard Edition to Legendary Edition for Ã,£7.
The Overwatch sale ends on November 29 at 08:00 GMT; please check the Battle.net Shop for details.
Players can also take advantage of the discount on the Overwatch: Legendary Edition for PlayStation 4 and Xbox One via the PlayStation and Xbox stores, as well as participating retailers - see their respective websites for details.
Big games with big deals Battle.net!
Battle.net is having its Black Friday sale on Blizzard and Activision games. Today through November 26 at 22:59 GMT, save on these games and game bundles:
World of Warcraft: - There's never been a better time to dive into Azeroth with Ã,£10 off on World of Warcraft's latest expansion: Battle for Azeroth. You can save on your purchase of either the Standard Edition or the Digital Deluxe Edition, as well as the Complete Collection Standard Edition and the Complete Collection Digital Deluxe Edition. Discounts are available until November 27, 17:00 GMT; please check the Battle.net Shop for details.

Diablo III

The base game and upgrades are now on sale including Reaper of Souls for just 8.49, Battle Chest for just 12.49, and Rise of the Necromancer for just 6.49.

StarCraft: Remastered and StarCraft II - Get StarCraft: Remastered for just Ã,£6.49 StarCraft II Campaign Collection for just Ã,£17.49, StarCraft II Announcers for just Ã,£2.24 and StarCraft II Personalities for just Ã,£2.99.

Heroes of the Storm - Head into the Nexus with up to 33% off Boosts! These deals are only available in the in-game shop.

BlizzCon 2018 Virtual Ticket
With BlizzCon all wrapped up you can catch this year's Virtual Ticket and all its bonus in-game itemsat the low price of 19.99! All exclusive BlizzCon video content is still included.

Call of Duty: Black Ops 4 on PC - Get up to 20% off with discounts on the base game, Digital Deluxe, and Digital Deluxe Enhanced editions.

Destiny 2: Forsaken for PC - Up to 35% off with discounts on the base game, base game + Annual Pass bundle, Digital Deluxe, Complete Collection and Legendary Collection.