Toshiba Memory America, Inc. (TMA), the world leader in memory solutions, has begun sampling Universal Flash Storage (UFS) devices[1] utilizing its cutting-edge 64-layer BiCS FLASH 3D flash memory.[2] The new UFS devices meet performance demands for applications that require high-speed read/write performance and low power consumption, including mobile devices such as smartphones and tablets and augmented /virtual reality systems.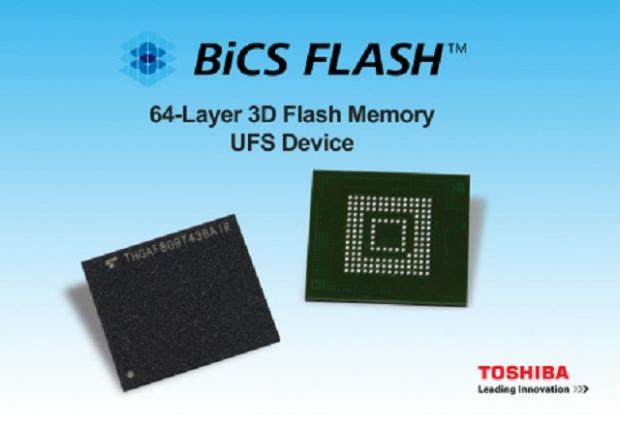 Toshiba's new UFS devices are based on its cutting-edge 64-layer BiCS FLASH 3D flash memory and will be available in four capacities: 32GB, 64GB, 128GB, and 256GB.
The new lineup will be available in four capacities: 32 gigabyte (GB), 64GB, 128GB, and 256GB[3]. All of the devices integrate flash memory and a controller in a single, JEDEC-standard 11.5x13mm package. The controller performs error correction, wear leveling, logical-to-physical address translation, and bad-block management - allowing users to simplify system development.
All four devices are compliant with JEDEC UFS Ver. 2.1, including HS-GEAR3, which has a theoretical interface speed of up to 5.8Gbps per lane (x2 lanes=11.6Gbps) while also suppressing any increase in power consumption. Sequential read and write performance[4] of the 64GB device are 900MB/sec and 180MB/sec, while the random read and write performance are approximately 200 percent and 185 percent better, respectively, than those of previous generation devices[5]. Due to its serial interface, UFS supports full duplexing, which enables both concurrent reading and writing between the host processor and UFS device.
Toshiba was the first company in the world[6] to announce 3D flash memory technology, and the addition of 3D-based UFS keeps the company at the forefront of innovation while simultaneously enhancing its existing lineup of BiCS FLASH solutions.
"By bringing our industry-leading BiCS FLASH technology to UFS, we continue to expand the capabilities of our embedded storage solutions," noted Scott Beekman, director of managed flash memory products for TMA. "Higher performance, good power efficiency and an expanded density lineup all enable existing and future applications to realize new possibilities."