Toshiba America Electronic Components, Inc. (TAEC), a committed technology leader, today announces its collaboration with Lenovo to integrate its PX04P Series of NVM ExpressÃ,Ã,® (NVMeTM)[1] SSDs with Lenovo's new ThinkSystemTM and ThinkAgileTM servers[2] to drive high performance and endurance while giving customers flexible storage and data center infrastructure options. ThinkSystem servers aim to expand traditional data center infrastructure to enable hyperscale and HPC deployments, and ThinkAgile focuses on software-defined deployments.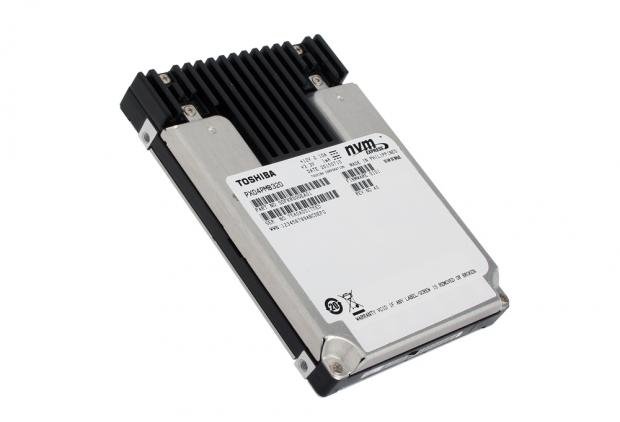 Toshiba PX04P Series PCIe Gen3 NVMe SSDs drive high performance with low power consumption for enterprise and cloud workloads.
The PX04P Series is available in AIC and 2.5" form factors[3] each with x4 PCIe Gen3. Offered in capacities up to 3.84TB[4], the PX04P boasts endurance rates up to 10DWPD[5]. Used in flexible storage systems from Lenovo, the PX04P performs well in various high performance IO and varied workload levels. The PX04P functions at the highest performance efficiency, with 660K RR IOPS[6] at only 18.5W max. Toshiba serves a broad portfolio of innovative, proven storage products and offers end-to-end integration of NVMe SSD with Toshiba FLASH, controller and FW.
"Lenovo is committed to advancing the data center experience and providing our customers flexibility and agility to scale as workloads change," said Kamran Amini, General Manager, Server and Storage System Business Unit, Lenovo. "By integrating our new ThinkSystem and ThinkAgile portfolios with Toshiba's enterprise NVMe SSDs, this collaboration allows customers both reliability and efficiency needed for better business outcomes."
This news demonstrates Toshiba's commitment to continued momentum and growth in the industry following the IDC market reports[7], which identified Toshiba as the fastest growing vendor for 2016 in the $17 billion SSD segment[8].
"The PX04P enterprise NVMe family combines high performance with a highly efficient power profile," said Jeremy Werner, vice president, SSD marketing and Product Planning, Toshiba America Electronic Components, Inc. "Toshiba's SSDs are vertically integrated, and designed to deliver quality with reliability required by data centers. Our collaboration with Lenovo provides flexible storage for multiple, demanding workloads."
The PX04P Series SSDs are now available. For more information on Toshiba's line of storage products, please visit: http://toshiba.semicon-storage.com/us/product/storage-products.html. For more information on our entire line of consumer storage solutions visit: http://storage.toshiba.com/consumerhdd. To learn more about Toshiba's storage solutions, follow @ToshibaStorage on Twitter.
Last updated: Apr 7, 2020 at 12:11 pm CDT