Team Group is proud to announce its participation in this year's COMPUTEX taking place from May 30th to June 2nd, 2017 alongside the company's 20th anniversary celebration under the theme "Go beyond the limit and reach for the top." This milestone represents not only the maturity of Team Group's strength in R&D, but also its continuous effort in creating brand value. In conjunction to this year's COMPUTEX, Team Group will also set-up a VIP display area for its new products at the Grand Hyatt Taipei inviting all media to join the celebration.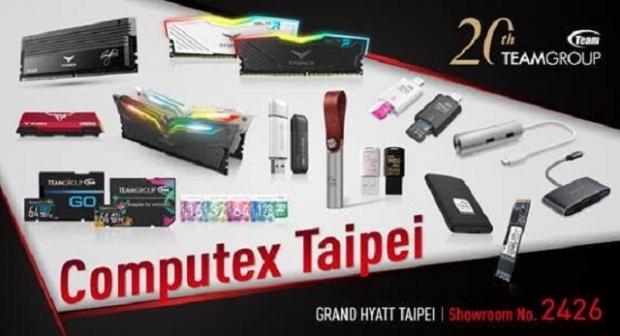 New product launch and announcements geared up for COMPUTEX 2017 by Team Group
AWARD-WINNING T-FORCE Series
Team Group's gaming brand - T-FORCE series has been highly praised by media and consumers around the globe. High-end, and award-winning memory modules NIGHT HAWK and XTREEM earned high distinctions this year, the T-FORCE XTREEM holding the world record for memory overclocking frequency at 5280MHz as well as the first ever memory module to break the 5200MHz barrier. A limited edition will be debuted at the event.
Inspired by minimalism, Team Group has designed the NIGHT HAWK RGB heat spreader coming in black and white along with the DELTA RGB memory module. The NIGHT HAWK RGB goes above and beyond with its sharp hawk-eye colorful lighting. The DELTA RGB is a high-speed memory module with premium textured heat-spreader, featuring an asymmetric design that allows the full size light guide panel to spread through and display gorgeous colorful lighting. In addition to NIGHT HAWK RGB and DELTA RGB's built in flowing water lighting and breathing lighting effect, they also can both support the synchronized lighting effect function of ASUS Aura Sync.
T-FORCE CARDEA, the patented gaming PCIe Gen3x4 M.2 SSD, will also be on display during the event. This NVMe-supported product features high-efficiency heat dissipation as well as incredible sequential performance up to 2600/1400 MB/s and a random access rating of 180K/140K read/write IOPS.
Team Group Memory Card Solutions
Team Group's latest GO CARD for action cameras is available in two variants for more versatility. One variant offers UHS-l Speed Class 3 (U3) with read/write speed up to 90/45MB/s along with the latest SD5.0 specification. The other V30 variant offers read/write speed up to 90/60MB/s. Designed for extreme sports and enthusiasts, GO CARD provides thrill-seekers the storage they need to record every intense moment they experience.
The all new COLOR CARD II follows the diamond pattern design of the previous COLOR CARD and adds a 3D visual impression thanks to gradient and special color combinations such as Blueberry Blue, Lime Green, Peach Pink, etc. It also supports 4K Ultra HD and Full HD video recording.
A1 CARD, Team Group's first memory card designed specifically for smartphones will be unveiled to the world at this year's Computex. A1 CARD has already drawn everyone's attention by meeting the latest 5.1 specification from the SD Association. The processing speed is so fast that the random read/write speed is up to 1500/500 IOPS; allowing to expand the smartphone's storage capacity while keeping apps smoothly running.
High-Speed, Compact, with Enhanced Performance
Storage solutions for high-performance seekers include Team Group's P30, the latest M.2 SSD featuring PCI-e Gen3 x4. It offers four times more bandwidth than traditional SATA III, making P30 the best upgrade option to increase operating system responsiveness and application loading times.
After receiving the Taiwan Excellence Award for its PD700 external SSD, Team Group continues its award-winning legacy with another storage marvel, the PD500. It is equipped with USB3.1 Gen1 connectivity for high compatibility and performance across all platforms. Besides maintaining a quiet and cool operation, the durable body will protect your data from the shocks and bumps of your daily use.
USB Drive Showcase Including COMPUTEX d&i Awardee Flash Drive
The T171 Titan just received the COMPUTEX d&i Award 2017. Featuring a metal unibody design , Team Group's limited edition USB drive was processed through high-precision CNC lathe machining.
With its original black and white design inspired by piano keys, the C171 USB drive's concept is infused with minimalist aesthetics. It comes in two color ways: crystal carbon black with golden letters and ivory white with rose gold.
The C175/173 Pearl USB drives are equipped with the fastest USB 3.1 Gen1 (USB 3.0) interface and USB 2.0 interface respectively. The black and white dual color design remains discreet but elegant. With its crystal clear rounded appearance and eye catching streamlined sides, it resembles deep water black and white pearls.
Apple MFi Certified Type-C Mobile Peripherals
Team Group is releasing a series of Apple MFi certified charging cables, including WC06, WC07 and WC08. The WC06 offers a convenient 2-in-1 design and these cables length allows for more flexibility in any usage scenario.
The new charging cable WC0A is compatible with all kinds of Type-C digital products. The LED charging indicator with lightning bolt icon makes it easy for users to monitor the charging status of their device. The WC0C is compatible with Type-C/Lightning/Micro USB devices bringing full cross-platform compatibility that saves users money and time from buying multiple cables.
Team Group is also launching the USB TYPE-C port - WT01 and the 4 ports USB-A interface expansion - WT03. The WT01 is a 3-in-1, highly efficient multitasking transfer interface with its Type-C, Type-A, and HDMI connections. With 4 ports, USB-A interface expansion, the WT03 allows four USB devices to be connected at the same time for synchronized multitasking expansion. This is ideal for consumers worried about the lack of USB-A interface on the new MacBooks.
Following the success of the Mostash, Team Group's MoStash Reader is another external Apple storage device. With an ultra-compact and lightweight design, the Mostash Reader is easy to carry around and allows users to back up files through its SD card reader while expanding their storage capacity.
Last updated: Sep 1, 2017 at 12:58 am CDT