Eurocom has launched the 17.3", 3.8 kg, PX7 Pro SE Mobile Server platform, powered by energy efficient Intel Xeon E3-1505M v5 processor, with up to 64 GB of DDR4 Error Correcting Code (ECC) memory, up to 16 TB RAID 0/1/5 storage via six storage drives and an integrated display, keyboard, and uninterruptible power supply (UPS).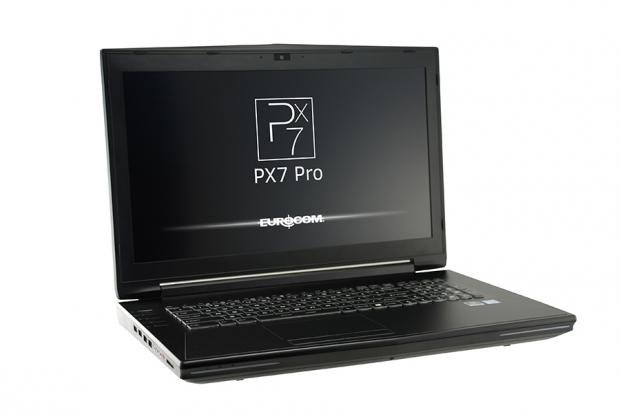 The 17.3" EUROCOM PX7 Pro SE is the newest addition to the line of award winning Eurocom Mobile Servers, built to provide server grade capability on the go. All Eurocom Mobile Servers combine Intel Xeon processors, large amounts of memory and storage, as well as an all-in-one design with integrated display, keyboard, and built-in UPS/battery pack, ensuring you have dedicated server capability anytime, anywhere.
Server on the Go (SOTG) is a complementary deployment method for Mobile Servers that adds a fresh set of possibilities on top of existing rackmount server options. Server-on-the-Go allows for either "on-the-go", "rapid server deployment", "private cloud" or "Ad Hoc" (temporary network setup). Industries with temporary set-ups requirements, emergency management, training, and military and law enforcement can see major benefits in comparison to traditional servers through SOTG deployment with quick set-up and tear-down.
The EUROCOM PX7 Pro SE is the newest addition to an impressive line of Eurocom Mobile Servers that offer fast deployment combined with easy relocation and no need for a server room. The ability to hand-carry a Eurocom Mobile Server makes them an extremely easy system to relocate while providing server capabilities.
The Intel CM236 Chipset of the EUROCOM PX7 Pro SE introduces a number of new technologies and several feature enhancements that offer visibly improved performance and the ability to support the quad-core Intel Xeon E3-1505M v5 processor. In addition to four CPU cores with Hyper-Threading clocked at 2.8 - 3.7GHz, the chip also integrates a dual-channel DDR4-2133 memory controller supporting up to 64 GB of ECC memory.
A Mobile Server user requires huge amounts of storage and the PX7 Pro SE does not disappoint, with four M.2 SSD (2x NVMe, 2x SATA) storage bays and a single 9.5 mm storage drive bay, along with an Optical Drive that can be swapped out for another 9.5mm storage drive.
Graphics processing comes in the form of optional NVIDIA Quadro M5500, M4000M, M3000M, M2000M and M1000M graphics cards through a single, upgradeable MXM 3.0 slot. This selection of powerful graphics options makes the EUROCOM PX7 Pro SE perfect for Engineering on the Go, where powerful professional grade graphics are required. With 8 GB GDDR5 VRAM the NVIDIA Quadro M5500 is the ultimate VR Ready professional graphics card. Like nearly everything at Eurocom, the customer can choose which option best suits their needs.
Processor
The EUROCOM PX7 Pro SE is driven by an energy efficient Intel Xeon E3-1505M v5 processor with four cores, eight threads, 45 W TDP, 8M Cache running at 2.80GHz based on the CM236 server chipset. Under long-lasting full load, the Intel Xeon E3-1501M v5 chip profits by its advanced 14 nm process, which leads to a higher energy efficiency and reduces throttling.
Memory
Up to 64GB of DDR4-2133 ECC SO-DIMM memory is supported via four memory slots. Eurocom integrated ECC memory support because it is a method of detecting and then correcting single-bit memory errors. The presence of errors can have a significant impact on server performance.
Storage and RAID
The EUROCOM PX7 Pro SE supports four M.2 solid state storage drives. Of the four, two of them are PCIe, while the others are SATA. A 2.5" storage is also supported and the Optical Drive can be swapped for another 2.5" storage drive to offer a great combination of capacity and speed.
LAN
The PX7 Pro SE comes with a built-in Gigabit Ethernet port on-board with a Killerâ"Ã,¢ E2400 Gigabit Ethernet Controller. The Killer E2400 from Rivet introduces Advanced Stream Detect 2.0 to offer the most cutting-edge network data detection and network optimization technology in the PC market today.
Power
Equipped with a built-in UPS in the form of a 9-cell; 7500mAh/83.25Wh lithium-ion swappable battery pack, which offers upwards of 1.5 hours of backup power in case of electricity failure, which allows for safe and secure shutdown after power loss. An external 230 W AC Adapter/power supply reduces internal heat generated inside the system and it also creates a smaller, lighter chassis that requires less ambient cooling than traditional servers.
Operating Systems
Eurocom Mobile Servers support server class operating systems, such as Server 2012 R2 x64. With the plethora of server class components, extra virtualization capability is a given, allowing higher performance, extremely stable virtualization on one platform.
EUROCOM PX7 Pro SE Specifications:
Display: 17.3-inch FHD 1920-by-1080 pixels IPS Matte; backlit LCD

Weight/Dimensions: 3.8kg (8.4lbs); 428x294x48mm (17.1x11.8x1.9-inch)

Operating Systems: Microsoft: Server 2012R2, Windows 7, Windows 8.1; Linux/Ubuntu

Core Logic: Intel CM236 Chipset

Processor: 4-core/8 treads Intel XEON E3-1505M; on-board

Memory: up to 64GB; DDR4-2133 ECC four physical SO-DIMM sockets

Storage: up to 16TB of storage with six physical drives (4x M.2 SSD + 2x 2.5")

Redundancy and Performance: RAID 0/1/5

Network: 1GbE; RJ-45 LAN on-board; Rivet E24000

I/O Ports: 6x USB 3.0; Thunderbolt 3; DP 1.2; HDMI 1.4; Mic in; Headphone S/PDIF out; Line-in; Line out; RJ-45 / LAN
Last updated: Apr 7, 2020 at 12:11 pm CDT