Following the successful introduction of AMD Ryzen 7 desktop processors including record pre-orders and award-winning1 performance, AMD (NASDAQ: AMD) today announced Ryzen 5 desktop processors will launch worldwide on April 11, 2017, offering disruptive price-to-performance for gamers and creators. With end users at the heart of everything AMD does, the new Ryzen 5 processors feature the powerful and efficient "Zen" architecture in 6-core,12-thread as well as 4-core, 8-thread options, to deliver enhanced performance, immersive experiences and high performance innovation to gamers and consumers worldwide with a price range of $169 to $249 USD SEP.
Four Ryzen 5 CPUs Bring Leadership Compute and Smooth Gaming Performance to Popular Price-Points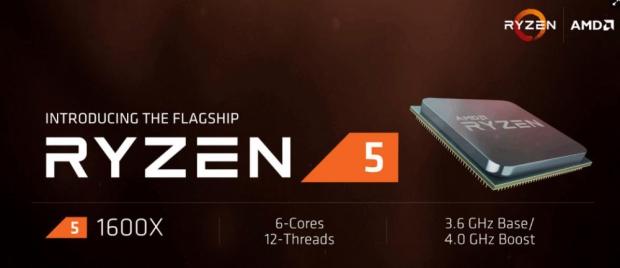 "Ryzen will ultimately bring innovation and competition to virtually every segment of the PC market, and Ryzen 5 is the next big step on that journey, designed to achieve new levels of compute performance for millions of PC users," said Jim Anderson, senior vice president and general manager, Computing and Graphics Group, AMD. "AMD reinvigorated the high-performance desktop market with Ryzen 7 earlier this month, and AMD Ryzen 5 now brings the power and efficiency of the "Zen" core to users in the highly popular sub-$300 segment of the market."
Ryzen 5 Performance and Lineup
During an event today in Beijing, China for press, customers, and partners, AMD outlined the AMD Ryzen 5 desktop processor lineup. AMD specifically designed these processors for performance desktop users, AAA-title and streaming gamers, and the new AM4 desktop platform. Featuring AMD SenseMI technology and impressive multi-tasking capabilities, the groundbreaking AMD Ryzen 5 adapts to consumers' needs with incredible responsiveness and performance. Previously, AMD demonstrated the Ryzen 5 1600X beating the Intel Core i5 7600K by 69 percent2 in CPU performance testing using Cinebench R15 nT.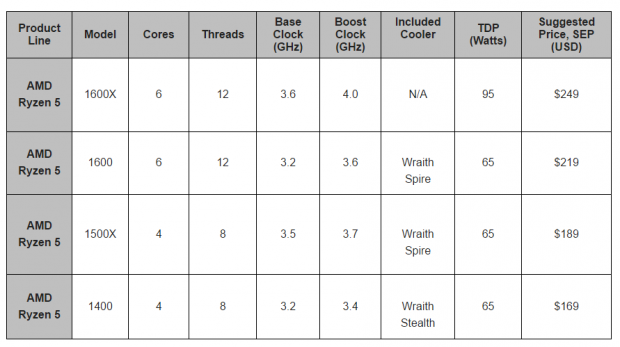 Game Optimizations
With the announcement of the Ryzen 5 lineup, AMD reiterated its commitment to delivering excellent gaming performance to ensure existing and future game titles take full advantage of Ryzen.
"We are impressed by the technological evolution enabled by the Zen architecture, which was designed to keep pace now and well into the future as gaming, eSports and virtual reality experiences continually push the limits of devices," said Vlatko Andonov, president of Bethesda Softworks. "Working with an all-new microarchitecture, like that in the Ryzen family of processors, means that everyone has the opportunity to raise their game and bring the very best interactive experiences to players. All of us at Bethesda are excited about working with AMD to keep evolving the premium performance that Ryzen offers."
Ryzen 5 Processor and Platform Availability
Availability for all four Ryzen 5 models begins April 11 at etailers around the world. All Ryzen processors support the new AM4 infrastructure, with motherboard designs being produced from top ODMs. Announced at CES 2017, AMD and its motherboard partners already debuted a wide array of new motherboards from ASRock, ASUS, Biostar, GIGABYTE, and MSI, all built upon the following desktop chipsets for AMD Ryzen processors - the X370, B350 and the A320, the latter intended for mainstream PCs at new, consumer-friendly price points.
New Coolers
The AMD Ryzen 5 lineup also includes new Wraith coolers, including the Wraith Spire and the Wraith Stealth, available with select AMD Ryzen processors. These new AMD thermal solutions are designed to provide near-silent operation, with unique styling and superb cooling.
Last updated: Sep 1, 2017 at 12:58 am CDT