Analogix Semiconductor, Inc. today announced the availability of its SlimPort ANX753x/7580 family, the first DisplayPort to Quad MIPI-DSI display controllers supporting up to 120 frames per second (FPS) and targeted primarily at virtual reality (VR) and augmented reality (AR) head-mounted displays (HMD).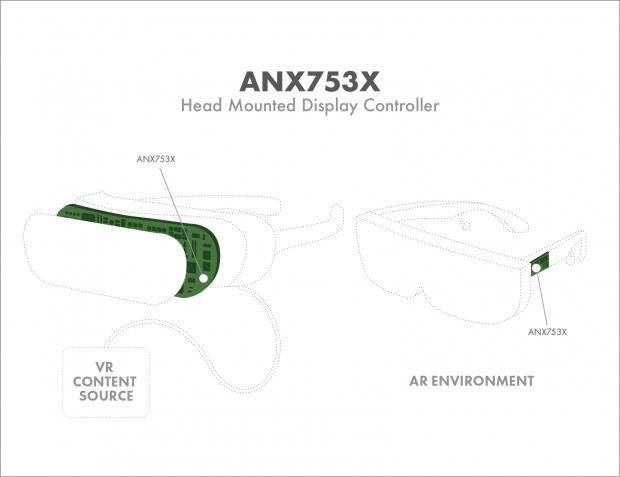 SlimPort 4K UHD Display Controllers Enable the Highest Resolutions and Fastest Response Times in AR/VR Headsets
The product family includes:
ANX7530 - mobile receiver supporting 8 MIPI lanes per eye (total 16 lanes), ideal for popular VR panel resolutions including 1920x2160 per eye.

ANX7533 - mobile receiver supporting 4 MIPI lanes per eye (total 8 lanes) with display stream compression (DSC), recommended for VR panel resolutions including 1920x1440 per eye.

ANX7580 - mobile receiver supporting 8 MIPI lanes applicable to headsets that use a single panel shared between both eyes. It supports panel resolutions including 2560x1600 total.
Leveraging Analogix's long history of products and technology development in low-power, high-speed Serializer/Deserializer (SERDES), the ANX753x/7580 family converts DisplayPort input to MIPI-DSI output offering best in class performance:
DisplayPort 1.4 input supporting link frequencies up to 6.75Gbps;

HDCP 2.2 and 1.4 high-bandwidth digital content protection support to ensure secure distribution of video content;

Adaptive Equalization on its DisplayPort input for best in class signal recovery as required in connected VR HMD applications;

MIPI-DSI 1.2 output supporting link frequencies up to 1.5Gbps, with either 4-lanes or 8-lanes per eye.
"Virtual reality systems are defined by their display quality in terms of the pixel density and responsiveness to head movement," said Andre Bouwer, vice president of marketing for Analogix. "A fluid virtual experience can only be achieved if the video is updated faster than the brain can process it, and with pixels smaller than the optical receptors in the retina. This drives video resolutions and refresh rates ever higher. The ANX7530 can process video at up to 120 frames per second."
Widespread adoption of HDCP 2.2 contributes to the growth of the entire video ecosystem by helping content providers to monetize their investments in creating more premium 360 degree and 3D material.
The ANX753x/7580 family can be used in USB Type-C and non-USB Type-C applications and can manipulate a variety of video scan modes. This gives headset manufacturers the flexibility to differentiate their products by offering the most optimized performance for the markets they serve, whether that is gaming, 360 degree and 3D movies, or AR productivity.
The ANX753x/7580 family is sampling in Q1 2017 and will ship in mass production in Q2 2017.
Last updated: Sep 1, 2017 at 12:58 am CDT