Eurocom is upgrading the line of high-performance Mobile Supercomputer laptops with Intel Kaby Lake Desktop class processors.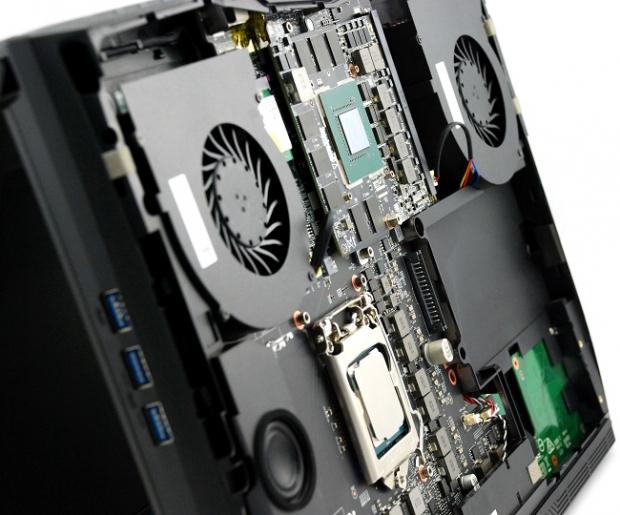 The EUROCOM Sky X9E2, X7E2, X4E2 and Tornado F5 Mobile Supercomputers will all receive the Intel Kaby lake Intel Core i7 desktop class processor upgrade.
"Customers can now come to Eurocom for a potent combination of upgradeable Kaby Lake Intel Core i7 processors and NVIDIA GeForce GTX 1080 graphics in 15.6" and SLI graphics in 17.3" laptops. The sky is really the limit with our new line of Mobile Supercomputers," Mark Bialic, Eurocom President.
New Processor options:
- 4.2GHz (up to 4.5GHz) Intel Core i7-7700K; 4C/8T; 8MB L3; 14nm; Kaby Lake; LGA1151; 91W
- 3.6GHz (up to 4.2GHz) Intel Core i7-7700; 4C/8T; 8MB L3; Kaby Lake; 14nm; LGA1151; 65W
- 3.8GHz (up to 4.2GHz) Intel Core i5-7600K; 4C/4T; 6MB L3; Kaby Lake; 14nm; LGA1151; 91W
The line of Eurocom Mobile Supercomputers ranges from very mobile, yet high-performance 15.6" Tornado F5 and Sky X4E2 systems with support for Kaby Lake processors due to the Intel Z170 chipset and LGA 1151 socket along with single MXM slot for graphics support up to NVIDIA GeForce GTX 1070 in the X4E2 and GTX 1080 in the Tornado F5. 17.3" Mobile Supercomputers are also offered with the same Intel Z170 chipset and LGA 1151 socket for Intel Core i7 7700K support while the X9E2 has two MXM slots to support dual NVIDIA GeForce GTX 1080 graphics and the X7E2 offers a single MXM slot for NVIDIA GeForce GTX 1080 support.
All Eurocom Mobile Supercomputers have four accessible and upgradeable memory slots to support up to 64 GB DDR4 memory. Dual M.2 solid state storage is offered for blazingly fast read and write times.
Eurocom systems are unlocked, come with an overclocking center and are equipped to take full advantage of the overclock-ability of the new processors due to their high-quality copper heat sinks, high-speed fans and use of Innovation Cooling Diamond 24 carat diamond thermal compound to manage the temperature of the desktop processor.
All Eurocom Mobile Supercomputers come with an Unlocked BIOS granting access to overclocking capabilities and other hidden settings only available to power users. Achieve unsurpassed performance by gaining control over the finest details of the CPU, memory, and GPU (Unlocked BIOS and VBIOS).
Eurocom Mobile Supercomputers are fully upgradeable and customizable allowing customers to build the laptop of their dreams. Choosing the processor, graphics card, memory, storage, display and wireless card allows users to build a system that is perfect for their requirements without the need to purchase unwanted components.
With desktop processors and unlocked BIOS, those having the skill and desire to overclock their laptops are at liberty to explore the functional limits of their mobile system, or simply boost performance to meet the needs of their most demanding software applications.
Go to www.eurocom.com to customize your very own Mobile Supercomputer.
About Eurocom:
Eurocom is the leading developer of long lifespan, fully upgradable notebooks, as well as, high-performance mobile workstations and servers since 1989. Eurocom prides itself as an Industry leader in providing ground-breaking technology and continues to engineer innovative solutions that inspire individuals and companies to new growth and development. For more information on Eurocom please visit us at www.eurocom.com.
Online Resources:
Online Article: http://www.eurocom.com/ec/release(356)ec
Eurocom Mobile Supercomputers: http://www.eurocom.com/ec/modelsg(7)ec
EUROCOM Sky X4E2: http://www.eurocom.com/ec/components(387)ec
EUROCOM Tornado F5: http://www.eurocom.com/ec/configure(2,384,0)ec
EUROCOM Sky X9E2: http://www.eurocom.com/ec/configure(2,385,0)ec
EUROCOM Sky X7E2: http://www.eurocom.com/ec/configure(2,386,0)ec
Last updated: Sep 1, 2017 at 12:58 am CDT