BIOSTAR is proud to announce its latest addition to its line of gaming products with its new VGA for gamers looking for the perfect balance of price and performance with the new BIOSTAR GeForce GTX 1050 Ti. With an MSRP of $159, this card will be the perfect upgrade gift for yourself or a gamer friend. Enjoy gaming to the next level with its new dual-fan cooling for the best performance the GTX 1050 Ti can bring.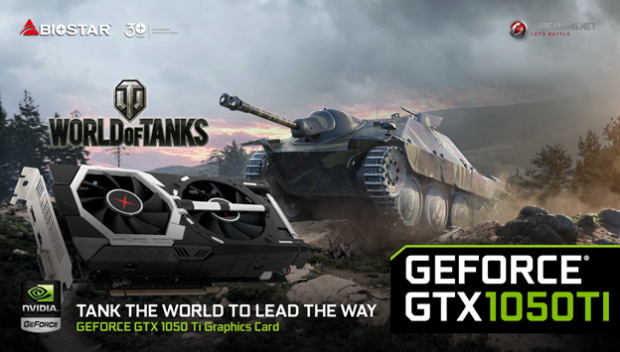 Conquer the battlefield with the new BIOSTAR GeForce Gaming GTX 1050 Ti with dual-cooling
A special bonus is included with the new BIOSTAR GeForce GTX 1050 Ti: users will receive invite code content bonus pack which includes the following premium gifts for World of Tanks gamers in Asia server:
German T-15 tank

7 days premium access

500 gold

1 garage slot

5x chocolates

5x +50% Exp boosters 1 hour duration
World of Tanks is one of the most immersive games out right now and superb graphics give the game a realistic feel and experiencing it with the new BIOSTAR GeForce GTX 1050 Ti makes the game more fluid so you get immersed in the true World of Tanks experience.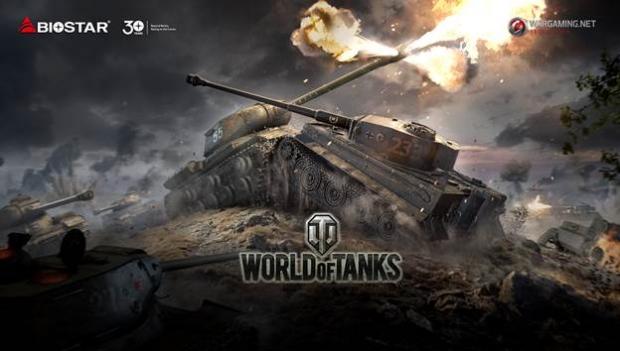 World of Tanks is the premium MMO game dedicated to armored warfare. Players get to select a vehicle on their own and win the match by sabotaging rivals' or occupying the opponents' base. Experience intense tank-on-tank combat in a unique battlefield experience that's a mix of multiple genres. Combined with top-notch graphics, a complex physics system, and stunning sound effects all help to provide endless excitement and entertainment.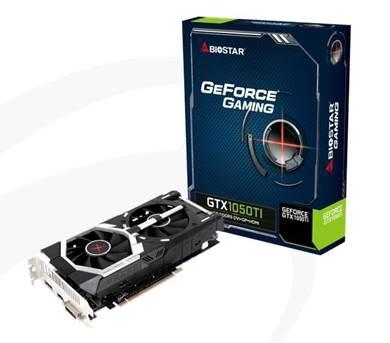 The GTX 1050 Ti series is based on NVIDIA's 16nm FinFET Pascal structure and comes with 768 CUDA cores. This is supported by 4GB of GDDR5 video memory running with an effective boost clock rate of 1392MHz on a 128-bit bus.
Designed for the latest generation of games and gaming experiences, the GeForce GTX 1050 Ti takes gaming to the next level with performance and efficiency that beats everything before it featuring the all-new Pascal GPU architecture fabricatedon the 16nm FinFET process technology.
The new BIOSTAR GeForce GTX 1050 Ti is cooled by the unique BIOSTAR Tank Dual Fan cooler inspired and design in cooperation with World of Tanks to keep the card running at optimal temperatures while keeping noise levels to a minimum. The new dual-fan cooler features a gaming tank-shaped stylish design exuding an aggressive feel to the card while keeping it cool.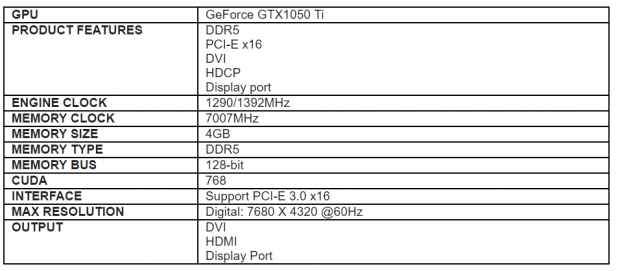 NVIDIA leverages new technologies for this generation of graphics card and allows players to fully immerse themselves while providing higher performance for existing games and serving as a launch pad for new ones. Technology like Simultaneous Multi-Projection, ANSEL and Fast Sync allow gamers to fully maximize their gaming experience but also enjoy a whole new level of realism with VR.
For more information about the BIOSTAR GeForce GTX 1050 Ti, see the official product page at: http://www.biostar.com.tw/app/en/vga/introduction.php?S_ID=227#specification
Visit the new BIOSTAR website at: http://www.biostar.com.tw
Read more about BIOSTAR 30 Years anniversary: http://www.biostar.com.tw/app/en/event/30years/index.htm
Last updated: Sep 1, 2017 at 12:58 am CDT