BIOSTAR is excited to announce the feature set for its 2nd-generation RACING series of motherboards that will support the 7th-generation of processors from Intel. BIOSTAR steps up its game for gamers and enthusiasts by introducing new features and upgrading existing ones for a more powerful experience like never before seen from the RACING series.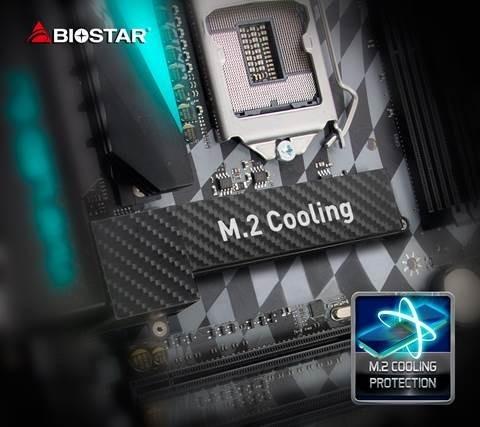 BIOSTAR introduces new features to further enhance the degree of performance and style that the BIOSTAR RACING series is known for. Some of these features include the brand-new M.2 Cooling Protection, 10GbE LAN, Lightning Charger and the improved ones for LED lighting, such as VIVID LED Armor and 5050 LED Fun Zone, for DIY lovers and lighting enthusiasts. From excellent power delivery for a more stable operation all the way to new ways of improving the visual appeal and style of your system to make it stand out and pop for your next theme. Combined, these new features will bring a new level of experience for gamers and enthusiasts.
M.2 Cooling Protection
BIOSTAR RACING 2nd-generation motherboards will be the first to have an M.2 heat sink that features ultra-high cooling efficiency to protect M.2 devices connected to the onboard M.2 slot and chipset from thermal issues thus expanding M.2 device lifespan for long-term usage and overall stable operation even under high system load.
Intel 10 GbE LAN
Intel's X550 chipset supports 10GbE LAN, delivering 10 times faster data transfer speed and bandwidth than traditional GbE LAN as well as bringing with it lower power consumption. Together with the latest Intel 7th-generation processors, this will be the fastest motherboards for online game.
Lightning Charger
The new 2nd-generation BIOSTAR RACING motherboards will be the first to have the new Lightning Charger which helps the battery of enabled devices, including smartphones or tablets, to achieve up to 75% charge in just 30 minutes. It supports QC2.0 (12V/1.5A output), Apple Mode (5V /2.4A) and BC 1.2.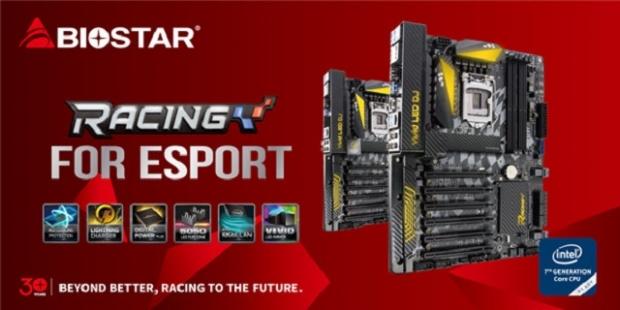 VIVID LED Armor
The new VIVID LED Armor enhances the Armor protection for the I/O interfaces and electronic audio components without static electricity. It comes integrated with onboard LED lighting for DIY fun. This feature also enhance performance as it keeps the system stable and protected from dust build-up and static interference.
5050 LED Fun Zone
The brand-new 5050 LED Fun Zone comes with two 5050 LED headers to bring more colorful lighting options to DIY lovers. This improves upon the original feature allowing for a much more flexible way of adding lights to your system.
Digital Power+
Digital Power+ uses IR's digital power controller to bring your PC and processor exceptionally high-performance and ultra-stable operation.
High-Speed U.2 32Gb/s Connector
This unique technology uses PCI Express 3.0 x4 for a maximum of 32Gb/s of bandwidth resulting in transfer rates as fast as 6.5x more than traditional SATA solid state drives.
Last updated: Sep 1, 2017 at 12:58 am CDT