Phison Electronics (8299.TW), industry leader in flash controller and NAND solutions, will be showcasing their latest flash controller technology at Flash Memory Summit 2016 for consumer, embedded, and enterprise solutions which includes PS5008-E8/E8T PCIe Gen 3x2 NVMe controller, 3D NAND solutions for PCIe and SATA, design-in solutions ranging from IOT to digital signage, live demoing of Embedded Toolbox to prevent field failures, ServeTheHome demo of S10DC with remote evaluation services, and the Liqid Element, the world's fastest Enterprise-class U.2 PCIe SSD powered by Phison's PS5007-E7.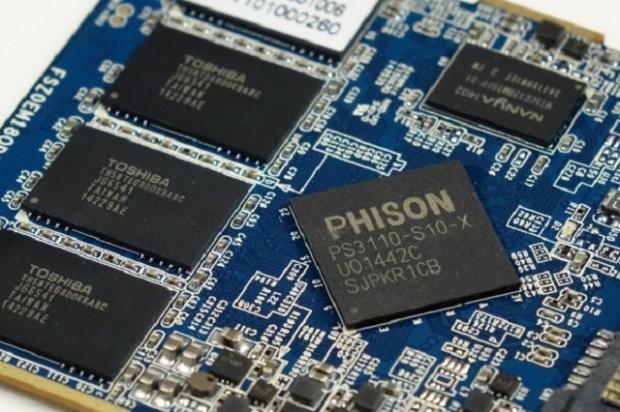 For the consumer market, the PS5008-E8/E8T, Phison's first PCIe Gen 3x2 NVMe controller, provides a cost-effective solution with three times the performance at the same cost as SATA. The two versions of PS5008 (E8: with DDR/DDRL; E8T: DRAM-less) provides great flexibility to customers on DRAM configurations. The Phison E8 is able to provide up to 1600/1300 MB/s performance in sequential read/write operations and up to 240,000 / 220,000 IOPS in random read/write operations.
The controller also features SmartECCTM, End to End Data Path Protection, and Host Memory Buffer support for excellent data integrity and reliability. E8 is currently in engineering sample stage and will be available by the end of the year. Phison is also enabling a full range of 3D NAND across Phison's SSD controllers. 3D NAND support is readily available for Phison's PS3111-S11T for SATA solutions, and by the end of 2016 support for PCIe and SATA solutions ranging from PS3110-S10, PS5008-E8/E8T, and PS5007-E7 controllers.
For the embedded verticals, Phison highlights their presence through a complete line of flash controllers for automotive, industrial, military and commercial applications. Controllers such as Phison's S9, S10, and PS8225 will be on display at the Flash Memory Summit booth for their utilization in digital signage, thin client, and IoT markets. Attendees will be able to witness Phison's featured Embedded Toolbox in action, as well as learn more about the numerous applications for the company's embedded products.
For the Enterprise solutions, Phison's S10DC combines high performance and low cost with Power Loss Protection demanded by data center environments. Recently received a 9.5/10 by ServeTheHome, the S10 DC's high-performance, low-cost flash platform allows even greater volumes of data to transit from disk to flash in the data center environment. Developers and system integrators can sign-up to test the blazingly fast 24-drive Phison S10DC system in the independent DemoEval test facility to see the Phison difference for their demanding workloads. In addition, Phison is partnering with Liqid Inc. in showcasing a sneak-peek of the "Industry's highest performing U.2 SSD", powered by Phison's E7 PCIe Gen3x4 controller at the Phison booth.
Phison will present their latest product solutions at the Flash Memory Summit from August 9th-11th, 2016, in booth 714 & 716.
About Phison Electronics:
Phison Electronics Corporation was established in November 2000 in Hsinchu, Taiwan. Beginning with the world's first single-chip USB flash drive IC, Phison is a market leader in NAND Flash controllers and applications including USB, SD, eMMC, PATA, SATA, UFS, and PCIe. In 2010, the company shipped over 500 million controllers worldwide and topped 1 billion US dollars in sales revenue. As a total NAND flash solution provider, Phison also offers system and OEM services for major retail brand names. As used in this release, the terms "company" and "Phison" refer to Phison Electronics Corporation.
Last updated: Sep 1, 2017 at 12:58 am CDT