SAPPHIRE NITRO+ Radeon RX 470 takes the sweet spot in price and performance
Aug 5, 2016 7:41 AM CDT
Establishing new standard for price/performance, SAPPHIRE Technology is launching SAPPHIRE NITRO+ Radeon RX 470 graphics card. Aimed at mainstream 1080p gamer and starting as low as $209 for the 4 GB model, it's ready to bring latest gaming experiences to legions of PC gaming fans who seek the best value for their money. Custom-designed SAPPHIRE NITRO+ models come with an energy-efficient foundation of Polaris chip and a slew of added features in both cooling and aesthetics already seen in the NITRO+ RX 480 model.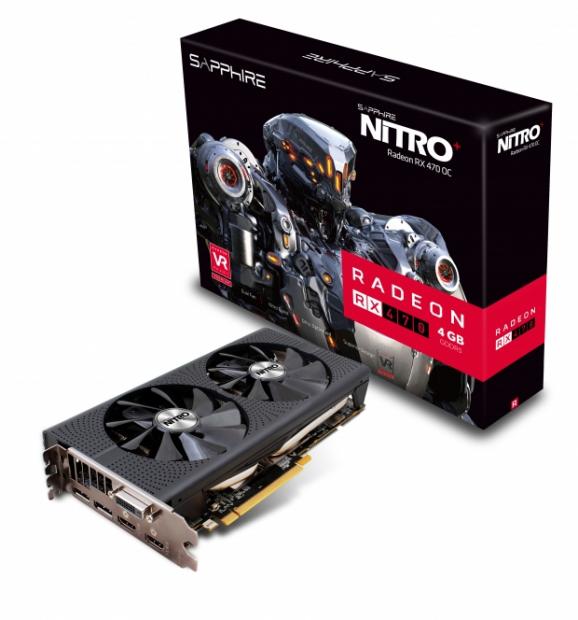 The SAPPHIRE NITRO+ Radeon RX 470 is the next big thing in mainstream 1080p gaming. Compared to the previous R9 270 generation GPU, playing on the RX 470 means performance up to 2.4x better in latest titles such as Total War: WARHAMMER or DOOM. Engineered with power savings in mind, the 4th generation Graphics Core Next chip maintains the typical board power of around 170 W. Polaris-powered GPU-s also mean improved geometry engine, increased cache and native asynchronous shaders for unmatched efficiency in DirectX 12.
The SAPPHIRE NITRO+ Radeon RX 470 cards all come equipped with 2048 GCN-based stream processors and 256-bit memory interface. The 8 GB model has a GPU boost clock of 1260 MHz (1121 MHz base) and memory clocked at 2000 MHz for 8 Gbps throughput. The 4 GB model is also factory-overclocked to 1260 MHz boost clock (1143 MHz base), with the memory clock set to 1750 MHz for 7 Gbps bandwidth.
Cooled by Dual-X
The SAPPHIRE NITRO+ Radeon RX 470 features improved Dual-X cooling with two 95 mm dual-ball bearing fans that have an 85% longer lifespan compared to fans with sleeve bearings. The heat is transferred to the heat sink by a set of 3 heat pipes (2x 8mm and 1x 6mm). The improvements to the fan blades means the solution is up to 10% quieter than the previous generation while providing an even greater heat sink coverage.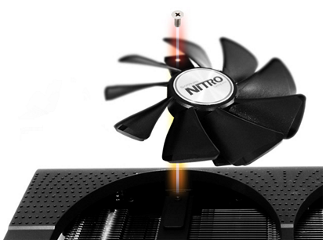 Serving the Fans
With NITRO+ models, SAPPHIRE has upped the stakes with its new Fan Check, which allows users to check the cooler's status via the upcoming SAPPHIRE TriXX 3.0 and immediately contact customer support in case of problems. To resolve a specific fan issue, Fan Service provides a quick and easy solution. If there's a fan issue detected, the user doesn't need to return the entire card - SAPPHIRE or its channel partners will send out a replacement fan directly to the customer.
SAPPHIRE NITRO+ Radeon RX 470 fans also use the Quick Connect system. This means they're easy to remove, clean, and replace, with just one screw holding them securely in place - without the need to disassemble the shroud or other parts of the card.
Improved Intelligent Fan Control III system turns off the fans completely in a low load situation and, with the help of the additional NITRO CoolTech, the fan starts precisely at 52 degrees Celsius to smartly balance performance against fan noise.
Making it Glow
Equipped with NITRO Glow, the NITRO+ Radeon RX 470 comes with a tasteful shroud design augmented by RGB LEDs. The user can customize the colours of the LEDs via software using the SAPPHIRE TriXX 3.0 utility or through hardware by pressing the red button on the back of the card.
The system contains a set of five different modes, including Fan Speed Mode, GPU Temperature Mode or the colourful rainbow mode. The LEDs can also be turned off, if the user prefers so.
Adding to the overall look & feel of the latest SAPPHIRE card is the new all-aluminium backplate.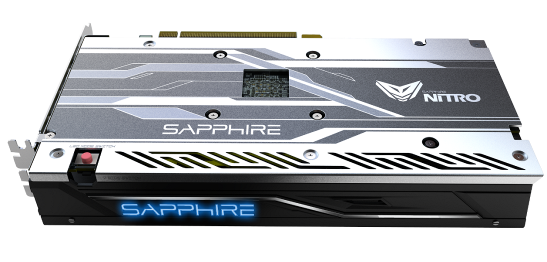 Power to the Power User
For overclocking enthusiasts, SAPPHIRE has added extra features to help get even more out of the new NITRO+ card. The NITRO Boost (Dual Bios) switch increases the boost clock and power limit for higher performance. The SAPPHIRE NITRO+ Radeon RX 470 also comes with an 8-pin power connector for additional powering: ideal for OC. SAPPHIRE's unique Black Diamond Chokes used in the new model are now Mark 4, reducing the coil temperatures by another 15% over the previous version.
Display engine of Polaris
The new Polaris-based card also comes with a slew of display engine advancements. The Radeon RX 470 supports the next-generation of displays that feature High Dynamic Range (HDR) technology. HDR expands the range of colours and contrast ratios that can be shown, making HDR-ready games and movies appear sharper, more colourful and vivid on a compatible display.
Key features:
Factory-overclocked to 1260 MHz boost clock, 10% faster than GTX 970 and 30% faster than R9 380X

Improved Dual-X cooling with two 95 mm fans

Software-based Fan Health System for fan health monitoring

SAPPHIRE Fan Service with Quick Connect for comfortable warranty-covered fan exchange

NITRO Glow customizable RGB LED lighting system

Latest outputs: HDMI 2.0b and DisplayPort 1.4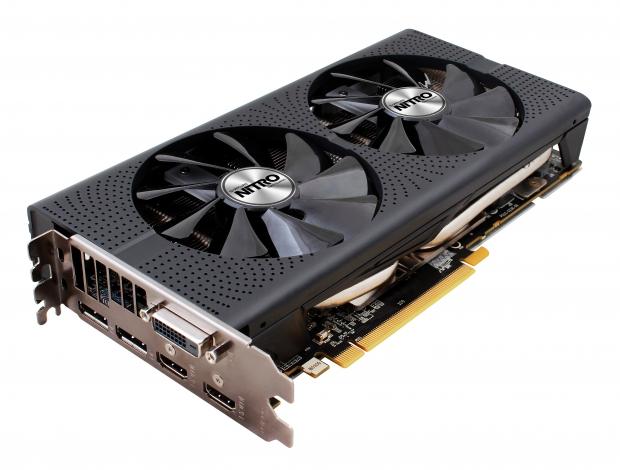 The new Radeon GPU comes with support for HDMI 2.0b and DisplayPort 1.4 to enable support for the latest monitors: 1080p @240Hz, 1440p @240Hz, 4K @120Hz, or even ultrawide 1440p @190Hz.
The Polaris chip features a hardware encoding/decoding for 4K recording using H.265 codec up to 60 FPS, making high-quality streaming and gameplay recordings a new reality with virtually no performance hit.
SAPPHIRE NITRO+ Radeon RX 470 are shipping now and will be available from selected SAPPHIRE e-tailers and retailers worldwide.
For more information, please visit www.sapphirenitro.com or www.sapphirenation.net, the SAPPHIRE Technology Community blog.
Specifications: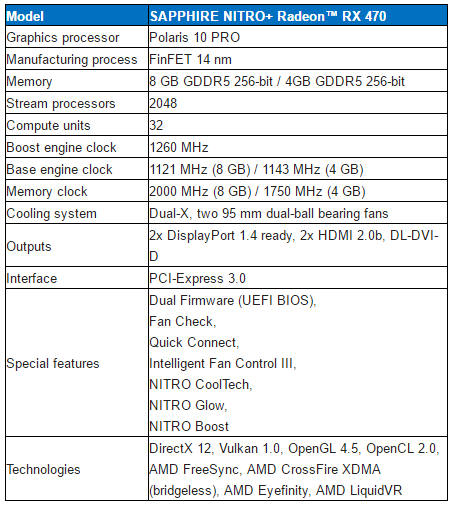 Last updated: Sep 1, 2017 at 12:58 am CDT
PRICING: You can find products similar to this one for sale below.

United States: Find other tech and computer products like this over at Amazon.com

United Kingdom: Find other tech and computer products like this over at Amazon.co.uk

Australia: Find other tech and computer products like this over at Amazon.com.au

Canada: Find other tech and computer products like this over at Amazon.ca

Deutschland: Finde andere Technik- und Computerprodukte wie dieses auf Amazon.de
Related Tags