SanDisk Corporation, a global leader in flash storage solutions, today introduced the SanDisk Ultra USB Type-C Flash Drive designed specifically for next-generation devices. The sleek, new drive features a versatile and powerful USB Type-C connector for quick file transfer between USB Type-C enabled mobile devices, laptops, tablets and future devices.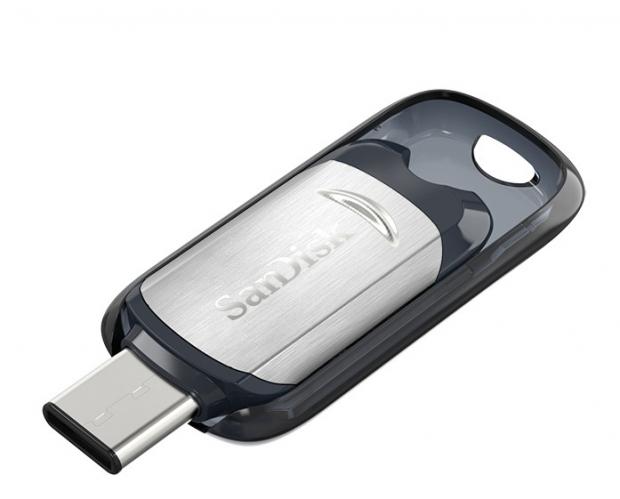 "We expect to see many new USB Type-C supported devices released in 2016," said Dinesh Bahal, vice president, product marketing, SanDisk. "As more consumers purchase ultra-mobile PCs, smartphones and tablets that feature this new, more advanced USB standard, it is critical to offer a complete ecosystem of compatible products. New offerings, like our SanDisk Ultra USB Type-C Flash Drive, will give consumers the capabilities they've come to expect from traditional Type A ports, but with the added benefit of better performance."
The new SanDisk Ultra USB Type-C Flash Drive is available in up to 128GB and delivers USB 3.1 performance of up to 150 MB/s, making it SanDisk's fastest and highest capacity USB Type-C offering. The USB drive features a slim, retractable design to protect the reversible connector and is compatible with the SanDisk Memory Zone app for Android. The app, which is available for free through the Google Play Store, auto-launches upon insertion of the drive into a compatible device, allowing immediate access to the user's content and easy file management.
"USB Type-C connectors could be a game-changer, as they offer significant benefits to consumers, such as a slim design and reversible plug orientation," said IDC research VP Shane Rau. "We've already seen a considerable increase over the past year when the connector began showing up on new products from major devices manufacturers. As demand increases, we expect more and more solutions to hit the market, such as the SanDisk Ultra USB Type-C Flash Drive."
The SanDisk Ultra USB Type-C Flash Drive is the company's first dedicated USB for Type-C ready devices.
Pricing and Availability
The SanDisk Ultra USB Type-C Flash Drive features a five-year warranty, and is now available worldwide at Amazon, and other leading retailers. The new offering comes in capacities of 16GB, 32GB, 64GB and 128GB with U.S. MSRPs of $19.99, $29.99, $49.99 and $79.99, respectively.
Last updated: Apr 7, 2020 at 12:11 pm CDT