AMD (NASDAQ: AMD), today launched new thermal solutions, including the flagship AMD Wraith Cooler, as well as the new AMD A10-7860K and new AMD Athlon X4 845 desktop processors.
New AMD Thermal Solutions
Designed for the consumer who cares about how their desktop PC runs, sounds, and looks, AMD now offers new thermal solutions that generate less than one-tenth the noise of their predecessors running at a near-silent 39 decibels.[i],[ii] The new AMD thermal solutions are included with seven AMD processors (see table below).
The new AMD Wraith Cooler combines near-silent operation with unique styling via a sleek fan shroud and LED illumination. Providing superb cooling, the new design delivers 34 percent more airflow[iii] and 24 percent more surface area for heat dissipation[iv] than its predecessor.
"AMD's new high quality, robust thermal solutions for select processors provide a great out-of-the-box experience at no additional cost to the consumer," said Merle McIntosh, Newegg Inc's SVP of Sales and Marketing. "The Wraith model has attractive styling with LED lighting and runs exceptionally quietly - features we expect will impress our tech savvy consumers."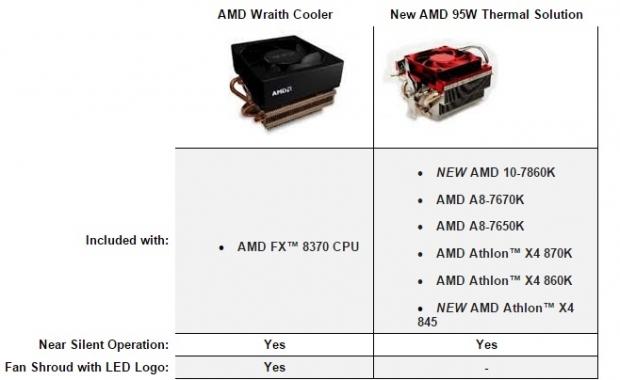 Introducing the AMD A10-7860K Desktop Processor
Quiet, efficient and an incredible value, the new AMD A10-7860K APU is powered by 4 CPU cores clocked at 4.0GHz turbo boost and 8 GPU cores running at 757MHz. Smoothly play popular online games like Dota 2, League of LegendsÃ,®, and Counter Strike: Global Offensive with integrated Radeon R7 processor graphics. The A10-7860K is the first unlocked[v] desktop A10 processor to feature 65W TDP (Thermal Design Power) and includes a 95W TDP near-silent thermal solution to ensure quiet operation. In addition, the AMD A10-7860K supports AMD FreeSync technology that puts an end to choppy gameplay and broken frames with fluid, artifact-free performance at virtually any framerate.[vi]
"Customers can build a capable, near-silent online gaming PC in a surprisingly small form factor for an unexpectedly low price" said Don Woligroski, Product Marketing Manager at AMD. "The low power requirements mean you can build a tiny system perfect for a small dorm room, for use in the living room as a home theatre PC (HTPC), and portable enough to take to a LAN party."
The New AMD Athlon X4 845 Desktop Processor
The AMD Athlon X4 845 is the first desktop processor featuring the AMD "Excavator" x86 architecture technology. The quad-core CPU is clocked at 3.8GHz boost and offers AMDs highest IPC core x86 architecture to date. When paired with a discrete video card, the AMD Athlon X4 845 enables great gaming and multi-threaded processing performance for an attractive price. The new Athlon X4 845 is a 65W TDP class processor and also comes complete with new AMD 95W thermal solution that provides excellent cooling performance and near-silent operation.
Pricing and Availability
The new AMD processors with new thermal solutions are available now at select e-tailers and participating system vendors.
Suggested price (SEP as of February 2, 2016):
- AMD FX 8370 - $199.99 USD
- AMD A10-7860K - $117.99 USD
- AMD A8-7670K - $105.99 USD
- AMD A8-7650K - $95.99 USD
- AMD Athlon X4 870K - $89.99 USD
- AMD Athlon X4 860K - $79.99 USD
- AMD Athlon X4 845 - $69.99 USD
Supporting Resources
[i] Subject to use according to product specifications. The AMD Wraith cooler has a maximum noise level of 39dbA. The AMD D3 cooler, which the Wraith Cooler has replaced on certain CPUs, has a maximum noise level of 51 dbA. In the logarithmic dbA scale, a ten decibel difference is equal to ten times the amount of noise, so the AMD Wraith Cooler generates less than one tenth the noise of its predecessor. WTH-1
[ii] The AMD 95W Thermal Solution has a maximum noise level of 36dbA. The AMD D2 cooler, which the AMD 95W Thermal Solution has replaced on certain CPUs, has a maximum noise level of 52 dbA.In the logarithmic dbA scale, a ten decibel difference is equal to ten times the amount of noise, so the AMD 95W Thermal Solution generates less than one tenth the noise of its predecessor. WTH-4
[iii] The AMD Wraith cooler fan pushes up to 55.78 CFM of airflow. The AMD D3 cooler, which the Wraith Cooler has replaced on certain CPUs, has a fan with a maximum airflow of 41.6 CFM. This means the AMD Wraith Cooler can push 34% more airflow than its predecessor. WTH-2
[iv] The AMD Wraith cooler has 179,730.10 mm2 of cooling fin surface area. The AMD D3 cooler, which the Wraith Cooler has replaced on certain CPUs, has 144,397.80 mm2 of fin surface area. This means the AMD Wraith Cooler has 24% more fin surface area than its predecessor. WTH-3
[v] AMD's product warranty does not cover damages caused by overclocking, even when overclocking is enabled via AMD hardware
[vi] FreeSync is an AMD technology designed to eliminate stuttering and/or tearing in games and videos by locking a display's refresh rate to the framerate of the video card. Requires Monitor, AMD Radeonâ"¢ graphics and/or AMD A-Series APU compliant with DisplayPortâ"¢ Adaptive-Sync 1.2 (or newer). AMD Catalystâ"¢ driver 15.2 Beta (or newer) required. Adaptive refresh rates vary by display; check with your monitor manufacturer for specific capabilities. Only select AMD Radeon GPUs and A-Series APUs supported; see www.amd.com/freesync for full details
Last updated: Apr 7, 2020 at 12:10 pm CDT