Thermaltake Gaming: Tt eSPORTS, the energetic and powerful challenger unveils a new series to its famous DASHER family, the DASHER MINI SLIM, DASHER MEDIUM and DASHER EXTENDED gaming mouse pads. The 3 different sized DASHER mouse pads give gamers an enhanced design for your mouse and different sizes to accommodate both low sensitivity and high sensitivity players. The new DASHER Series is now available at TtBUY USA (store.thermaltakeusa.com). Further information from Thermaltake at CES 2016 is available on our dedicated CES 2016 website: http://ces2016.thermaltake.com
The Right Sizes and Improved Design for Better Movement
The 250mm sized DASHER MINI SLIM allows for easy storage and maximum portability. With the DASHER MEDIUM, it offers a 360mm and 4mm thickness of standard space that is user friendly, providing the comfort for long gaming sessions. Lastly, the superior DASHER EXTENDED offers a bigger space for you to move your mouse. The smooth 900mm wide and 4mm thick s mouse pad is big enough for large gaming keyboards, with plenty room left over for your gaming mouse. The right choice for the gamer that needs more space for intense games. In addition, these mouse pads have been created with a solid sewing edge that ensures long-term durability, prevention of peeling and warping. forgamers to move their mouse more smoothly and with greater consistency!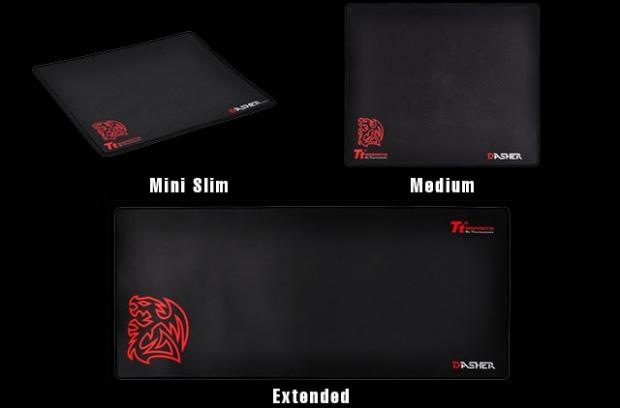 Semi-Coarse Textured Weave with Stunning Speed Control
The new DASHER series mouse pads come with a smooth surface designed to allow you almost effortless mouse movement, delivering excellent glide characteristics that offer total tracking responsiveness for consistently reliable in-game control! Tt eSPORTS's Speed-type mouse pads are incredibly smooth and flat. It allows gamers to have precise movements with comfortable feeling (FPS & RTS & MMORPG Games). Furthermore, these speed-type mouse pads best suit gamers who need to hit targets faster and more efficiently!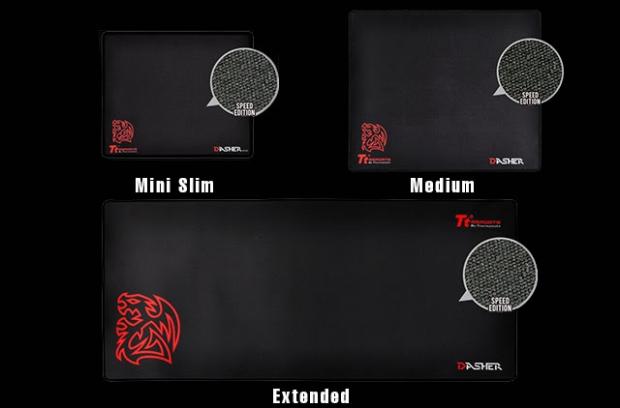 Anti-Slip Rubber Base
A special non slip rubber base ensures that the new DASHER series mouse pads will never slip as you game, even in the most intense of battles. Play with confidence and never worry about mouse pad lift-off or slipping again - even on glass desks!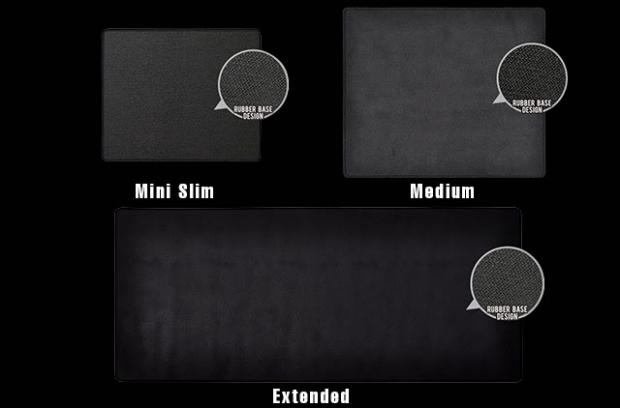 The new DASHER series specifications:
Added side stitches around the edge of the mouse pad to ensure long-term durability, by being more resistant to fraying or pealing.

Accurate + Precise: Optimized for both laser and optical gaming mice

Zero slip: Anti-slip rubber base helps it stays securely in place

Small: 250mm x 210mm x 2mm surface area

Medium: 360mm x 300mm x 4mm surface area

Extended: 900mm x 400mm x 4mm surface area

MSRPs
Suggested price of the new DASHER Series :
DASHER Mini Slim: US$6.99
DASHER Medium: US$16.99
DASHER Extended: US$34.99
The new DASHER Series is now available at TtBUY USA :
DASHER MINI SLIM https://store.thermaltakeusa.com/inside03.php?s=2&k=8&a=2329
DASHER MEDIUM https://store.thermaltakeusa.com/inside03.php?s=2&k=8&a=2330
DASHER EXTENDED https://store.thermaltakeusa.com/inside03.php?s=2&k=8&a=2331
Last updated: Apr 7, 2020 at 12:10 pm CDT