OWC, a leading zero emissions Mac and PC technology company, announced today the immediate availability of the OWC 4.0TB Aura SSD Upgrade for the 2013-current Apple Mac Pro. The Aura SSD for Mac Pro is the first internal SSD upgrade for the 2013-current Mac Pro and debuted at CES 2015 offering up to 2.0TB of capacity. The all-new 4.0TB model shipping just in time for CES 2016 doubles the capacity available offering up to 16x the capacity of the standard factory drive and 4X the capacity of the maximum factory SSD/flash option.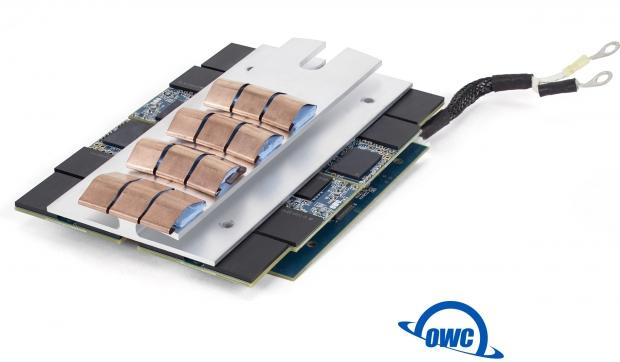 The 4.0TB OWC Aura SSD for 2013-current Mac Pro (black cylinder models) includes the award-winning OWC Envoy Pro SSD enclosure, making it easy to repurpose the original factory-installed Mac Pro SSD as an elegant aluminum-body external drive for incredible portable performance. OWC also provides free how-to installation videos and a special tool needed for straightforward end-user/do-it-yourself installation.
OWC Aura SSD for Mac Pro Upgrade Kits includes:
Aura SSD for Mac Pro

Envoy Pro SSD enclosure for the existing factory SSD (transfer data & ongoing external use)

Double-shielded USB 3.0 / USB 3.1 Gen 1 connecting cable for the Envoy Pro enclosure

Complete kit with everything needed for end-user installation of the new drive into 2013 Mac Pro

3 Year OWC Limited Warranty.
Innovative, Dependable, and Designed for Mac
Built on the time-tested Aura platform, the Aura SSD for Mac Pro is the only internal SSD upgrade solution custom engineered for current Mac Pro models. OWC SSDs feature an industry-leading suite of controller technologies to deliver longevity and dependable performance.
Upgrade Easy with OWC
The Aura SSD for Mac Pro upgrade kit comes complete with everything users need for a simple do-it-yourself upgrade. OWC's free, comprehensive install videos guide users through the process step-by-step. Click here for the install video.
"Regardless of which size factory SSD you're replacing, an Aura SSD upgrade gives you significantly more space to work, create, and express," said Larry O'Connor, OWC Founder and CEO. "Users can edit and store enormous photo, music and video libraries, and improve their efficiency in creative workflows. Such a huge internal SSD/Flash capacity boost gives you the freedom to do so much more on your Mac Pro."
Availability and Pricing
The 4.0TB Aura SSD for Mac Pro is priced at $2,128.00 and is available now for same-day shipping at http://eshop.macsales.com/item/OWC/SSDA13MP4.0K/.
The other drives in the Aura line for Mac Pros are priced as follows:
1.0TB version - $895.00
2.0TB version - $1,447.99
Last updated: Apr 7, 2020 at 12:10 pm CDT