TRENDnet, a global leader in reliable SMB and consumer networking solutions, announced today it is shipping its new AC2600 StreamBoost MU-MIMO Wi-Fi Router, model TEW-827DRU, featuring the latest 802.11ac technologies to produce faster speeds and maximize bandwidth for more devices.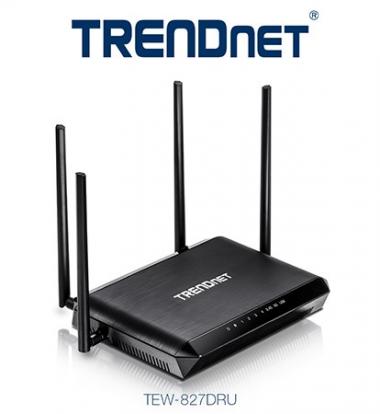 "MU-MIMO and quad-stream wireless capabilities were recently introduced as a part of the 802.11ac Wave 2 release," said Evan Davis, senior manager of solutions engineering at TRENDnet. "TRENDnet utilized the 802.11ac Wave 2 technologies in our new AC2600 router for functionality enhancements to address the growing needs of our extremely active home and business wireless networks."
Current wireless routers with SU-MIMO (single-user MIMO) are only capable of transmitting data to one device at a time, with other devices waiting in succession. This creates suboptimal performance and impacts the effectiveness of a wireless network, especially in device-heavy homes or high-density offices. TRENDnet's new TEW-827DRU features MU-MIMO technology, designed to improve efficiencies by allowing routers to communicate with multiple devices simultaneously.
With quad-stream technology, TRENDnet's AC2600 wireless router achieves a blazing-fast combined wireless speed of 2.53 Gbps. Wi-Fi speeds on both the 11AC/5 GHz and 11N/2.4 GHz bands are improved, reaching throughput speeds of 1,733 Mbps and 800 Mbps respectively. The additional streams also create a wider range and stronger connection to provide unparalleled performance results for even the busiest network environments.
Qualcomm StreamBoost technology is embedded into TRENDnet's AC2600 router for latency prioritization, traffic shaping, and device mapping. Latency prioritization helps to eliminate lag caused by other high bandwidth network traffic. Traffic shaping allocates the optimal amount of bandwidth for each device with the ability to manually assign device priority. And device mapping allows users to view all connected clients, real-time network usage, and review historical usage data.
TRENDnet's AC2600 wireless router features a high-performance 1.4 GHz dual-core processor, four detachable high-gain dual band antennas, all Gigabit network ports, and two SuperSpeed USB 3.0 share ports. Wi-Fi amplifiers maximize Wi-Fi signal output and targeted Beamforming technology increases real-time performance by directing stronger wireless signals to each connected device's specific location.
Pricing and Availability
TRENDnet's AC2600 StreamBoost MU-MIMO Wi-Fi Router, model TEW-827DRU, is available worldwide through major retailers and other authorized TRENDnet partners, with an MSRP of USD $274.99.
Last updated: Apr 7, 2020 at 12:10 pm CDT