CyberPower Inc., a global manufacturer of custom gaming PCs, gaming laptops, and performance workstations, will unveil some PC gaming eye candy when it debuts a new series of 2-in-1 gaming & streaming PCs, a 34-inch curved screen All-In-One, a new line of gaming laptops, and several gaming PC series that are "VR Ready" at CES 2016. CyberPowerPC's new products can be previewed at the Aria Penthouse Suite, 3730 Las Vegas Blvd South, Las Vegas, NV during CES 2016.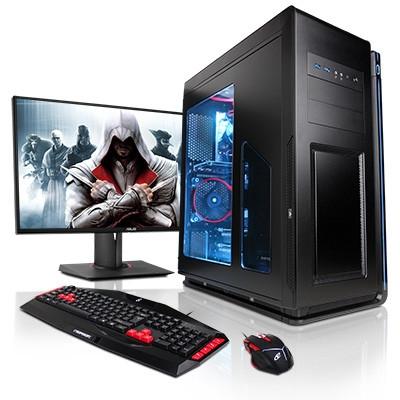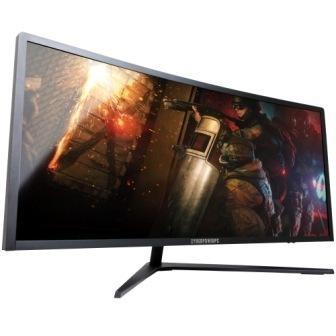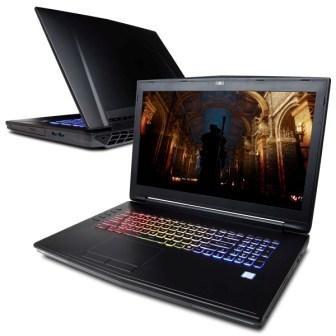 CyberPowerPC will debut the first 2-in-1 gaming & streaming PC with its Pro Streamer series. Pro Streamer models come pre-installed and configured with the OBS open source streaming and recording program and XSPLIT live streaming applications so you can start streaming immediately. CyberPowerPC pre-installs your streaming software to match your hardware so you'll get a great quality stream out of the box. Pro Streamer will be offered in three models including the latest 6th Gen Intel Core i3 processor for good quality lag free streams, or up to a 6th Gen Intel Core i7 processor for the highest quality stream. Pro Steamer systems include 8GB DDR4 memory, 128GB SSD, H110 Mini-ITX mainboard and an Avermedia Live Gamer HD capture card. Pro Streamer prices start at $1899 for an Intel Core Intel Core i5-6600K + NVIDIA GeForce GTX 970 4GB GDDR5 system along with the Core i3-6100 3.70GHz "Standard" streaming setup with Windows 10 Home.
Fully Customizable 34-inch Curved Screen AIO (All-in-One)
CyberPowerPC's Arcus is a customizable AIO gaming system that doubles as a TV with a 34-inch curved screen. With its curved (Samsung panel) display, users will get better viewing angles and a more immersive gaming experience when compared to traditional flat-screen monitors.
The Arcus can accommodate a 6th Gen. Intel Core i7 processor and up to a single NVIDIA GTX Titan video card. The 34-inch curved display features 3440 X 1440 resolution; 60Hz Refresh Rate; and 21:9 ultrawide aspect ratio. The series utilizes off-the-shelf components that are easily upgraded along with top-of-the-line multimedia capabilities for rich sound and easy content sharing across devices. Both air and liquid cooling is offered, a custom USB webcam with dual mikes, dual 2.5-inch HDD/SSD, standard desktop udimm memory and more make this series the ultimate entertainment desktop.
Fangbook 4 SK-X with G-SYNC - The Future of Mobile Gaming Laptops
The CyberPowerPC Fangbook 4 SK-X is the future of mobile gaming laptops. Powered by the first ever Mobile-K processor, the SK-X delivers flawless performance for work or play. An Intel Skylake Core i7-6820HK processor powers this 17.3-inch gaming beast. The processor can be overclocked with a push of a button for greater performance when you need it.
The Fangbook 4 SK-X gaming laptops are equipped with NVIDIA's GeForce GTX mobile series of graphics with G-SYNC for flawless gaming performance and incredible visual fidelity. NVIDIA G-SYNC delivers the smoothest gaming experience by synchronizing display refresh rates to the GPU to eliminate screen tearing and minimize display stutter and input lag. The result: scenes appear instantly, objects look sharper, and gameplay is super smooth, giving you a stunning visual to enjoy movies, games, and web sites the way they're meant to be designed.
The Fangbook 4 SK-X is equipped with a number of ports and connectivity options such as 32GB (8GBx4) DDR4/2133MHz SO-DIMM memory, USB 3.0 and USB-c, SD card reader, HDMI 1.4, and mini display ports, and Killer GbLAN and 802.11AC Wi-Fi. The base model Fangbook 4 SK-X starts at $1,885 with Windows 10 Home (64-bit Edition) pre-loaded.
CYBERPOWERPC Vector and Tracer Takes Flight
CyberPowerPC is introducing 2 new gaming laptops at CES 2016 - both featuring 6th Gen Intel Core i7 mobile processors. The Vector is the latest 17.3" gaming laptop to hit the CyberPowerPC mobile family; a sleek and futuristic design combined with the latest mobile. It features a 1080p IPS display for excellent image quality and an Intel Core i7 6820HK unlocked mobile processor. Other specs include an NVIDIA GeForce GTX 970M, up to 16GB of DDR4 memory, M.2 SSD and mechanical hard drive options, backlit gaming keyboard, and Windows 10 Home.
The Tracer is the smaller and lighter alternative to the Vector. Coming in at 15.6", it still boasts a brilliant 1080p IPS display 6th Gen. Intel Core i7-6700HQ and NVIDIA GeForce GTX 965M graphics. The Tracer also includes DDR4 memory support, M.2 SSD and mechanical hard drive options, and a backlit gaming keyboard.
CyberPowerPC Vector and Tracer gaming laptops are expected to ship in Q1 2016 with a starting price under $1,800 and $1,300 respectively.
CYBERPOWERPC VR-Ready Systems
CyberPowerPC is working closely with Valve's Steam VR team and HTC Vive team to bring affordable high-performing gaming PCs as VR goes mainstream. CyberPowerPC is gearing a lineup of gaming PCs starting $999 optimized to deliver a perfect VR gaming experience out of the box. Configurations will include a 6th Gen. Intel Core i5 processor and NVIDIA GeForce GTX 900 series video card.
Last updated: Apr 7, 2020 at 12:10 pm CDT