ViewSonic Corp., a leading global provider of visual solution products, announces a new series of professional-level gaming monitors at CES 2016 in Las Vegas. ViewSonic's XG Series of high-performance gaming monitors feature critical color depth with a range of Full HD to 4K UHD resolution, NVIDIA's G-Sync or AMD's FreeSync variable refresh rate technology, ultra-fast response times, super low input lag, and more, to drive dedicated enthusiasts, diehards, and professional gamers to more victories.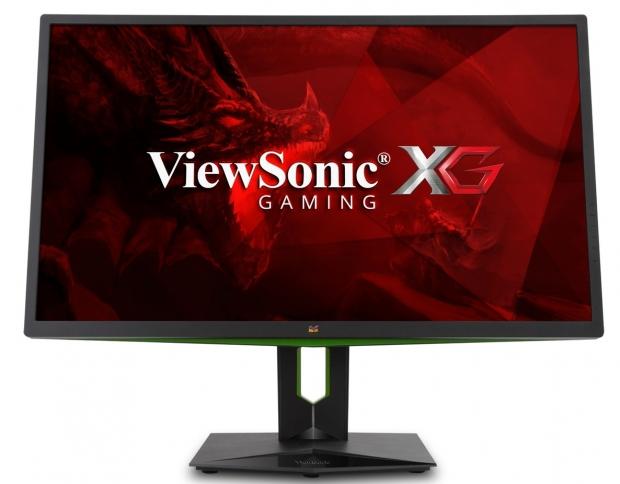 From first-person shooters and real-time strategy to multi-player or action-adventure gaming, ViewSonic's XG Series of gaming monitors is packed with all the professional-level features needed for that competitive edge that leads to more victories. The XG Series is specially engineered to meet the demanding needs of gamers and is loaded with the premium features needed to dominate and defeat any and all opponents.
"With up to 4K UHD resolution and 1ms response time, ViewSonic's XG Series delivers some of the fastest response times and best color depth seen in monitors designed for gaming," said Al Giazzon, vice president of marketing at ViewSonic Americas. "We're known as an industry leader for providing some of the highest quality and feature-rich professional monitors, it is simply a natural extension that ViewSonic would provide the best professional-level monitors for gamers."
XG2703-GS
ViewSonic's XG2703-GS puts players right in the middle of the action with Quad HD 2560 x 1440 resolution and 165Hz SuperClear IPS-type panel technology. This 27-inch flagship monitor provides exceptional color and critical detail with ultra-wide viewing angles. For seamless gaming performance, the monitor is built with NVIDIA G-Sync technology that eliminates screen-tearing and stuttering for the smoothest gameplay.
XG2401
The XG2401 is a 24-inch Full HD monitor packed with features like a 144Hz refresh rate, and AMD's FreeSync variable refresh rate technology that eliminate screen tearing and stuttering for fluid gameplay during fast-paced action scenes. A blazing-fast 1ms response time and low input lag provides smooth screen performance - even in the most graphic-intense sequences. For optimum speed and performance, SmartSync technology automatically selects the best refresh rate, response time, and lowest input lag needed in FPS games. A black stabilization function helps players spot enemies lurking in the dark, while maintaining brilliant rich colors and contrast.
XG2701
The 27-inch XG2701 Full HD monitor features an incredible 144Hz refresh rate and AMD FreeSync technology to help blow away the competition in fast action gaming. The monitor's variable refresh rate capabilities eliminates screen tearing while a super-fast 1ms response time and low input lag provides smooth screen performance. SmartSync technology automatically selects the best refresh rate and response time, and also delivers ultra-low input lag needed in first person shooting games. The XG2701 comes with Game Mode features and a black stabilization function that helps with dark-on-dark images.
XG2700-4K
The ViewSonic XG2700-4K Ultra HD LED gaming monitor delivers stunning visual definition and color for highly immersive gameplay. The 27-inch monitor delivers 4K UHD (3840x2160) resolution and SuperClear IPS panel technology with over 8 million pixels of sharp and refined color so players have an unmatched level of detail. In combination with AMD's FreeSync Technology, the VX2700-4K delivers a consistent tear-free picture-perfect front of screen experience, while the fast 5ms response time and low input lag provide smooth performance. The Game Mode feature optimizes AAA visuals, while a black stabilization function helps target enemies hiding in the dark. This monitor includes future-proof connectivity including DisplayPort 1.2a and HDMI 2.0 so it can reach the maximum potential of any extreme video card and support 4K UHD resolution at 60Hz.
From gamer-inspired ergonomic design features like an integrated headphone hook and cable management, to Flicker-Free technology and Blue Light Filter for eye comfort, everything about ViewSonic's XG Series has been considered with the gamer in mind to help.
VX SERIES OF ULTRA-FAST GAMING & ENTERTAINMENT MONITORS
ViewSonic continues its award-winning VX Series legacy by announcing four new VX gaming and entertainment-specific monitors at CES 2016.
The new 22-inch VX2257-mhd, 24-inch VX2457-mhd, and 27-inch VX2757-mhd Full HD monitors deliver ultra-fast 2ms response times and a low input lag mode for smooth screen performance that is free from blurring or ghosting. Equipped with VESA Adaptive-Sync technology and AMD FreeSync technology, the variable refresh rate capabilities of these monitors virtually eliminate screen tearing and stuttering for fluid game play during fast-paced action scenes.
The 1080p Full HD 27-inch VX2776-Smhd monitor is engineered with SuperClear IPS panel technology, a sleek and contemporary borderless design, 178/178 degree wide viewing angle, and extensive connectivity including VGA, HDMI, and DP built-in stereo speaker making this the ideal multimedia display to view entertainment like action packed movies, sports and more.
Pricing and Availability:
The XG2401 will be available for a MSRP of $404.00 (USD) and starts shipping late January

The XG2701 will be available for a MSRP of $529.00 (USD) and starts shipping late January

The XG2700-4K will be available for a MSRP of $913.00 (USD) and starts shipping late January

The XG2703-GS will be available for a MSRP of $1,217.00 (USD) and starts shipping March

The VX2257-mhd will be available for a MSRP of $201.00 (USD) and is available now

The VX2457-mhd will be available for a MSRP of $228.00 (USD) and starts shipping February

The VX2757-mhd will be available for a MSRP of $323.00 (USD) and is available now

The VX2776-smhd will be available for a MSRP of $317.00 (USD) and starts shipping April
Last updated: Apr 7, 2020 at 12:10 pm CDT