Fujitsu Launches New VPS that Simplifies Design Changes and Assembly Configuration Development
Dec 15, 2015 9:19 PM CST
Fujitsu Limited and Digital Process Ltd. today announced start of sales in Japan of two additional products and an overall new version of the Digital Process-developed software package, FUJITSU Manufacturing Industry Solution Virtual Product Simulator (VPS). This digital production-preparation tool for the discrete manufacturing industry uses 3D modeling to help analyze product-assembly processes.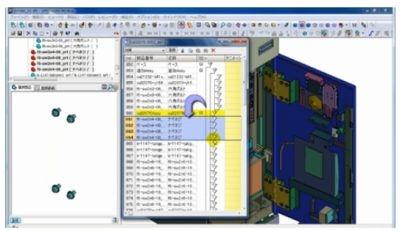 The software's tracking functionality has now been enhanced so that changes to the original 3D CAD design data are reflected to the parts affected in VPS, which enables improved response to design changes and manufacturing process development. Viewing functions have also been enhanced, such as with the ability to use iOS devices to display process-flow diagrams for assembly verification.
These enhancements make it easier to further utilize 3D data in production-preparation processes, thereby contributing to improvements in product quality, shorter development times, and cost cutting.
VPS is packaged software that uses a product's 3D model data created in CAD to provide cohesive support for production-preparation tasks and processes, including product reviews in assembly production planning, process reviews when assembling products, studies of production line layouts, and document creation for use in manufacturing.
In on-site preparation for production, it has been a challenge to reduce the amount of work needed to reflect CAD data revisions, frequently occurring at the design stage, to VPS data that has already been generated with production information attached. In addition, there was a growing need to view VPS data at work sites in order to improve the efficiency of assembly operations.
This new VPS version provides agility in responding to changes in design and manufacturing processes, as well as enhanced viewing functions.
Product Features
1. Less editing time required with improved support for design changes and manufacturing-process development
1) Enhanced design-change tracking functionality that greatly reduces the work needed to reflect differences when changes are made (VPS Digital Mockup and VPS Manufacturing)
This version improves the design-change tracking function that replaces only the parts that have changed when changes are made to the 3D CAD data, without losing manufacturing data attached to the VPS data, such as the assembly operation animation or the expected task times for each process. Now, when comparing data from before and after changes, the software can automatically identify added or deleted parts, greatly reducing the effort needed to reflect differences before and after changes.
2) Added functionality to reduce the editing time for assembly configuration (VPS Manufacturing and VPS Assembly Animation)
With assembly configurations in CAD design data, components to be assembled and fastener components, such as bolts and screws, in their completed form often exist in the same step. Now, by adding a function that automatically finds fastener components, separates them from the step for batch processing, and modifies step organization, it becomes possible to quickly apply design-configuration changes to the manufacturing configuration.
Keyboard shortcuts for the player:
3) Improved process editing functions for when workers and machines operate together (VPS GP4)
With VPS GP4, which allows 3D verification of production-line layouts and process reviews, workload-analysis charts(1) can be used in order to check whether steps and layouts are configured for task efficiency. Now, with enhanced functionality to edit steps on the basis of the workload-analysis charts, and average out the time of each process task for production lines that include robots and machine tools, it becomes easy to minimize waiting time for workers and machines.
Keyboard shortcuts for the player:
2. Improved viewing functions
1) Display on iOS devices (VPS Assembly Process Viewer)
Process-flow diagrams (assembly-block diagrams) from VPS Manufacturing, which verifies assembly, can be viewed on iOS devices. Users can play the assembly animation of each process and view 3D models at the worksite.
Keyboard shortcuts for the player:
2) Added Product and Manufacturing Information (PMI) viewing functionality (VPS JT R)
This version adds VPS JTR(2), which enables viewing of PMI, such as measurements, tolerances, and surface finish, attached to 3D CAD data. This makes it possible to use CAD design information in VPS assembly animations and task instructions.
Sales Target
Sales of 5 billion yen by the end of fiscal 2016 (Fujitsu's fiscal year ends on the last day of March).
(1) Workload-analysis chart
Stacks each task time for each process on a graph, making it easier to grasp the balance of the workload among processes.
(2) VPS JTR
An add-on for VPS Digital Mockup and VPS Viewer (paid version), which exports form data and PMI from the 3D CAD data as a JT file.
Last updated: Apr 7, 2020 at 12:10 pm CDT
PRICING: You can find products similar to this one for sale below.

United States: Find other tech and computer products like this over at Amazon.com

United Kingdom: Find other tech and computer products like this over at Amazon.co.uk

Australia: Find other tech and computer products like this over at Amazon.com.au

Canada: Find other tech and computer products like this over at Amazon.ca

Deutschland: Finde andere Technik- und Computerprodukte wie dieses auf Amazon.de
Related Tags