According to the Icecat Q3 2015 figures, the E-channel expands 80% globally measured in product data-sheet downloads by ecommerce users. Household brands AEG and Philips do well, and DELL continues its push in the e-channel. Categories that do very well are among others Tablets, Light bulbs, and Smartwatches. The USA and Germany are leading ecommerce countries.
E-channel expands 80% globally
The global e-channel continues to develop very fast in Q3-2015: by 80% in terms of data-sheet downloads, by 26% in terms of connected channel partners, and by 35% in terms of technical ecommerce platforms supported. In Q3-2015, Icecat facilitated 1.74 billion product data-sheet downloads for products from 11,643 different brands and 239 different countries.
A data-sheet contains product specifications as standardized by Icecat, and rich media if permitted by the respective brand. The number of monitored brands increased by 26% and the number of supported categories grew by 25% to 2,460.
"Many of the added categories and brands are related to supermarket categories: non-food, near-food and food", according to CEO Martijn Hoogeveen. "Currently, there's a new ecommerce race, revolutionizing the Fast Moving Consumer Goods (FMCG) sector. Many traditional giants need to adapt quickly or get extinct."

60% of the Icecat data-sheet downloads are real-time (live) by end-users; 40% have a mass download (data) character.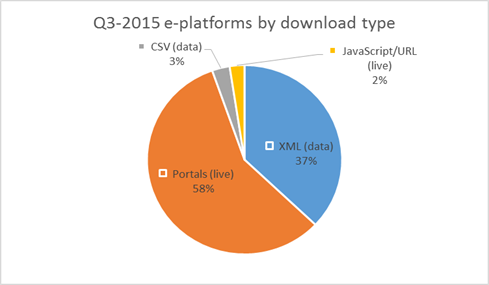 Household brands AEG and Philips do well; DELL continues its push
MSI, Philips and DELL made most progress in the e-channel in terms of growth in data-sheet downloads in Q3-2015, compared to one year earlier. Hewlett Packard Enterprise seems to suffer from the divestment by HP, as it is the only top 10 e-channel brand showing an absolute decline. DELL is now for the first time in the position to overtake Hewlett Packard Enterprise and Lenovo, if it continues its meteoric rise due to a full conversion to a channel philosophy by its founder, Michael Dell.
If Philips maintains its brand licensing policy, even for divested Lighting activities, it might overtake the number one e-channel brand HP in the coming 12 months.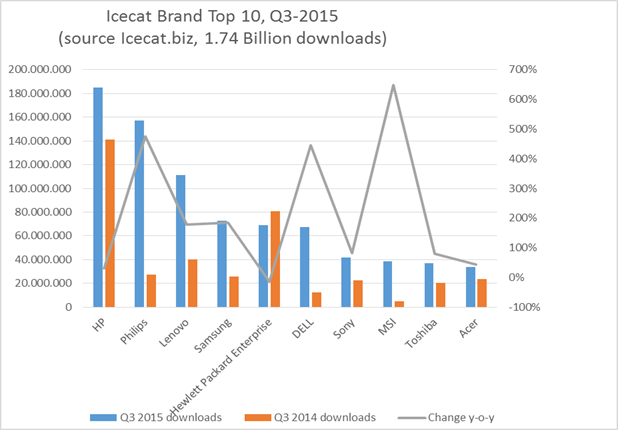 The fastest developing E-channel brands in Q3-2015 also include renowned brands like household brands AEG and Lirio by Philips, a lighting brand, next to the usual suspects of IT and Communication tech brands.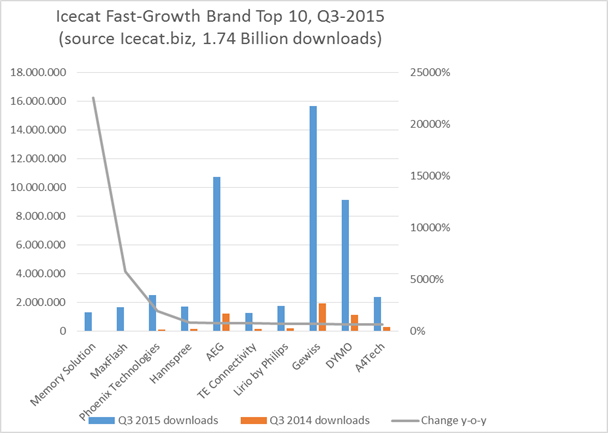 Tablets, Light bulbs, Pencils and Smartwatches reach higher
In the top 10 e-channel categories, Tablets and Internal Hard Drives make the most notable positive change.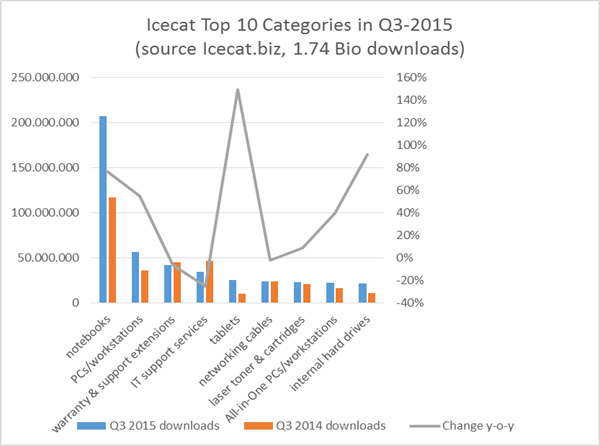 USA and Germany leading ecommerce countries in West
Based on a number of factors, the e-channels in countries like the US, Germany, and The Netherlands are most mature. Fast rising in the top 10 is China: the laws of ecommerce are relatively independent from the general slowdown in terms of import and export.
Other countries that need to be watched are South-Korea, India, Taiwan, and Japan.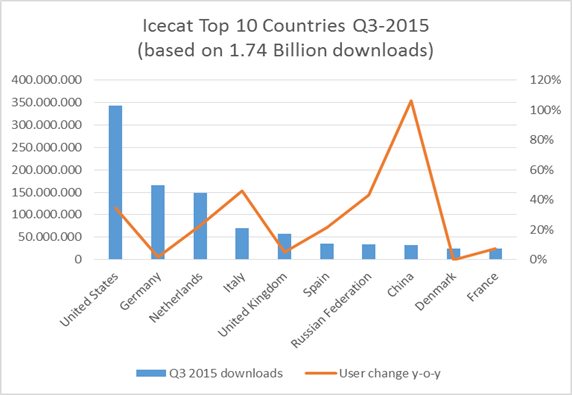 Last updated: Apr 7, 2020 at 12:10 pm CDT