The much anticipated Acer Predator series of gaming PCs, notebooks and monitors is about to take over at the top of the food chain in Australia and New Zealand. Warrior gamers will be queuing to get their hands on the new no-compromise experience in performance, as they can react fast and immerse themselves in true to life vision and sound.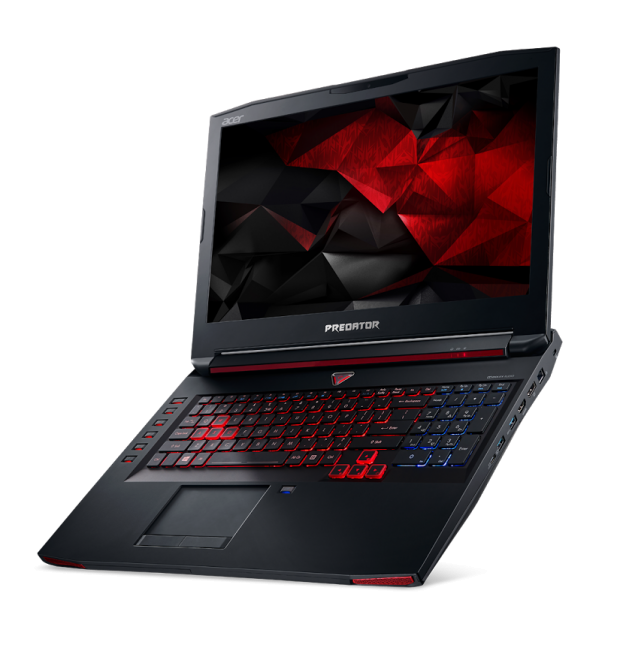 The range boasts the G6 full-tower gaming PC; Acer's fastest-ever professional gaming notebooks, the Predator 15 and Predator 17; the world's first ultra-wide, curved gaming monitors with in-built, anti-stutter NVIDIA G-SYNC-enabled graphics, the X34 and Z35; plus the XB1 27" and 28" XB1 high resolution monitors, also with built-in graphics and gaming grade refresh rates.
With the Predator line, Acer was the first to release monitors that combine NVIDIA G-SYNC technology and GeForce GTX GPUs in what is rapidly becoming the platform of choice as it delivers an ultra-smooth experience across the spectrum of PC games. The Predator line features a distinct design language to capture the speed and excitement of PC gaming.
"Acer's cross-platform offering of Predator gaming products represents our relentless pursuit of design and technological excellence," said Darren Simmons, CEO of Acer Australia and New Zealand. "With our outstanding R&D talent, passion and precious gamer insights from TeamAcer, we are now delivering the best-in-class experience for members of what we call the Predator Tribe - the serious, professional gamers who want even faster response times and to be able to completely immerse themselves in their games."
Australia's games industry is recording exceptionally strong year on year results. According to research released by the Interactive Games & Entertainment Association (IGEA), the total industry sales in Australia in 2014 was AU$2.46 billion, an increase of 20 percent over 2013.
Conquer New Worlds with the Predator G6
Power-packed, the Predator G6 is an unstoppable war machine with an intimidating armour-covered chassis design. It is powered by 6th generation Intel Core processors, up to 64GB DDR4 system memory, and NVIDIA GeForce GTX graphics. Its One-Punch Overclocking unleashes the full potential of the machine at the press of a button. And this refreshed beast has the in-built Acer IceTunnel thermal system to optimise airflow and quickly expel heat.
Acer has marked its territory with the new Predator gaming notebooks
The latest Acer Predator 15 and Predator 17 gaming notebooks stand out from the pack with 6th Gen Intel Core i7-6700HQ processor, stutter-free visuals with NVIDIA GeForce GTX980 graphics, up to 64GB of DDR4 memory and enterprise level 512GB PCIe solid state drives. They feature SoundPound technology for stellar audio features and gamers can customise their notebooks using the Acer PredatorSense keyboards' programmable keys. The Killer DoubleShot Pro allows Ethernet and Wi-Fi connections to work together for the ultimate high-speed attack. And the unique Predator FrostCore triple fan dissipates heat and keeps the notebooks running cool and quiet.
The Acer Predator 15 and Predator 17 notebook lines, shipping with Windows 10, cost from A$2,999 for the Predator 15, and A$3,299 for the Predator 17. Both products are available from Radio Rental SA and Dick Smith Electronics.
Curved, ultra wide monitors for gamers on the lookout for a wraparound experience
Designed specifically for serious gamers, the curved 178-degree curved viewing angle of the ultra wide X34 (34") and Z35 (35") gaming monitors deliver an immersive, wraparound experience. The design means less eye movement while gamers can pounce with super fast refresh rates. Plus there's light and tilt ergonomics for gamers and graphics professionals.
Available now, the Acer Predator X34 in Australia is priced at A$1,999 RRP through Synnex, Ingram and Bluechip. The Acer Predator Z35 can be purchased in Australia through Dick Smith Electronics, Bing Lee, Radio Rentals SA, Synnex, Ingram and Bluechip for A$1,899 RRP.
Nowhere to hide with the detailed images and smooth visuals of the Acer XB1 gaming monitors
The 27" models (XB271HK / XB271HU) of the Predator XB1 Series feature a ZeroFrame edge-to-edge design with 4K UHD (3840 x 2160) or WQHD (2560 x 1440) IPS panels that support the full sRGB colour spectrum. The XB271HU supports NVIDIA ULMB (Ultra Low Motion Blur technology that reduces motion blur by delivering sharp edges in fast-paced gaming environments) and refresh rates of up to 144Hz. The 28" model (XB281HK) has a 4K UHD panel that has a fast GTG (gray to gray) response time of 1ms, rendering fast-moving actions or dramatic transitions smoothly without smearing or ghosting.
Last updated: Apr 7, 2020 at 12:10 pm CDT