PQI, the world's leading brand of peripheral storage accessories for portable devices, announces the availability of the revolutionary iConnect Lightning flash drive with a Rose Gold finish to perfectly match the popular Rose Gold iPhone 6S and 6S Plus.
The iConnect, previously only available in 3 colors, (gold, silver and grey), has now expanded its offering to include the incredibly popular metallic Rose Gold. The iConnect's outer casing is constructed of a metallic finish that has the same look and feel as the new Rose Gold iPhone 6S and 6S Plus for a more cohesive appearance as well as increased durability.
"Apple customers seek accessories that are an extension of their Apple experience, which is why PQI developed the new Rose Gold iConnect to meet Apple's strict design specifications and are MFI (Made for iPhone/iPad/iPod) Certified," proclaimed PQI Global CEO, Spencer Chiu. "The iConnect gives Rose Gold iPhone 6S and 6S Plus owners a high capacity external storage device that compliments their iPhone rather than detracts from it."
The iConnect is an ideal companion for owners of iPhones with a lightning connection as it provides up to 128GB* of added storage, backs-up files with optional password protection, and easily transfers content quickly between your iPhone and a computer or tablet.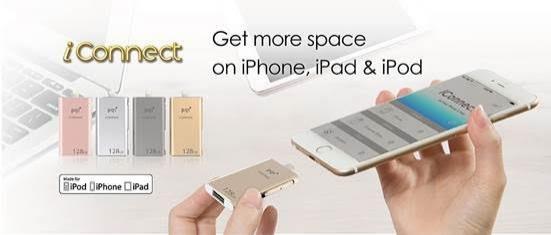 EXPAND YOUR MEMORY
The iConnect expands your iPhone's storage capacity, especially on the lower capacity 16GB iPhones. The iConnect allows you to take more high-resolution 12 megapixel photos, live photos, 4K videos, as well as download large music and movie collections without using up precious storage on the iPhone's internal memory. The iConnect allows you to have hours of entertainment at your fingertips without worrying about compatibility, as you can play popular video and music formats directly from the iConnect.
BACK-UP CRITICAL DATA
iConnect not only lets you backup images and videos, it lets you sort through your gallery and categorizes them to help organize and preserve important moments via the iConnect app. Organize your contacts and preserve important information with iConnect. Just plug-in the iConnect and you can back-up your address book for peace of mind, even if you change phones or lose your contacts.
TRANSFER BETWEEN ALL YOUR DEVICES
iConnect lets you easily transfer and share files on all your devices without needing to interface through iTunes or iCloud. Share content stored on your iPhone directly to your computer or from your computer on to your iPhone, via the iConnect with dual-interface USB 3.0 and Apple-certified Lightning connector. Easily back-up your data from your iPhone to your Mac or PC, or transfer media and other files from your Mac or PC onto your iPhone.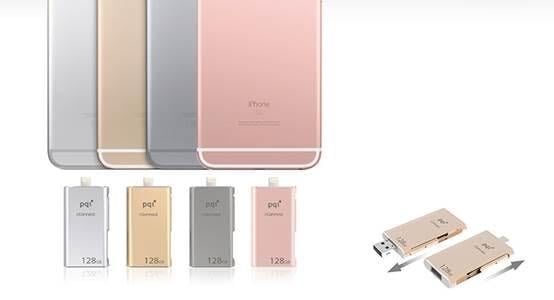 MADE TO MATCH YOUR iPHONE COLOR
The sleek and modern design of PQI iConnect is made to match your iPhone with matching metallic finish to pair it with your silver, gold, grey and the new rose gold iPhone 6S.
APPLE CERTIFIED
The PQI iConnect are engineered to meet Apple's design specifications and are MFI (Made for iPhone/iPad/iPod) Certified.
PRICING AND AVAILABILITY
The PQI iConnect Flash Drive will be available in the U.S. online from Amazon and Newegg and in-store at Macy's. The MSRP for the iConnect is $59.99 for 16GB, $71.99 for 32GB, $107.99 for 64GB and $179.99 for 128GB.
Last updated: Apr 7, 2020 at 12:10 pm CDT