AT&T1 will be the first U.S. carrier to offer the Microsoft Lumia 950, on Nov. 17 online at www.att.com, and on Nov. 20 in its retail stores nationwide. It brings "PC-like" power and entertainment to the palm of your hand. You can use the device to get more done faster on the nation's most reliable 4G LTE network2 with the strongest LTE signal.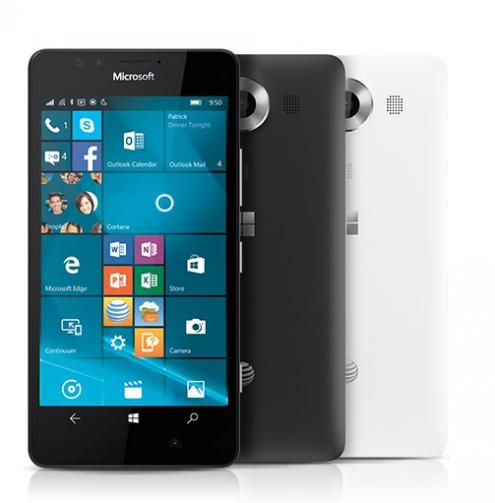 With the Lumia 950 and Windows 10, you can enjoy the Windows experience across your Windows 10 devices. Your files, photos, apps and other media are secure, synced and available on OneDrive. The smartphone works like a PC if you pair the new Continuum feature with the Microsoft Display Dock HD-500 (sold separately). Just connect a monitor3, keyboard and mouse to the Display Dock and view your Office apps and Outlook on the big screen, while you continue to talk, text and tweet. The Microsoft Lumia 950 also features Cortana,4 your personal smartphone assistant, so you can be more productive by searching online, sending emails and setting reminders and appointments.
Additional key features include:
Cameras: PureView ZEISS main camera with 20 MP sensor, triple LED Natural Flash and 4K video capture, and a 5MP front-facing camera.

Processor: Qualcomm Snapdragon 808 processor combined with 3GB of RAM.

Storage: 32GB5 of internal storage memory. You can expand to 200GB using a MicroSD6

Battery: Removable 3000mAh battery. Charge your battery from critical to half-full - in half an hour.7

Display: 2-inch QuadHD OLED display.
Well-qualified customers can buy the Microsoft Lumia 950 in Matte Black or Matte White from AT&T for $0 down on AT&T NextSM 24 18, and 128:
Also, for a limited time when you purchase a Microsoft Lumia 950 on AT&T Next you will also be eligible to purchase a Surface 3 for $399.99.
"Windows 10 and the all-new Microsoft Edge browser work together to maximize your productivity," said Jeff Bradley, senior vice president, Device Marketing and Developer Services, AT&T Mobility. "The Lumia 950's PC-like capability enables you to get things done faster and more efficiently, even when you're on-the-go."
The Microsoft Lumia 950 earned four out of five stars on AT&T's Eco-Rating 2.0 system. The system rates the social and environmental factors of AT&T branded handset devices and tablets. AT&T created the Eco-Rating 2.0 system to empower consumers to make better informed decisions when selecting a device. For more information about this device's rating, Eco-Rating 2.0, and how you can join AT&T in making a difference, please visit http://att.com/ecospace.
For more information on the Microsoft Lumia 950, check out this Mobile Minute video. You can also visit: att.com/lumia950. Follow the conversation on social using #Lumia950.
1AT&T products and services are provided or offered by subsidiaries and affiliates of AT&T Inc. under the AT&T brand and not by AT&T Inc.
2Signal strength and reliability claims based on nationwide carriers' 4G LTE. Signal strength claim based ONLY on avg. 4G LTE signal strength. 4G LTE not available everywhere.
3Requires HDMI capability.
4You need a Microsoft account to use Cortana. This feature is not available in all languages. For information on the supported languages, go to www.windowsphone.com.
5Portion of memory occupied by existing content.
6MicroSD card sold separately.
7Applies when charging from 10% capacity; actual results will vary based on usage.
8$0 down with AT&T Next req's well-qualified credit & a 20-mth, 24-mth or 30-mth 0% APR installment agreement. Wireless service (voice & data) is required & is extra. Tax due at sale. If wireless svc is cancelled, device balance due. Other charges & restr's apply. Visit att.com/next for AT&T Next requirements.
92-yr agmt req's qual. svc (voice & data). Activation/upgrade (up to $45), early termination (up to $325) and other fees, charges & restr's apply.
Last updated: Apr 7, 2020 at 12:10 pm CDT