At DreamHack Winter 2015 today, Lenovo (HKSE:992) (ADR: LNVGY) and Razer revealed their first-ever gaming desktop prototype that will officially launch at CES (Consumer Electronics Show) 2016. The two companies announced that together they will co-brand and co-market special Razer Edition models of Lenovo's Y series gaming devices - marrying the manufacturing, supply chain and channel relationships of Lenovo, the world's number one PC maker, with the immersive technology and deep expertise of Razer, a leading company in connected gaming devices and software for gamers.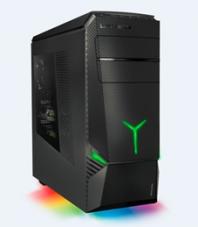 PC gaming today offers a rich and immersive experience - thanks in part to cutting-edge graphics performance, superior processing power, and peripherals designed specifically for gaming. Lenovo will employ its system design and engineering expertise, while Razer will enhance the immersive experience for gamers. All forthcoming Lenovo Razer Edition products will be co-branded and reflect the edgy Lenovo Y series look and feel with iconic Razer elements like customizable Chroma lighting effects.
Razer matches Lenovo's scale and broad appeal with a high-touch dedication to the gaming community. Lenovo and Razer will be offering Y series Razer Edition products to Lenovo's extensive global reach and Razer's core gamer communities. Additionally, both companies are looking to jointly double down efforts to fast track the development of new technologies, including gaming experience enhancements.
The Lenovo and Razer strategic partnership will extend to multiple new designs and products and the companies will also explore potential cross-selling opportunities in the near future.
Quotes
"We are thrilled to partner with Razer and bring out the best from both companies to deliver a better, more immersive gaming experience for customers," said Victor Rios, vice president and general manager, Workstation BU, Gaming and Industry Solutions, Lenovo. "While we bring to the table our engineering expertise, design muscle and scale, Razer adds in the finesse and experience of serving the gaming community for the last decade. We believe our partnership is a strong first step that will lead to the delivery of winning PC gaming solutions and a brand new experience to our customers."
Razer Co-Founder and CEO Min-Liang Tan said, "This agreement opens opportunities to advance the gaming lifestyle through world-class product in unprecedented ways. Lenovo is the world's #1 PC maker. Razer is the world's #1 gaming lifestyle brand. Together we have the passion, insight and operational capabilities to delight and empower the PC gaming community worldwide."
Last updated: Apr 7, 2020 at 12:10 pm CDT