An
Israeli start-up company
claim to have made a breakthrough in parallel graphics technology which allows for a mixture of any type of graphics card to be used in a system for improved scaling, which completely defies the boundaries of Crossfire and SLI which require two or more of the same model card in order to function.
The technology is called "Hydra"; the beast with many heads. It is essentially a system-on-a-chip (SoC) which uses exclusive software to detect and balance the workload of multiple GPUs/graphics cards found in the system; regardless of the CPU or motherboard chipset.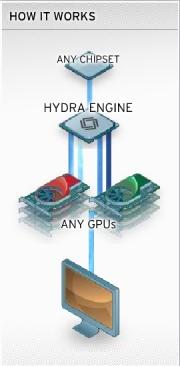 "We're currently focusing our HYDRA engine on improving everyday PC performance, but our vision is to bring more scalability, flexibility and power to all visual processing markets including graphics professionals, power gamers, design/engineering professionals and others," says Offir Remez, Lucid co-founder and president. "With strong venture backing, a superior patent portfolio and experienced leaders in all aspects of semiconductor and 3D computing graphics, we're a nimble team passionate about working with our partners to realize our vision of universally amazing graphics for all."
It's been confirmed that the Hydra engine does not require any modification of existing software and is fully compatible with DirectX, though there is no mention of OpenGL support just yet. Providing development continues at its current pace,
Lucid Logix
plans to bring this technology to market as early as Q1'09. Exciting stuff; let's hope it delivers and shows performance scaling on par or better than what we're used to seeing.